#Review #TheMinistryofUtmostHappiness #ArundhatiRoy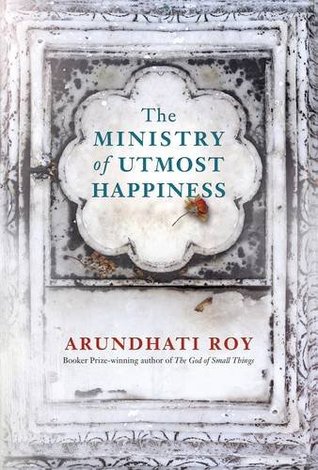 In a graveyard outside the walls of Old Delhi, a resident unrolls a threadbare Persian carpet. On a concrete sidewalk, a baby suddenly appears, just after midnight. In a snowy valley, a bereaved father writes a letter to his five-year-old daughter about the people who came to her funeral. In a second-floor apartment, a lone woman chain-smokes as she reads through her old notebooks. At the Jannat Guest House, two people who have known each other all their lives sleep with their arms wrapped around each other, as though they have just met.
To say this novel is long awaited is an understatement! I read "The God of Small Things" over fifteen years ago and it made a lasting impression on me. I fell in love with Arundhati Roy's use of language, her beautiful prose and her thoughtful and imaginative imagery. So I have been waiting for another fiction novel ever since!
This did not disappoint me and I was delighted to read Roy's prose again. I must admit that I found it more complex than "The God of Small Things" (or as I remember that novel to be anyway!) and although there are similarities, it feels different. Although that is to do with my expectations and hopes rather than Roy's novel!
Roy's prose is fresh, original, highly creative and moving. It is simply beautiful and there is no other way to describe it. As soon as I started reading, I became immersed in a world of fascinating characters who were depicted with such nuanced and yet simultaneously elaborate language. This is a literary delight and is for lovers of words, of language, of politics, society, religion and the human condition. And above all, for people who love stories.
I think this novel is harder to follow than "The God of Small Things" and is more ambitious. It takes concentration to keep track of the characters and the various threads. But I always knew Roy's novel would be a book that would require time, space, quiet and my full attention. It would be wrong to give it anything less. Sadly I don't think I left enough time in my review schedule to fully indulge myself in this novel and so this review will not do the book the justice it deserves- but Roy will not be short of praise and lengthy reviews from much more worthy places than my little old blog!
I was impressed with the depiction of world events and how relevant and contemporary the issues in the story were. I know that Roy is a highly intelligent woman and that she has spent the last 20 years writing much non fiction and political essays so it makes sense this finds a way into her fiction. I was interested in how she captured events and her "reporting" of 9/11 and its aftermath is truly engaging and memorable.
The story line has been described as "mosaic" and "sprawling" and I would agree. It seems too complex to repeat in a blog review and I wouldn't do it justice. I enjoyed floating along with the story in a kind of hypnotic state and to be honest, I just enjoyed the writing style. I began highlighting phrases that I thought were really effective but then I found that it was taking too long -I was ending up with as much highlighted as not!
This book is not an easy read or a quick one, and it will not be for everyone. It is intense. It is full of depth. It tackles a great many issues and themes. I'll be watching the reaction of fans of her first novel with interest to see how this second novel is greeted and what people make of it.
There have been some fascinating interviews with Roy to publicise the novel and I'd like to share this one quote from Arundhati Roy which I think captures the essence of the novel.
"I never want to walk past anyone; I want to sit down and have a cigarette and say, 'Hey man, what's going on? How is it?'
She's in no hurry to share the stories of her characters; what she wants to explore and portray in her novel. She captures every detail and it can be spellbinding. Take some time to sit with Roy and hear what these characters have told her.
The Ministry of Utmost Unhappiness
is published on 6th June by Penguin.