**Author Q&A** with Claire Douglas
My book group chose "The Sisters" by Claire Douglas for their read this month. "Local Girl Missing" has been one of my most read blog posts for months so with both these things in mind I contacted Claire and asked if she would mind answering a few questions. I was thrilled when she agreed!
Thank you so so much Claire for agreeing to be interviewed - I have a lot of questions and I appreciate the time you have spent answering them!
This is your debut novel. Can you tell us a little bit about your journey to becoming a published author?
I've been writing for years and tried to get published before (I'd written three other unpublished novels) but it wasn't until I started writing The Sisters that a friend told me about a competition that Marie Claire magazine were holding. They wanted the first three chapters and a synopsis. So I sent off the first 6,000 words and a two-page outline, never expecting to hear anything. A few months later I received the phone call that told me I'd won. The prize was a publishing contract and an introduction to a literary agent – Juliet Mushens, of Caskie Mushens –

who was also one of the judges. I was over the moon when she offered to represent me and I know it sounds cheesy but it really was a dream come true.
How did your experience of being a journalist influence your fiction writing?
I wrote mainly human interest features for women's magazines so I had an insight into a number of really interesting true life stories and the human psyche, which helped greatly when it came to thinking of stories and characters for my own novels. The idea for The Sisters came about after reading about an annulled marriage in a newspaper, where a couple only discovered after they were married that they were in fact twins separated at birth.
You have dedicated the novel to your sister. Has she read the book? What does being a sister mean to you?
My sister is very special to me. We lost our brother when he was a teenager, so as a result the two of us are even closer. She was one of the first people to read The Sisters. She always reads the first drafts of my novels, in their unpolished, unedited glory and gives me advice and encouragement.
You have quoted from Louisa May Alcott and Emily Dickinson in the opening page. Are these authors particularly important to you? Which other authors have influenced you?
I loved Little Women growing up and particularly related to Jo! I went through a Virginia Andrews phase as well. So many authors have influenced me; Agatha Christie (I went through a period when I only read her books), Enid Blyton, Maggie O'Farrell, Lisa Jewell, Sarah Waters, and then writers like Donna Tartt and Zoe Heller. I've been a big fan of Emily Barr for years, she wrote dark women's fiction/psychological thrillers before they became really popular. One of my favourites of hers is Cuban Heels. It was reading novels by her that made me decide I wanted to write something dark and a bit twisted too.
The plot for "The Sisters" is complex and there are lots of twists and shocks. Did you always have the ending in mind and the twists planned before you started or did some things present themselves once you started writing?
I knew the major twists and I always had that ending in mind, but then I chickened out and wrote an ending which was lighter and happier and more "Hollywood" but my editor was like, "Er … are you sure about this ending?" and I admitted that I wasn't. I told her my original ending and she gave me the confidence to go with it. I love dark, open-ended conclusions. They are the ones I remember. One of my favourite endings is in The Little Stranger by Sarah Waters. It gives me shivers thinking about it. That made the book all the more powerful for me.
Who was the most 'enjoyable' character to write about and why? Which character gave you the most headaches and why?
I think Ben gave me the most headaches. He had to be a fine line between untrustworthy but also attractive. My favourite character to write was Abi, because I loved that she was so messed up, and I prefer writing in the first person, present tense.
Have you ever had to choose between a partner and a friend / family member?
No, thank goodness. It must be a horrible situation to be in and I always think that if somebody truly loved you they would never ask you to choose.
Abi, Bea and Ben are all quite disturbed characters. What advice would you give to an aspiring writer who was interested in creating an emotionally complicated character? What problems can a writer face when creating unreliable narrators?
I love writing disturbed characters but I think, for me, I have to sometimes reign it in a bit because you want them to be believable and not too "pantomime villain", and that can be a fine line. I think unreliable narrators still need to be relatable to a certain degree, even if you don't like them, and only afterwards for a reader to wonder if she/he was always telling the truth. So, I think, they still have to be rooted in truth somewhere, but maybe their own version of what they think is the truth, rather than them actually lying and deceiving the reader.
Abi describes Bath as "peaceful" at the beginning of the story. Which three words would you use to describe Bath and which is your favourite place there?
Beautiful, touristy and creative. Ooh this is a hard one as there are so many places in Bath that I love. The one place I really enjoy spending time in is Victoria Park, near The Crescent.
What one question would you like a book group to ask about your novel?
What happens to Abi – and Bea?
What one question would you like to ask a book group about your novel?
What do you think the ending means?
Your second novel "Local Girl Missing" is also in a similar genre to "The Sisters". What appeals to you about this genre?
I love dark novels and mysteries, particularly if they are a bit twisted. I love writing characters that are a little bit messed up, I find them so interesting.
Are you working on a third book? Is it in a similar genre or something different?
Yes, it's a similar genre. It's called Last Seen Alive and is about a couple, Libby and Jamie who agree to swap their city flat for a house in Cornwall for a week, but things take a sinister turn which makes them wonder if there is more to this simple house swap than they realised.
Claire, this has been so interesting! Thank you so so much for appearing on the blog today with this interview! It was really exciting to hear all about your novels and your writing. Good luck with Last Seen Alive - I for one can't wait to read it!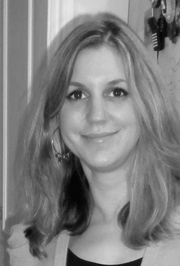 To find out m
ore about Claire, yo
u can follow her on Twitter at @Dougieclaire
Click here to read my review of The Sisters
Click here to read my review of Local Girl Missing
Click here for questions to use with a Book Group for The Sisters
For more recommendations, reviews and bookish chat you can follow me on Twitter @katherinesunde3 (bibliomaniacuk)