#OneOfUsIsLying #KarenMcManus #Review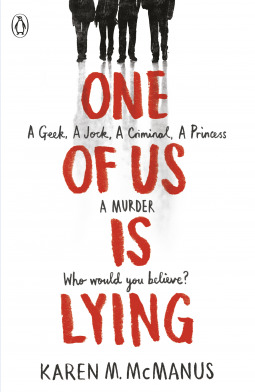 Pay close attention and you might solve this.
On Monday afternoon, five students at Bayview High walk into detention.

Bronwyn, the brain, is Yale-bound and never breaks a rule.

Addy, the beauty, is the picture-perfect homecoming princess.

Nate, the criminal, is already on probation for dealing.

Cooper, the athlete, is the all-star baseball pitcher.

And Simon, the outcast, is the creator of Bayview High's notorious gossip app.

Only, Simon never makes it out of that classroom.
Before the end of detention Simon's dead. And according to investigators, his death wasn't an accident. On Monday, he died. But on Tuesday, he'd planned to post juicy reveals about all four of his high-profile classmates, which makes all four of them suspects in his murder. Or are they the perfect patsies for a killer who's still on the loose?
Everyone has secrets, right? What really matters is how far you would go to protect them.
I thoroughly enjoyed this excellent read! With overtones of
Gossip Girl, The Breakfast Club
and
We Were Liars,
this is an engaging and gripping read that really captures the essence of being a teenager and life at High School. I know I am not the target audience for this Young Adult novel (although in my head I am only 17 and my guilty pleasures are binge watching "Pretty Little Liars" and "Gossip Girl"), I think we can all relate to stories set in school that involve the complex dynamics and invisible rules that govern the playground.
This book has a great premise. Someone dies from drinking a glass of water. It's that simple and that complicated. How can someone die from drinking water? No weapons, no natural disasters, no illness, nothing supernatural or untoward. Just water.
And then, the next day, tweets appear with a confession to murder........and the threat of revealing more hidden secrets about the other students that were in the room - the only people that can be responsible for the death.......
How could you not want to read on?!
McManus's novel embraces the current issues of social media and teenagers as well as exploring how much more complicated - or thrilling!- a murder investigation can become with the runaway power of Twitter and Facebook. The immediacy, anonymity, the speed and uncontrollable far reaching-ness of social media is captured in the novel and used effectively to create tension, suspense and pace for each of the characters. It's a modern novel for modern teenagers but it also explores more universal themes of peer pressure, fitting in, what is real and what is an illusion, secrets and blackmail. Despite its simple and direct language there is much that wrestles beneath the surface in this story which is why it is so much more compelling and so much more intriguing than just a melodramatic extended episode of a teen drama.
I must confess I also enjoyed the dry voice of the teacher at the beginning. The teacher's punishment to remove the students' devices from them is seen as the most unreasonable request and their horror at using pen and paper is entertaining. I liked the teacher's comment about "exploring the magic of longhand writing. It's a lost art." Perhaps that shows my age and perhaps my alienation from this age group!
There are overtones of films and books that have come before this but to be honest I don't see that as negative. In my opinion to be compared to films as iconic as Breakfast Club can only be a compliment and I'm sure this book will attract as much fandom and success as that film did in its time. The teenage voices are as astute and as candid and the random selection of characters is immediately intriguing. As is the role of Simon who immediately appears to have an ulterior motive or some kind of hidden knowledge that will have repercussions fro the group.
"She's a princess and you're a jock….you're a brain. And you're a criminal. Youre all walking teen-movie stereotypes"
"Who are you?"
"I'm the omniscient narrator," says Simon
Simon is unlikeable, isolated and he doesn't fit in. He doesn't he want to fit in. He causes problems,- deliberately - and enjoys stirring up trouble with his social media app that reveals gossip to the whole school. He feels like he is a kind of puppet master and a bit untouchable, and yet he is the one who ends up dead........
"It's eight-fifty am on Tuesday, and twenty-four hours ago Simon was going to homeroom for the last time. Six hours and five minutes from then we were heading to detention. An hour later, he died."
The novel then follows the four characters in the subsequent days as the investigation into Simon's death continues. It is clear that they all have secrets and they all have motives. The writing is taut and I liked the way McManus dangled hints and insinuations that kept me turning the page.
"There's only one thing Simon might have written about me, but it would have been almost impossible to find out."
As the blurb says, pay attention and you may solve this riddle! The reader is invited to try and piece the jigsaw together, invited to try and peel back the layers and work out who is hiding what and who is a reliable narrator. And then to further complicate matters, anonymous tweets appear which send ripples through the entire school community.
"I got the idea for killing Simon while watching Dateline."
"Let's face it: everyone at Bayview High hated Simon. I was just the only one with enough guts to do something about it. You're welcome."
McManus has tapped it to some great classic themes in this novel. The most obvious being secrets and the fear of being exposed, how everyone has them and how far people will go to protect them. There is also the fact that the narratives are first person and therefore we are never quite sure who to believe. It's a great High School novel and would make a great film!
Perhaps the only small thing I found a little tricky was the fact that all the four narratives were in first person. Each section is clearly headed with who is narrating that section and although the voices are different, it did require me to pay full attention!
That said, I would like to congratulate McManus on the authenticity of her voices. I appreciate I'm not a teenager or perhaps the target audience for this book so my idea of authentic might not be quite right, but the importance of getting the voice right in a novel is imperative - and difficult! I think the challenges of finding authenticity in a young voice is often underestimated. To write convincingly as a teenage voice - or five!- which will resonate with its audience, feel fresh, original and realistic is a real challenge. It is incredibly well done here and everything felt very believable and relatable.
This novel will appeal to teenagers or anyone who loves a story about enemies, secrets, popularity contests, negotiating friendships and relationships and that time when you are caught between the adult and child world. It has huge appeal and it's a succinct, quick, well paced read that you should defiantly make time for!
All in it's a good jigsaw, a good puzzle, all the characters have to come to terms with something and confront something in their lives. The variety of characters and their problems is well judged and the short chapters help to maintain tension and suspense throughout the novel.
One Of Us Is Lying
is published by Penguin on 1st June 2017.
KAREN MCMANUS
@writerkmc
www.karenmcmanus.com
For more recommendations and reviews you can follow me on Twitter
@KatherineSunde3
or via my website
bibliomaniacuk.co.uk