#DaphneDuMaurier #EloiseBooks #GiftSubscription
Happy Birthday Daphne Du Maurier!
Bibliomaniac has bought you a subscription to Eloise Books!
Eloise Books:
Eloise runs a gift subscription service perfect for book lovers, occasional readers or for anyone looking for something a little different to buy as a present this year.
Each month, after a phone or email consultation, the gift recipient will receive a beautifully wrapped book specially chosen for them together with a note about the book. It means that your friend or relative receives a book not just for their birthday or Christmas but every month for as long as you choose to subscribe for them.
You can read more about Eloise and my first gift subscription book
here
This is a bit like fantasy book club, a kind of fantasy gift subscription! I asked Eloise, if she was putting together a three month subscription package for Du Maurier, which books would she select? Let's see how she got on!
Well to be honest, at first I was a little bit worried about taking on this task! I mean, who can really pick a book for a woman that wrote so many amazing ones of her own! And who can say what Du Maurier might fancy reading out of the rich range of thrillers, cozy crime, grip lit and literary fiction titles that we are now able to choose from thanks to her inspiration and influence on so many authors!
So this has been an interesting mission. Usually I am able to
have
a chat with my client first, ask them which is their favourite book of all time, what was their last favourite read, genres they prefer- just a few questions -nothing too complicated but enough to get an idea about what they might enjoy. But not only could I not do this, with a person such as Du Maurier, I'm not even sure it's possible to second guess what answers she might have given to my questions!
Do you imagine that she liked to read books similar to the sort of stuff she liked to write? Or actually, would she see this as competition and be drawn to over analyse such novels from a working author's perspective? Would she like to read something completely different? Something outside her comfort zone? Fantasy? Sci Fi?! If she was in the local bookshop now, which recommended read would she be drawn to or would she stick to more traditional, established authors?
The world has changed so much since she passed away; there have been so many great books since then that the temptation is to try and pick the top three books from the last thirty years. But that is impossible. There are just so many to choose from. But I have made my selection. I have picked books that I think she would enjoy - sometimes for the similarities and sometimes for the style of writing or topics.
Firstly, The
Essex Serpent
by
Sarah Perry
.
I have chosen this book as I think it gives the setting and location of the plot equal importance to the characters. The descriptions of Essex in particular, but also London, are so vivid that it reminds me of how important the setting for Daphne du Maurier's novels were. Also, the main female character Cora Seaborne is powerful and complex partly as a result of her experiences and partly due to her mind and I got the feeling that she is a woman born at the wrong time! I feel like she is the sort of character that Daphne du Maurier would have appreciated.
Set in Victorian London and an Essex village in the 1890's, and enlivened by the debates on scientific and medical discovery which defined the era,
The Essex Serpent
has at its heart the story of two extraordinary people who fall for each other, but not in the usual way.
They are Cora Seaborne and Will Ransome. Cora is a well-to-do London widow who moves to the Essex parish of Aldwinter, and Will is the local vicar. They meet as their village is engulfed by rumours that the mythical Essex Serpent, once said to roam the marshes claiming human lives, has returned. Cora, a keen amateur naturalist is enthralled, convinced the beast may be a real undiscovered species. But Will sees his parishioners' agitation as a moral panic, a deviation from true faith. Although they can agree on absolutely nothing, as the seasons turn around them in this quiet corner of England, they find themselves inexorably drawn together and torn apart.
Secondly,
Shadow of the Wind
by
Carlos Ruiz Zafron
. Again the setting is beautifully described in this book and the language is wonderful. This is a more magical type of novel but I imagine Du Maurier enjoying the fantasy side of this novel and the importance of literature in everyone's lives. It covers so many themes, but at the same time is a wonderful page turner.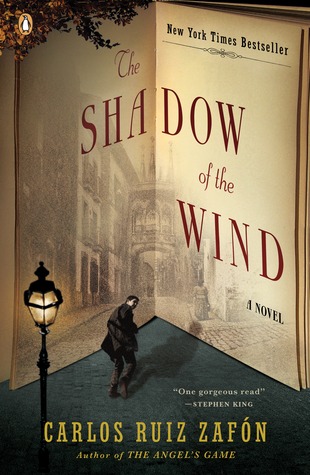 Barcelona, 1945: A city slowly heals in the aftermath of the Spanish Civil War, and Daniel, an antiquarian book dealer's son who mourns the loss of his mother, finds solace in a mysterious book entitled The Shadow of the Wind, by one Julián Carax. But when he sets out to find the author's other works, he makes a shocking discovery: someone has been systematically destroying every copy of every book Carax has written. In fact, Daniel may have the last of Carax's books in existence. Soon Daniel's seemingly innocent quest opens a door into one of Barcelona's darkest secrets--an epic story of murder, madness, and doomed love
Finally,
The Time Traveler's Wife
by
Audrey Niffenegger.
I think she would have appreciated this romantically complex love story. It is such a skilfully written book with great characters and something a bit different from her style of books.
The Time Traveler's Wife
is the story of Clare, a beautiful art student, and Henry, an adventuresome librarian, who have known each other since Clare was six and Henry was thirty-six, and were married when Clare was twenty-three and Henry thirty-one. Impossible but true, because Henry is one of the first people diagnosed with Chrono-Displacement Disorder: periodically his genetic clock resets and he finds himself misplaced in time, pulled to moments of emotional gravity in his life, past and future. His disappearances are spontaneous, his experiences unpredictable, alternately harrowing and amusing.
The Time Traveler's Wife
depicts the effects of time travel on Henry and Clare's marriage and their passionate love for each other as the story unfolds from both points of view. Clare and Henry attempt to live normal lives, pursuing familiar goals--steady jobs, good friends, children of their own. All of this is threatened by something they can neither prevent nor control, making their story intensely moving and entirely unforgettable.
Thanks so much Eloise, these seem
fabulous choices - varied, yet all linked to aspects of Du Maurier's own writing. I'm sure she'd be thrilled to receive any of these!
Don't forget to follow Eloise on Twitter and Facebook or buy a subscription for the bibliomaniac in your life!
If you have missed any of the stops on my Daphne Du Maurier blog tour you can catch up here: