#TheRoanokeGirls by #AmyEngel #Review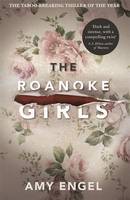 I received an electronic ARC in return for a fair and honest review, of this but the cover is so beautiful I will be buying a physical copy too. I love the cover. And I love every single page inside.

This is a engrossing novel with which I became entranced by from the first page. The characters are compelling, beautiful, mysterious and disturbing. It is a mesmerising tale of a family who are bound by love, by hatred, by desperation, by secrets, by obsession. It is a story that haunts you while you are reading and then haunts you for days after. I want to read it again. And again.

The novel opens with 15 year old Lane being sent to her grandparents, from who she has been estranged, following her mother's suicide. Her first description of her new home - a rambling rural estate in Kansas- is that it was "like a handful of giant houses all smashed together with no regard for aesthetics or conformity. It was equal parts horrifying and mesmerising." When she meets her new family, they seem to also fit this description; they have their own rules, they have little care for anyone outside their family, all Roanoke girls are beautiful and hypnotic..... yet there is something terrifying and dark lurking in the shadows......

Lane's cousin Allegra is also living there and wastes no time introducing Lane to her family history. She shows her the photos of the Roanoke girls and Lane comments:
"It was eerie how much they all looked alike, how much they looked like me. As if the Roanoke genes were so strong they bulldozed right over anyone else's DNA."

But the girls have not had happy lives. Tragedy surrounds them - or follows them, or catches them.....somehow it seems inevitable which perhaps makes them more untouchable and more mesmerising.


"Sophia drowned in the North Fork during the spring floods..... Penelope fell down the main stairs and broke her neck..... Emmeline was a crib death......"
"That's a lot of dead girls."
"In the end we either run or we die."

And so that is what happens. They run.

The story is split between Lane's first summer with her grandparents and then 11 years later when she returns because Allegra has gone missing. The sections are simply headed with "Now"and "Then", divided further with interludes from each of the previous Roanoke's lives. I really enjoyed these sections headed with the name of the girl whose story we were then told snippets from. They added intrigue, drama and mystery, often leaving me in a cold chill. Each section forms another piece of the jigsaw as the reader tries to establish what happened to Lane that summer 11 years ago and what impact the stories of Lane and Allegra's predecessors might have on what has now happened to Allegra.

I particularly enjoyed the extract about Camilla as the description of her really captures the twisted, dysfunctional, eerie and emotional complexity of these women.

"a dark twisting horror show of love. Love that spread through her like poison, coiled like inky tentacles that slowly squeezed out all the light."

With each heading for the different stories of Roanoke girl, Engel adds the date of birth and date of death in brackets. Such a simple addition but such an effective method for creating a sense of foreboding. These small details, like the scattered crumbs fed to us throughout the prose, create an accumulation of something more sinister. Is this family under a curse? Is there some sort of mental illness amongst the family? What is it that haunts these girls and why is it their lives have all been so tragic?

Lane is our protagonist and our narrator. She has never lived with her grandparents before, she knows nothing of the Roanoke's but as soon as she gets there she feels part of the family. It's like she can recognise that she too shares something of them and that here, in Kansas, on their estate, the rules, expectations and judgements are different.


"[there was] something dark inside me........maybe here it was like a different country, someplace where it was all right to be a little wicked."
Engel links the dual timeline together with a deft and polished hand. The teenage voices of Lane and Allegra are captured with insight and with conviction. Their behaviour, antics, relationships and emotional journeys are well written. Their interaction is full of vitality and energy and both are strangely likeable characters who I really enjoyed reading about despite their sharp edges. In a way this is a kind of coming of age story, particularly for Lane who begins to understand why her mother was so desperately unhappy and depressed.

I don't want to say much more for fear of spoilers. Or perhaps because I am actually a little tongue tied. To be honest, all I can really think to say is that this is a special book. It is a fantastically eerie, compelling, disturbing and unnerving tale of families, love, trauma and buried secrets. I thought it had some of the gothic terror from "Little Strangers" by Sarah Waters, some of the relationship issues and dysfunctional families from Helen Dunmore's early novels and it also reminded me of "We Were Liars" by E Lockhart.

This book deserves recognition and deserves to do well. It will definitely be in my top ten for 2017 and it will definitely stay with me beyond 2017. I cannot believe this is Engel's first novel for adults and I am really looking forward to whatever rich tale she spins for us in the future.
The Roanoke Girls will be published on 9th March 2017 by Hodder & Stoughton
Amy Engel is the author of THE BOOK OF IVY young adult series. A former criminal defense attorney, she lives in Missouri with her family. THE ROANOKE GIRLS (March 7, 2017), is her first novel for adults.
www.amyengel.net
@aengelwrites
For more recommendations and reviews from me please follow on Twitter @katherinesunde3 (bibliomaniacuk)