Sealskin by Su Bristow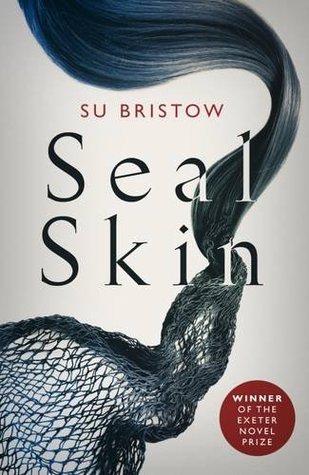 What happens when magic collides with reality?
An amazing story, that's what.
Every single aspect of this book is beautiful. Every single adjective I could choose to describe it has already been taken by the authors, booksellers and bloggers who have fallen in love with this unique and stunning novel.
Is it just enough to say read it? Read it. You'll love it.
This is a story based on a legend and Bristow continues this with her dream like prose, blurring the realms between reality and mythology. Set on the isolated West Coast of Scotland this book tells the tale of Donald, a fisherman, who makes a decision one night that changes the course of his life, his family and the small community of which he is part.
This is a story about repercussions, judgements, violence, transformation, atonement and resilience. This is a story about love, forgiveness, understanding and belonging. This is a story that is rich with imagery, description and simply gorgeous writing. This is a story that will linger with you as long as the legend of the selkies has lingered over the Scottish Isles.
"Moonlight silvered everything, casting doubt and shadow. So he scrubbed at his eyes and looked again, but they were still rolling, rising up, standing and stepping out of their heavy skins, helping each other to get free. Six, seven maybe nine young women, lithe and graceful, holding hands, beginning to sway and dance as though the moon had pulled them up and out of the sea, almost airborne, drunk with the joy of it."
Donald's sense of wonder and fascination catch him in a spell which is then broken by that instinct to own, to have, to hold something so beautiful and so special. He is overwhelmed and commits an act of brutality and violence for which he will pay dearly as the consequences of his actions begin to write their own legend.
Although the location is fixed, the exact time and setting of
Sealskin
remains unclear which enhances the fairytale like atmosphere of the story. I think this is effective and it was not difficult to let myself get caught up in this world where myths and reality converge. It's irrelevant when it is set as actually, even though this seems like a fantastical story, it is still relevant and resonant with readers today. There are plenty of universal themes and questions within these pages and plenty or ideas to consider about human nature.
I liked the character of Donald's mother and how her dialogue reminded me of fairy tales. Her kind of prophetic claims that "there will be a child" and "you've made your bed now you must lie in it" created a great sense of tension and foreboding. The dynamics between her and Donald are fascinating and nuanced. The relationship between the family as they try to nurture Mairhi is engaging and enchanting. Bristow is a writer with immense creativity and with a bewitching imagination.
Honestly I am reluctant to start quoting from this book as I just will not stop. And every phrase I find is usurped by something even more captivating. It's impossible to pick out just one or two phrases which made the book for me as I was constantly dwelling on sentences which struck me with their exquisiteness.
I loved the description of skin and how it was a repeated motif used to illustrate many different concepts from the obvious to the more subtle. I loved how it transcended between the physical, metaphorical and psychological ideas explored in the book. I am intrigued to know more about Su Bristow herself and what has influenced her writing journey to lead her to produce such mesmerising prose.
Nature is a huge part of this book with numerous references to birds and animals. The natural habitat is as much a character as Donald and Mairhi and as significant in the storytelling. This is a story where you live, breath and dream the landscape. It also explores ideas about tradition, secrets, and storytelling. Communities, families, marriages and friendships all play out with the same complications and dramas century after century.
Sealskin
left me feeling enriched and in awe. But writing my review has left me feeling dissatisfied and frustrated as it feels impossible to do the book justice.
If you love being transported to another world, if you love reading about stories buried in mythology, if you love stories about the human condition, the decisions made by people, loss, love and atonement, then you will love this book. If you relish well written prose then this has to be one of the best examples.
Read it. You'll love it.
Sealskin
is published by Orenda Books. The ebook was published in December 2016 and the paperback will be available from 6th March 2017.
Su Bristow
Su Bristow is a consultant medical herbalist by day. She's the author of two books on herbal medicine and two on relationship skills. Sealskin is her first novel and won the Exeter Novel Prize. Her writing has been described as "magical realism; Angela Carter meets Eowyn Ivey."
You can follow Su on Twitter at
@SuBristow
For more recommendations and reviews, you can follow me @katherinesunde3 (bibliomaniacuk)