Larchfield by Polly Clarke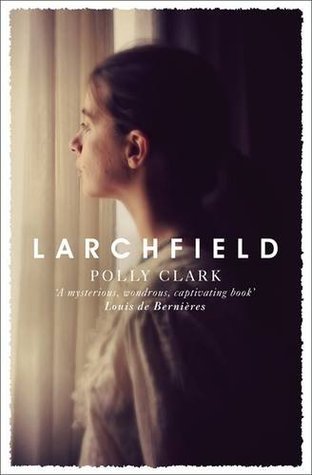 It's early summer when a young poet, Dora Fielding, moves to Helensburgh on the west coast of Scotland and her hopes are first challenged. Newly married, pregnant, she's excited by the prospect of a life that combines family and creativity. She thinks she knows what being a person, a wife, a mother, means. She is soon shown that she is wrong. As the battle begins for her very sense of self, Dora comes to find the realities of small town life suffocating, and, eventually, terrifying; until she finds a way to escape reality altogether.
Another poet, she discovers, lived in Helensburgh once. Wystan H. Auden, brilliant and awkward at 24, with his first book of poetry published, should be embarking on success and society in London. Instead, in 1930, fleeing a broken engagement, he takes a teaching post at Larchfield School for boys where he is mocked for his Englishness and suspected - rightly - of homosexuality. Yet in this repressed limbo Wystan will fall in love for the first time, even as he fights his deepest fears.
The need for human connection compels these two vulnerable outsiders to find each other and make a reality of their own that will save them both. Through the power of their imaginations they will find the courage and bravery to overcome their
suffering.
The most striking thing about this novel is how effortlessly Clarke transports the reader back in time for the story of Wystan Auden but also grounds you firmly in the present with Dora's storyline. The effect of this is an atmosphere of a kind of timelessness, which is effective because of the magical way the two story lines then intertwine. This sense of changing time and place is also a very effective way of capturing the physical and emotional escape both the main characters seek. This is a book where time and place both matter and don't matter.
Clarke's writing style also feels both fitting of a classic novel and a contemporary novel. It is moving towards literary fiction but incredibly enjoyable and full of beautiful exposition. I loved the opening description of Auden:
"His arms are huge, the arms of an ape, and he's lighting a cigarette as he gets settled for the journey from Oxford to Glasgow. ......His left ear sticks out, the remains of the schoolboy. The impression made is one of pale, large fragility. It isn't until he looks up that his attractiveness becomes apparent."
Unusually Clarke builds intrigue by almost telling us what is to come in the story and this made it an appealing opening. There was something very assured about the voice and I immediately trusted the author to deliver a tale that would be character driven and memorable.
"He does not know that he will be more alone than he has ever been, that he will love more deeply than he ever thought possible - and he will long for the consolations that poetry cannot give, at least not to the writer."
There is a lot about poetry and writing in the story because it so important to both Dora and Wystan; both characters use poetry to 'make sense' of life. But there is much more to this novel; it is also a wonderful piece of character study and the emotional journeys of these characters and whether you know who Auden is or not, whether you've read his poems or not, you will still enjoy this book.
"'Do you know about poetry, Mr Wallace?'
'I know enough to know that rugby is more important.'"
Both characters are completely three dimensional and completely convincing, engaging and interesting. I took to Dora and found her journey into motherhood compelling and sensitively handled. I particularly enjoyed Dora's interaction with the midwives in the hospital, for example her request to move from the ward to a hotel:
"A hotel? [the nurse] repeated, almost wonderingly, looking at Dora anew, as if perhaps she were Oliver Twist and had said, Please sir, can I have some more?"
Dora gives birth prematurely and the effect of this on her as a new parent is colossal. Clarke writes some simply stunning sentences that are subtle and understated yet poignant and powerful. I thought Clarke's description of Dora at the toddler group was painfully emotive and imaginative.
"The mothers lining the walls raised their drooping heads like desiccated flowers suddenly given a drink. Dora hauled herself across the room, just a step ahead of the silence cresting behind her."
I had many favourite lines in
Larchfield
and I found the evocation of a small community as claustrophobic and inhibiting as the characters themselves. This is a gem of a book, to be savoured, read slowly and enjoyed. It reminded me of Jo Baker's novels and of "Let me tell you about a man I knew" by Susan Fletcher. It has also been compared to "Possession".
Larchfield
will be published by Quercus on 23rd March 2017.
For more recommendations and reviews follow me on Twitter @katherinesunde3 (bibliomaniacuk)