The Doll Funeral by Kate Hamer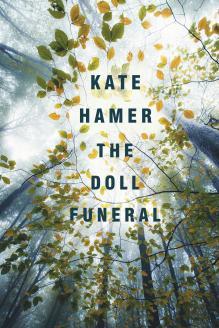 My name is Ruby. I live with Barbara and Mick. They're not my real parents, but they tell me what to do, and what to say. I'm supposed to say that the bruises on my arms and the black eye came from falling down the stairs.

But there are things I won't say. I won't tell them I'm going to hunt for my real parents. I don't say a word about Shadow, who sits on the stairs, or the Wasp Lady I saw on the way to bed.

I did tell Mick that I saw the woman in the buttercup dress, hanging upside down from her seat belt deep in the forest at the back of our house. I told him I saw death crawl out of her. He said he'd give me a medal for lying.

I wasn't lying. I'm a hunter for lost souls and I'm going to be with my real family. And I'm not going to let Mick stop me.
Thirteen year old Ruby narrates this novel and her voice is immediately captivating. Hamer's prose is quite simply stunning and her ability to recreate the voice of a fascinating yet troubled young girl goes beyond impressive.
Finding out that she is adopted does not disturb Ruby in the way one would conventionally expect; she is relieved. But this revelation also sets her off on a journey to find her parents and Hamer's ability to capture the balance of excitement, tragedy, poignancy and naivety is perfect. Her imagined meetings with her parents are a mixture of the bright optimism only a child can have, and yet also tug away at those of us old enough to fear for her possible disappointment.
"I stopped, wondering what would happen if my parents really did come. I'd imagined a procession of birthday cakes, for all the years they'd missed......the one with thirteen candles would be the most magnificent: gilded, topped with jewelled fruits in the glow of soft flame."
Hamer's writing is poetic. This novel is a blend of realism, fantasy, fairy tale and myth.
"That night I became a proper hunter. Of true family. Of the threads that ghosts leave behind. Of lost souls."
As well as this implication of ghosts and other worldliness, is the character of "Shadow" who reminded me of Peter Pan- although he's much darker but I think the connotation is probably intentional. There are other subtle references to fairy tales and imagery that reminds the reader of tales that might have been written by the Grimm brothers. The chapter headings themselves also imply more mythical or magical concepts. But Ruby's life is far from a fairy tale; the violence and abuse she suffers is only bearable because of the lyrical, detached way Ruby herself 'floats' up and watches from above as if it is happening to someone else. And there seems to be something about the birthmark that covers her face too:
"
As if it was meant, like a mask that had been made especially for me."
There's just endless passages to admire for their literary brilliance.
"When Tom came to the house the mirror turned suddenly milky, spreading cloud to its centre like glaucoma. I'd never seem this before and it frightened me."
And my favourite:
"Sleep constantly eludes, though. It begins to feel like a distant country she'll never visit again."
Ruby's story is quite overwhelming in a way. Although the writing is brilliant and beautiful, imaginative and amazing, it does perhaps make this quite an intense novel. Ruby's story is not a happy story either. So Hamer breaks up Ruby's narrative set in 1983 with the third person narrative of Anna in 1970. The two timelines complimenting each other and allowing the author more exploration of the key themes in the book.
To be honest, I did find myself getting a little bit lost between the dual story line at times but it is not difficult to differentiate between the two voices and it is not difficult to keep track of the plot so actually it wasn't a problem really. I think I was just being swept along with the mesmerising prose and dreamlike quality of some of the passages.
So, not a very long review from me simply because I don't want to spoil the experience of reading this for the first time for you and I don't want to do the passages a disservice by quoting them out of context.
If you enjoy a slow burner of a book which is character driven and beautifully written then this is the novel for you. I don't know what I was expecting - I don't think it was this, but it was a huge treat and a huge pleasure to read. It deserves to do exceptionally well and for Hamer's talent as a fresh, original and imaginative writer to be recognised.
"The Doll Funeral" is published by Faber and Faber on the 16th February 2017.
Kate Hamer grew up in the West Country and Wales. She studied art and worked for a number of years in television and radio. In 2011 she won the Rhys Davies Short Story Prize and her short stories have appeared in many collections. Her novel THE GIRL IN THE RED COAT was published in the UK by Faber & Faber, in the US by Melville House and has been translated into 17 different languages. It was shortlisted for The Costa First Novel Prize, the British Book Industry Awards Debut Fiction Book of the Year, The John Creasy (New Blood) Dagger and the Wales Book of the Year. It was a Sunday Times bestseller
Follow Kate Hammer on Twitter
kate_hamer
Or via her website
www.katehamer.co.uk
For more recommendations and reviews you can follow me on Twitter @katherinesunde3 (bibliomaniacuk)