#BlogTour #DesperationRoad by Michael Farris Smith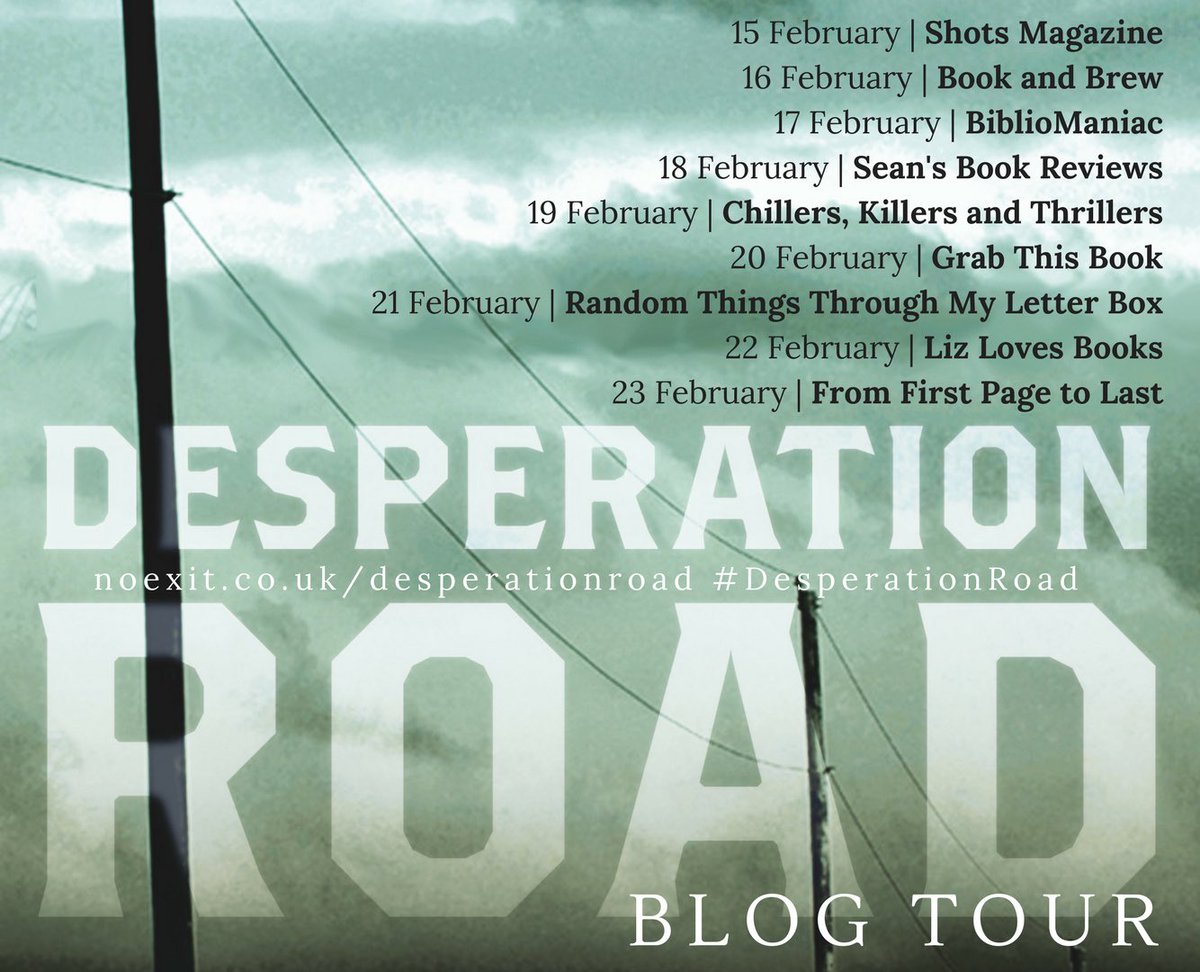 23
rd
February 2017 · NO EXIT PRESS · £14.99 · HARDBACK
A haunting and devastating novel by a remarkable new talent.
'Brilliantly compelling' ROBERT OLEN BUTLER
'Smith writes shapely prose and sharp dialogue and everywhere displays an acute sense of the moments and pain that can define lives in a small town' -
Kirkus Reviews
'One of the best writers of his generation,
Desperation Road
may very well be his best work' -
Tom Franklin, NYT bestselling author of Crooked Letter, Crooked Letter
For eleven years the clock has been ticking for Russell Gaines as he sits in Parchman penitentiary. His sentence now up, Russell believes his debt has been paid. But when he returns home, he discovers that revenge lives and breathes all around him.
Meanwhile, a woman named Maben and her young daughter trudge along the side of the interstate. Desperate and exhausted, the pair spend their last dollar on a room for the night, a night that ends with Maben holding a pistol and a dead deputy sprawled in the middle of the road.
With the dawn, destinies collide, and Russell is forced to decide whose life he will save—his own or those of the woman and child.
"I want to take readers into dreamlike worlds with true and honest characters and create emotions that move off the page and into whoever is holding the book." Michael Farris Smith
And he does. 'Desperation Road" is a mesmerising read. Slow, haunting, intriguing and poetic. It opens with the characters only being referred to as "old man", "woman" and "little girl" which is both effective in establishing the themes and atmosphere of the novel. The writing is stunning and emphasises the desperation of the characters and the events which unfold.
"He saw that there was a vacancy in her expression when she answered his questions and he knew she didn't know any more about what they were doing or where they were going than he did."
There's a dreamlike quality to the writing as the characters almost seem to be sleepwalking through their lives, waiting for clarity, or searching for something they can not quite articulate.
Maben is a character who requests empathy, sympathy and intrigue.
"A phone book hung from a metal cord and she opened it and began to try to remember the names of people she used to know. She tried to think of a friend or some down-the-line cousin. Something. Somebody. She looked at the names in the phone book as if one might reach up and poke a finger in her eye and say hey look it's me."
It's hard to separate out short quotes as the writing is so absorbing and carries you along through the unbroken passages of effortless prose. The sentences, sometimes very long, sometimes shorter, are often part of long passages where the dialogue is sparse.This is a book which allows the reader to celebrate good writing. Smith depicts the life of his characters with considered, deliberate prose. There are many lines over which to hover and fully appreciate the writer's craft, yet hover too long and the brutality which they convey could overwhelm you.
Although all in third person, Smith presents well crafted, completely three dimensional characters who have lived through desperate times. The central characters, Russell and Maben, are captivating. We engage with them; their pasts, their nightmares, their failings and their journeys. There are other characters who although on the sidelines are still presented with authenticity and depth. Smith is a writer who understands the people he is writing about and is obviously fully immersed in the world they inhabit -ensuring the reader does the same.
This is a dark and gritty novel. It is powerful and bleak. The setting and location of the novel is well evoked. The writing is detailed yet sparse and I felt torn between feeling shocked, unnerved and heartbroken as the lives of Maben and Russell are revealed. I think the publisher's description that this is haunting and devastating is probably the best way to summarise the novel.
To me, "Desperation Road" already reads like an American Classic. Robert Olen Butler has praised this novel and if you enjoyed "Perfume River" then you will enjoy this. Fans of William Faulkner and Hemmingway will find this book rewarding and satisfying.
It is clear this book will leave its mark on the literary world.
Thank you to No Exit Press for an advanced copy of this novel - a novel I would not have usually chosen to read but have enjoyed and can recognise the obvious talent of Michael Farris Smith.
FURTHER PRAISE FOR DESPERATION ROAD:
"
Desperation Road is an elegantly written, perfectly paced novel about a man and woman indelibly marked by violence. Characters who would
be mere stereotypes in a lesser writer's hands are fully realized, and we come to care deeply as they attempt to create a bet
ter life for themselv
es. An outstanding performance."
Ron Rash, NYT bestselling author of
Serena
and
The Cove
"Anchored by prose that is both poetic and brutal,
Desperation Road is a gorgeous and violent book. But don't be fooled by the title. Michael Farris Smith's novel teems with the honest and believable humanity that only the bravest writers dare to search for in the most trou
bled souls."
Ivy Pochoda, author of
Visitation Street
"Michael Farris Smith taps into the rhythm of a world I know, and he does
it so well, with such ease, that it's almost like I'm living it instead of reading it. His anti-heroes teeter always between the drag-out skids and sweet redemption, and they create a beautiful, true tension that makes this novel burn and thrum in your han
ds." Jamie Korngay author of Soil
MICHAEL FARRIS SMITH is a native Mississippian who has spent time living abroad in France and Switzerland. He is the recipient of the 2014 Mississippi Author Award and has been awarded the Mississippi Arts Commission Literary Arts Fellowship, the Transatlantic Review Award for Fiction, and the Alabama Arts Council Fellowship Award for Literature. His short fiction has twice been nominated for a Pushcart Prize and his essays have appeared with
The New York Times
,
Catfish Alley
,
Deep South Magazine
, and more. He lives in Columbus, Mississippi, with his wife and two daughters.
michaelfarrissmith.com
@michael_f_smith
For more from me, you can find me on Twitter @katherinesunde3 (bibliomaniacuk)