"The Girl Before" JP Delaney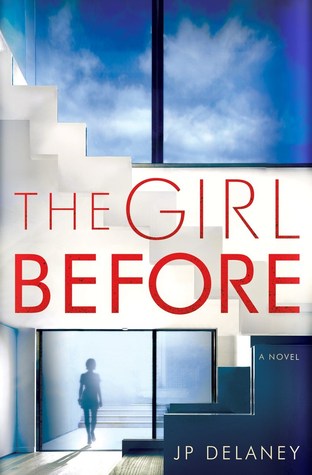 Please make a list of every possession you consider essential to your life.
The request seems odd, even intrusive—and for the two women who answer, the consequences are devastating.
This novel follows the story of two women in two different time frames:
Then, Emma
and
Now, Jane
. Immediately this creates a sense of intrigue- both lives are obviously connected somehow and obviously the connection must be through the flat that we see the women moving into. What happened to Emma while she was at One Folgate Street and what might happen to Jane while she rents there? What happened to the girl before?
First we meet Emma and her boyfriend Simon. After suffering a recent, very traumatic break in, Emma needs to move to somewhere she feels safe. One Folgate Street seems to offer this. Designed by an architect, it is minimalist in design and managed by the most state of the art equipment and technology. As the estate agent says, "No matter how often I come here, it always takes my breath away." Emma is completely blown away by the stunning effect of the beautifully designed open space with a particularly unusual staircase as its central feature:
"It's like something hewn into a cliff face: floating steps of open, unpolished stone with no hand rail or visible means of support."
But before Simon and Emma can secure their tenancy there, they need to read the rules.
"'Basically it's a list of dos and don'ts. Well, don'ts mostly. No alterations of any kind, except by prior agreement. No rugs or carpets. No pictures. No pot plants. No ornaments. No books-'
'No books! That's ridiculous!'"
Well I have to agree with that!
After agreeing to the rules, there's a test to complete and an interview to attend. Landlord Edward Monkton has complied a demanding questionnaire that is like some advanced psychometric test. The questionnaire begins by asking the prospective tenant to list every item they consider essential to their life and then continues with some fascinating, searching, thought provoking and down right difficult questions which appear throughout the novel, breaking up the chapters and sections. This is a really clever technique - as well as breaking up the narrative and therefore creating more tension, Delaney also uses it to show the growing sense of unease that the reader, and the tenants, begin to feel towards One Folgate Street and JP Delaney. Some questions did distract me from the story a little as I couldn't help but wonder how I might answer and briefly consider the dilemmas they proposed, but ultimately they make you wonder why a landlord would be posing such complicated questions and what he was driving at?
However, the main thing that appeals to Emma is that because of the technology, the gadgets, the sheer cleverness and intelligent programming that runs the house, she feels completely safe here. This is a house where "Nothing bad could happen to you."
The chapters alternate between Emma and Jane. Jane also needs a fresh start. For her, One Folgate Street offers a sanctuary; a de-cluttered, open, clean space where there are no traces left of what should have been. But as soon as she moves in she realises that behind this polished facade there lies a secret. She sets out to untangle the truth from the lies but can she stop herself from making the same choices? Unwittingly, she begins to follow the same path as the girl before.
The most captivating character in this book is the flat itself. It is described so well that it really dominates the novel. It is so dramatic and so stunning in its design; so decluttered and pristine. And then there's the sophistication of the technology, for example the way the tenant wears a bracelet which triggers the shower - including your preferred temperature - and as the agent explains there are:
"'Ultrasonic motion sensors. Coupled with a detector that adjusts the level according to how dark it is outside.....Then you choose the mood you want from the app. Productive, Peaceful, Playful and so on. It adds extra UV in the winter so you don't get depressed.'"
Both Emma and Jane see this flat as not just somewhere incredible to live, but as somewhere that will change them as a person. As if the presentation of a clean, clear space with nothing out of order- a place of perfection where everything is so efficiently controlled, will somehow bring the same order to their lives. As Emma says:
"
Perhaps the house will turn me into a better person. It will bring order and discipline to the random chaos of my life."
Although JP Delaney's novel is really a psychological thriller, I think they might also be exploring a much larger metaphor. One Folgate Street seems to represent the internal state of Edward Monkton's mind; his quest for perfection, his quest for control. It also creates a metaphorical space to explore the internal struggles of the characters and to raise questions about the trouble people go to when trying to control their lives- hoping that the way we organise our homes may create a sense of order across our mental entanglements.
And then what's really compelling about the flat is the way that it's character begins to become so sinister. From being a home where Emma and Jane felt spoilt, treated, special and privileged, it then seems to become unfriendly.
"It feels like I'm being watched."
As their tenancy continues they are expected to complete assessments - hot water and other amenities are shut down until Monkton has the data he requires. The only search engine that Emma and Jane can access is "Housekeeper" which then controls what results they view. Gradually they realise that actually the landlord has a lot of information about them and can actually monitor every thought, every decision and every action.
Is this a house or is it a prison? Is it a space in which the characters are trapped? Is it a privilege or a punishment to be here?
"What if the house itself decides not to protect me? How safe am I really?"
And who is behind the house? Who is controlling the house? Why are they controlling the house? What happens the tenants who stay in the house?
I can imagine this book making a very good film. The location would be visually so stunning and the character of Edward Monkton is as intriguing, attractive and as chilling as characters like Christian Grey or perhaps occasionally more sinister like the captor in John Fowles' "The Collector." Emma is complex - again with shades of Rachel from "The Girl on the Train" and Amy from "Gone Girl" - there is much more to her than meets the eye. And Jane - perhaps the most likeable character out of them all- but not a straightforward one. Each character has their own issues, emotional fragility and fallibility. Again this made me feel like One Folgate Street really was more metaphorical of something more internal and more psychological.
It's a page turner. It's going to be popular and it's going to appeal to all those who are enjoying the new titles within the rapid growth of the "GripLit" genre. It should become a film.
"The Girl Before" will be published on January 26th 2017 by Quercus. My thanks to NetGalley and the publishers for a review copy.
For further recommendations and reviews please follow me on Twitter @katherinesunde3 (bibliomaniacuk)