My TBR pile for 2017
So it's the New Year and I am really excited about my TBR pile! Some are older titles that have been very patiently waiting to be read and some are brand new books that will be published this year. Here's a little look at what I'm hoping to read in 2017!
"Behind Her Eyes" by Sarah Pinborough publishes on 31st January
Why is everyone talking about the ending to this book?! I am so curious as to know - everyone is going mad for this novel and I am really looking forward to finding out what is so captivating and shocking about the story! Luckily I have an ARC so fingers crossed I haven't got too long to wait! It looks like this will be one of the top psychological thrillers of 2017!
"Before the Rains" by Dinah Jefferies publishes on 23rd February.
This was a book I actively sought out on NetGalley. It is Jefferies fourth novel; I only recently discovered her but went on to read her previous titles. Set in India in the 1930s this promises to have the same intrigue, suspense, romance and secrets that always make her books so enjoyable, with a great historical context and setting which again, always make her books great escapism. Jefferies always tells a good story with great characters and this will be something to enjoy as a bit of a holiday read.



"Lies" by T M Logan is published on 4th May
This is TM Logan's debut novel and is published by Twenty 7 who so far have released some of the best titles from new authors that I have read over the last 12 months. I have come to expect great things from Twenty 7 and I am sure this will not disappoint. The cover is stunning and the blurb is really intriguing. Another psychological thriller full of secrets and lies.....can't wait!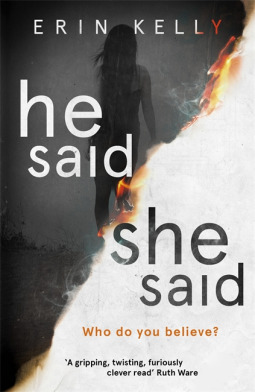 "He Said She Said" by Erin Kelly will be published on 20th April.
I saw Erin Kelly speak at the Killer Women Crime Festival in October and she was full of energy and really interesting. I have read "The Poison Tree" a long time ago but hearing Kelly speak really made me want to read more of her books so I was stalking this on NetGalley until I was lucky enough to secure an ARC! I am really looking forward to reading it having heard Kelly speak so much about her writing, her inspirations and seeing her at the festival.
"The Muse" by Jesse Burton was published in 2016 and has now made it on to the Richard and Judy Spring Book Club. I have bought a copy - possibly seduced as much by the cover as much as the reviews - and will be hoping to read this soon as a bit of a change from the psychological thrillers!
"The Bookshop" by Penelope Fitzgerald was first published in 1978. You don't really need to ask why this book appeals to me! A village, a bookshop, a literary classic. Three good reasons!! It's a very slim novel so I'm hoping to sneak it in between my review requests!
"Cockfosters" by Helen Simpson was published in 2015 and is a collection of short stories. I fell in love with Helen Simpson earlier this year when I accidentally stumbled across "Hey Yeah Right Get A Life" which seemed to speak volumes to me from it's short stories full of sharp, witty, insightful observations about people and relationships. I have been desperate to read more ever since. This was a perfect Christmas present!
And then here are a few more that I'm also very keen to read as they are published over the next few months......
What do you have waiting on your TBR pile? Old favourites? Books you've been meaning to read for ages? New books that you'll be banging down the booksellers' doors for as they are released into the wild? Any recommendations that I should add?!! Let me know........
For more recommendations, reviews and bookish chat you can follow me on Twitter @katherinesunde3 (bibliomaniacuk)