**AUTHOR POST** Angela Clarke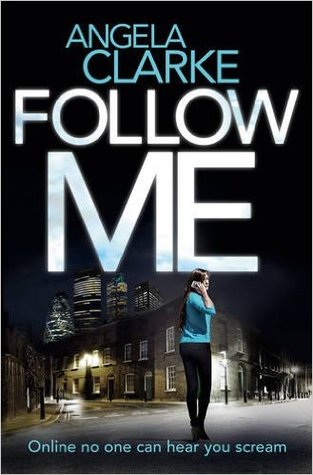 It is my great pleasure to hand over my blog today to Angela Clarke, author of the Social Media Murder Series, "Follow Me" and "Watch Me".
Angela will be appearing at Bibliomaniac's Book Club event on Wednesday 18th January in Harpenden. Keep an eye on my blog for more posts about this! To find out more about Bibliomaniac's Book Club click on the link below:
Today she talks to us about "The Difficult Second Book". Thanks so much Angela for coming along today and chatting!
The Difficult S
econd Book
People often say musicians struggle with that difficult second album. But what about authors? Can the same be said for that difficult second book?
I never set out to write a crime series, I never set out to write a crime novel. In 2014, I was trolled in response to some feminist posts I wrote. It didn't last too long, but during the couple of days it did, the graphic rape threats (they helpfully sent pictures) and threats of violence I received left me frightened and more than a little perplexed. Until then, Twitter had been a safe space, somewhere I could find and interact with like-minded people. What would drive someone to brutally threaten a stranger just because they disagreed with something they wrote online?
I began to do some digging. I found out information about those who had sent terrifying rape threats to me. One was a father of two young girls who sat on his children's school's PTA. Another was a nineteen year old economics student at Warwick University, and female. If you want to know what they said, take a look at my novel Follow Me. I reproduced their intimidating messages word for word. If they wish to claim their work, I'm more than happy to credit them. That is what the trolls really gave me: grist for the mill.
I became fascinated with what drove people to behave badly online. Is it because, under the illusion of anonymity, we forget there is a real person on the other end of the internet? Whether we're shaming, flaming, trolling or campaigning, you are talking about and too real people. Each of those words is striking another human being. Just how far would we go? If a killer was tweeting clues to their next victim, would we engage with them? Would we share their posts (even in the misguided notion that we might be helping)? Would we challenge the killer? Would we follow the killer online? From these kernels, grew a book about the internet. My Great Internet Book. About how technological developments like social media are changing the way we interact, changing how we live. How technology is advancing too fast for us to develop social etiquette, norms and laws in line with it. How in that lag, we are finding new ways to hurt people, and we're making ourselves vulnerable.
When I presented My Great Internet Book to my agent she read it and said, 'Darling, it's full of dead bodies. You've written a crime novel.' How exciting! I loved watching and reading crime, and in technology I'd found a niche. I write the Social Media Murder Series. The first, Follow Me, concerns trolling, and a tweeting serial killer, the second is themed on SnapChat, and explores revenge porn and online bullying.
Many of my crime writing pals, both on screen and in print, try to get rid of a character's tech. We can all think of character whose mobile phone have no signal or battery. That way the character can't call for help, or Google the answer to something. But that's too easy. Far better is to have fun with the darker elements of our new toys. To make us think about what we open ourselves up to when we share so much online. Or even if we don't. Did you know you could take a nude Selfie on your phone and immediately delete it, but a copy will be saved on the cloud unless you have actively disabled that option? That means you might never share that nude Selfie with anyone, but it could still be stolen from your cloud and published online. It could still be sent to your work colleagues, the parents of your children's friends, it could still destroy your life. That's an uncomfortable darkness we should all be aware of. We need to talk about these things. We need to educate ourselves and each other. We need to be kinder.
So, did I have a difficult second book? Oh no, because as long as we keep inventing new technology, and new ways to abuse it, I have plenty of material. Stay safe, guys.
Angela's bestselling crime thriller Follow Me is out now. Watch Me was released on 12th January 2017. Angela will be appearing at the Criminally Good Books event on the 18th January 2017.
You can follow her on Twitter at @TheAngelaClarke, and receive an exclusive free short story and insider industry information on getting published by signing up to her newsletter here: http://angelaclarke.co.uk/free/
You can follow me and Bibliomaniac's Book
Club
on Twitter @katherinesunde3 or by signing up on this blogsite to receive all future posts via email.