**AUTHOR Q&A** Helen Cox "Starlight Diner" series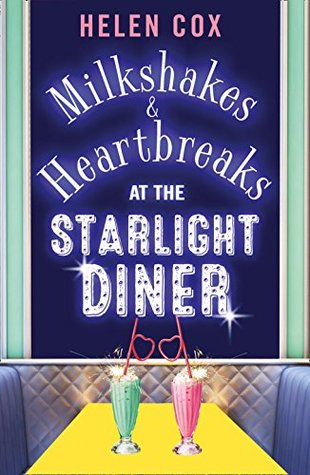 Today I have the absolute honour of welcoming author
Helen Cox
to my blog. Confession: I have rather fallen in love with the world of the
Starlight Diner.
Helen Cox
's world is colourful, bright, fun and full of songs to which you know all the lyrics and sing them from the top of your voice while going about your daily chores! So refill your coffee, help yourself to another spoonful of ice-cream, set the iPod to Kylie and read on to hear all about Helen, maple syrup buttermilk pancakes, travelling the A19 of life and hot dates with Captain America.......
Can you tell us a little bit about yourself and your journey to becoming a published writer?
Well sure… but I'm not a woman who is easily synopsized. I might be better off writing the blurb for what's underneath my little blonde cover. Blurbs are supposed to be all the most appealing parts, right? So if I do that, people will never know that I have, in an "emergency", been known to eat cheesecake with my bare hands…
Alright, here are the key facts: though my topsy-turvy life takes me all over, I'm a Yorkshire lass at heart. The first record I ever bought was a 45 of I Should Be So Lucky by Kylie Minogue. I learnt most of my lessons about love from summer reruns of Saved by the Bell and, though not one to hold grudges, I'm still a little bit annoyed at my mother for making me miss an episode of Press Gang in 1989 for a dental appointment.
It's true that some scars never heal.
When it comes to writing, it's something that is in my blood. I've always written, since I could hold a pen in an upright position. I've been putting pen to paper 'professionally' for about a decade (if anyone out there understands the true definition of writing 'professionally' do drop me a line and explain it to me). During that time I specialized in film journalism, founded my own film magazine and wrote a few non-fiction books. Then one night, out of nowhere, I started writing a novel and by some miracle it was picked up by a publisher. I think because it's the first novel I've ever written some people have viewed my publishing contract as an 'overnight success' of sorts but it's been a life-long journey to get to this stage and I actually don't believe that 'overnight success' even exists. In any pursuit there are many miles to travel and often what you first thought of as the "destination" just turns out to be a petrol station (sometimes with an attached Little Chef) on the A19 of life.
You often publish short stories, extracts, character snippets or back stories as spin offs from "Milkshakes and Heartbreak at the Starlight Diner" Is "Milkshakes...." more than just a book?
Milkshakes and Heartbreaks at the Starlight Diner started off as a word
document
I saved to my desktop as 'Waitress Story' and I thought I'd never come back to it. In the immortal words of Jake Houseman (Baby's father from Dirty Dancing): "when I'm wrong, I say I'm wrong."
The world of the Starlight Diner is very real to me. The characters are familiar; all family. I guess a lot of them are splinters of who I am. Many of the feelings Esther felt in the first book, I've been through. And I've had times in my life when I've been as wise as Mona; as reckless as Jimmy; as cynical as Bernie and as fun-loving as Lucia. And I imagine many other people can relate to those feelings just as well as I can. When I wrote the first Starlight Diner book, I created my own little universe where I live whenever I write about it, and I guess it's not too surprising that a person like me, who has never really settled in one place for that long, has created this space in which absolutely anyone can find a home.
The details about the diner are very vivid and the location is very specific in the novel. What is the inspiration behind the story? Is it based on a real place?
The Starlight Diner is an amalgamation of features from different diners across New York City with some imaginative details woven in. I went on a little tour of them while I was writing the book, for serious research purposes you understand, and spent a lot of time observing the surroundings and the happenings of different eateries around Manhattan. I may also have devoured a substantial amount of New York Cheesecake but exact figures are unconfirmed. Though the Starlight Diner is fictional, I first had the idea for setting a story in a diner when I visited The Remedy Diner on East Houston Street. It's just a few blocks away from where my fictional diner would stand if it was real-life bricks and mortar.
Have you ever lived in New York? Did you need to do much research for the authenticity of the novel?
Sadly I've never lived in New York City… yet. I get the feeling that at some point in my life I will. I don't know where that feeling comes from. It's just a place I'm drawn to; a place that never ceases to inspire me. And in the fantastical mind of a writer trifling issues such as 'how will I get a visa?' or 'how will I earn money there?' don't carry much weight.
I have spent a good chunk of time in New York City however. About three months or so over the last decade.
I've also read both fiction and non-fiction works by other authors to better understand the different facets of the city; spent a lot of time looking at old maps of Manhattan and conducted interviews with people who live in New York to try and get under its skin.
Do you ever 'fantasy cast' for a film adaptation? Who would you love to see play the lead roles of Esther and Mona?
Hah. I never let my delusions of grandeur quite reach that altitude but if I HAD to pick an actress for the role of Esther I'd probably pray that either Rosamund Pike or Emily Blunt would read the script and say 'yes'. I will watch both of these actresses in any movie, knowing that they're always going to astonish me. As for Mona, casting Gabrielle Union could be a lot of fun due to the fact that she's an actress generally associated with the 90s – when the Starlight Diner books are set.

Or Leslie Jones. I really enjoyed her stint in the new Ghostbusters film and she's definitely as quick-tongued as Mona.
If you were in a diner, which fictional character would you most like to be served by?
It would have to be Amelie Poulain. She's the most adorable fictional waitress in history. We both have incredibly vivid imaginations so I think we would get on a treat. Plus, I got a B at GCSE French so I'd understand at least two thirds of everything she said to me.
Which fictional character would you most like to take on a date / out for lunch at the diner? What food would you order?
OK, to be honest… I'd really quite like to go on a date with Captain America. I'm a little bit obsessed with the USA obviously, so the charm of an American accent is not lost on me. Due to the fact he was frozen in the forties and revived in the 21st Century he's got a bit of an old-fashioned heart like me. He's a super-hero so you'd be totally safe in his company and, I'm not sure if anyone else caught this, but in the latest movie he stopped a helicopter flying away by holding onto it with his bare hands. As a result I would like to make out with him. On his face.
Not that I've in any way over-thought this question / fantasized about taking Cappy out for lunch on a regular basis.
What would I order? Buttermilk pancakes. Always. With maple syrup aplenty.
What tracks would you have to put on the Jukebox if you were in a diner?
If we're talking about 1950s tracks I'd choose something at the later end of the decade with an iconic riff like Summertime Blues by Eddie Cochran. In terms of 1960s tracks it's difficult to beat some of the classic soul tunes from that era. Something like You Keep Me Hangin' On by The Supremes starts playing and it's impossible not to move your body and sing (or shout) along. My musical tastes are insanely eclectic but our Dad pretty much raised me on tunes from that period, so they hold a special place in my heart.
The novel talks about 'running away from ghosts' and trying to escape your past. Have you ever had any kind of experience yourself of trying to run away from something? Have you ever tried to 'recreate' yourself somewhere new?
Sure, there have been difficult things in my life that I've tried to distance myself from. Painful experiences. Heartbreaks that have shunted me into fresh starts. If I've given a particular relationship or situation everything I can give it and things aren't working out, I've never been afraid to walk away and seek my own path.
Of course, this hasn't led to the most settled of existences so in some respects, I guess I feel like I've spent my whole life 'on the run'.

Not per se running away from things but searching for my place in the world.

The closest I ever came to replicating what Esther did in my story was when at the age of twenty-five I moved from York to London. I left my job as a waitress for an offer of writing copy for an advertising company. I gave up my flat. Broke up with my boyfriend, and rented a room (which I temporarily shared with a rat) just off Tottenham Court Road. I was far away from all my family and most of my friends. It was a pretty scary thing to do and certainly there were lots of lonely nights and weekends before I got to know anybody in the city.
I'll admit it felt like an opportunity to 'recreate' myself. I came from a modest background and hadn't always been able to afford the clothes and haircuts and beauty products that so many people are prone to using to project a certain image. But nobody who lived in London knew I hadn't had two coins to rub together my whole life. So I have had that experience of trying to become somebody else in a new place. Can't say it stuck. Turns out, in the end, we just are who we are. And, we're much happier when we're being true to who we are and what we want deep down.
Book Two - "Secrets & Fries at T
he
Starlight Diner"- is coming out in on the 16th Dec 2016 and you obviously always planned this second instalment to follow on from "Milkshakes...". Have you anymore planned in the series?
I am soon to start writing a third Starlight Diner book to complete the character arc for the diner owner, Bernie. He's never been the focus of the main stories but in the background he is on his own journey too and I'd like to put the final story in place to complete that. Whether or not that will be published traditionally or whether it will be self-published I don't know at present, but I'm excited to write it and hang out with my characters again.
In the new book, do we still see Esther, Mona and Walt?
Esther, Mona and Walt all feature in the second book. Esther is less-involved in the third story as it is set a couple of years after the second book. I think it's important to hold onto those characters as they, and the love they show towards each other, are really the lifeblood of the stories and it's that which keeps the narrative thumping along.
If you had to sum your book up in one line, what would it be? What's the one line sales pitch?!
Being concise isn't entirely my specialty but I'll go with:

Esther's about to start a new life in the land of the free. But what good is a life you're too afraid to live?



Thank you so much Helen - you've been a brilliant guest and brought a lot of sunshine to my Saturday morning with your answers! It's been so great to meet you and hear all about your writing world!
I'm off to finish "Secret and Fries" as quickly as I can ......! Good luck with its publication - and just to say, it's currently on Amazon at the preorder price of £1.99!
Here's some more about Helen and The Starlight Diner:
Helen Cox is a book-devouring, photo-taking, film-obsessed novelist. If forced to choose one, Helen's Mastermind specialism would be Grease 2. To this day, she still adheres to the Pink Lady pledge and when somebody asks her if she is a god she says 'yes.'
After completing her MA in creative writing at the University of York St. John Helen found work writing for a range of magazines, websites and blogs as well as writing news and features for TV and radio. She has written three non-fiction books and founded independent film publication: New Empress Magazine. She currently lives in York and writes novels.
More information about Helen can be found on her website: helencoxauthor.wordpress.com. She can be found on Twitter: @Helenography.
"Milkshakes & Heartbreak at the Starlight Diner"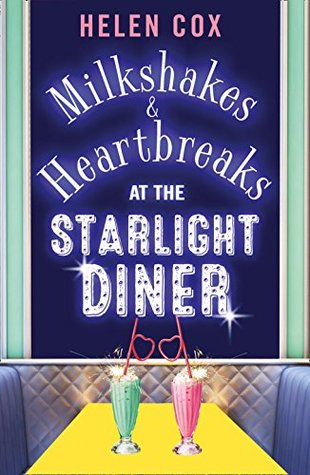 Next time you're in New York, take a turn off Broadway onto East Houston Street. There, you'll see it: The Starlight Diner. A retro eatery curious enough to delight tourists and locals alike. Fifties tunes stream out of the jukebox long into the night, and it serves the tastiest milkshakes in the five boroughs.
Esther Knight waitresses at The Starlight Diner. She's sharp, sarcastic, and she's hiding something. Nobody at the diner knows why she left London for New York – or why she repeatedly resists the charms of their newest regular, actor Jack Faber.
Esther is desperate to start a new life in the land of the free, but despite the warm welcome from the close-knit diner crowd, something from her past is holding her back.
Can she ever learn to love and live again?
Read my review here:
http://bibliomaniacuk.blogspot.com/2016/06/milkshakes-and-heartbreaks-at-starlight.html
"Secrets & Fries at the Starlight Diner"
What brings Bonnie Brooks to The Starlight Diner? And why is she on the run?
As the front-woman in a band, Bonnie is used to being in the spotlight, but now she must hide in the shadows.
Bonnie only has one person who she can turn to: her friend Esther Knight, who waitresses at the Fifties-themed diner. There, retro songs play on the jukebox as fries and sundaes are served to satisfied customers. But where has Esther gone?
Alone in New York City, Bonnie breaks down in front of arrogant news reporter, and diner regular, Jimmy Boyle. Jimmy offers to help her. Can she trust him?
When the kindly owner of the Starlight Diner offers Bonnie work, and she meets charming security officer Nick Moloney, she dares to hope that her luck has changed. Is there a blossoming romance on the cards? And can Bonnie rebuild her life with the help of her Starlight Diner friends?
For more from me, you can find me on Twitter @katherinesunde3 (bibliomaniacuk)