Bloggers Recommend: 20 Books To Make You Laugh
So one day, after a very long week in "the real world" and staring at an overwhelming pile of psychological thrillers and police procedural novels which were either read and reviewed or awaiting to be read and reviewed, I was ailing.
I self medicated. I needed a quick, laugh out loud, well written story with colourful, carefree characters who would drag me along in their comfortable arms and spin me around with a giddy giggle or two. I love thrillers, I love crime, I love police procedurals and I love a dark dystopia, but sometimes, there has to be a little bit of sunshine.
I needed a prescription. No, google or amazon would not be able to help - I needed expert advice. I turned to all my fellow book bloggers.
Actually this is a complete "cheat" post for which I cannot take any credit as all the books listed below are based on their recommendations. Some of them I have read, or heard of, or been meaning to read and some are completely new to me.
Therefore I'm dedicating this post to all the wonderful bloggers out there who recognised a medical emergency and responded instantaneously with an epic list of "Books to make you Laugh".
For the health and safety of all readers out there, it is my duty to share it with you all.
And thanks, yes, I am fully recovered now. But I am keeping a stash of these titles on the bedside table in case of a relapse. I think a regular dose of one of these books will keep you fit and well throughout the dark winter months!
Book Bloggers of the world - I salute you and your warmth, support and down right incredible knowledge of all things bookish! You are the best!
Marian Keyes is possibly the most famous Chick-Lit author around. She has written lots of books and they are well known for their humour and their female characters who try to negotiate life with families, independence, dating, marriage and generally the plights of a twenty something modern gal. Always a guaranteed smile, always witty and always a great distraction from the dilemmas of your own world.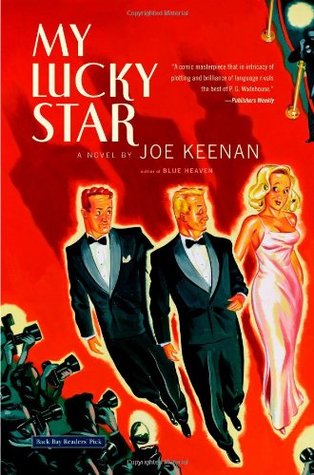 Joe Keenan was a writer for the TV series "Frasier" which is renowned for its sharp, witty, one liners and wise cracks. This book comes heavily recommended from the critics, it's extremely popular in the States and a story which sounds as if it is clever, intelligent, insightful and very funny. I've bought it!
Well I think the title says it all here! This is a collection of short stories, which is always great when you need to break up your reading pile or need a quick shot of humour. Handler has drawn on personal experience to tell tales based on her family, relationships and career and reviewers say it is a fresh voice, full of candour and very entertaining scenarios albeit often ridiculous and outrageous. Definitely one to look up and keep close at hand!
Albert Trollop takes refuge at his allotment and the betting office, while his wife, Gretyl, lives for the shopping channels, car boot sales and local gossip.
After fifty years of marriage, she's thinking of a new life, somewhere hot. He's thinking of the crematorium. She's thinking of stuffing herself in a bikini. He's thinking of a taxidermist. The Londoners continue their separate lives until a mysterious letter turns their world upside down.
In Essex, Dave and Sharon Soddall are struggling on benefits and looking for a get-rich-quick solution. With the help of a devious financial advisor, they concoct a plan and 'Costa Soddall Travel' is born.
Will the Soddalls pull off the con of a lifetime? Can Gretyl be silenced? Will Albert end up missing Gretyl? (Goodreads blurb)
With reviewers claiming this is laugh out loud, british comedy writing at its best, I think this rather quirky sounding book would offer anyone total escapism from their own lives. It sounds hilarious.
This cover looks like the perfect comic read! Several book bloggers have been raving about this book recently and I trust them all implicitly in their recommendation. Who can't resist a heroine with such a fabulous name and such an intriguing title?! I definitely want to read this!
She's single, addicted to sugar and super heroes, her family are officially bonkers, and she sees dead people. Is it any wonder no-one's swiping right on Tinder?
Waking up lonely on her twenty seventh birthday, Melody finally snaps. She can't carry on basing all of her life decisions on the advice of her magic 8 ball; things have got to change.
This book is billed as hilarious and heart warming, it has cups of tea and polka dots on the cover and the words New York in the strap line. It's compared to "You've Got Mail" and "Shirley Valentine". What's not to like? I'm there.
I have read these two books and really enjoyed them. They are great stories, great characters and very well written. They have poignancy and sadness sprinkled throughout them and deal with relationships, family and love but all in all are upbeat and original. They received multiple votes from the book bloggers.
These books were all mentioned several times by the bloggers who joined in my thread about books to make you laugh. I have added them all to my To Be Read pile. "e." and "Ordinary Joe" look a quite interesting as they involve male characters as their protagonists and therefore might offer a good alternative if you have already exhausted the "Chick Lit" section in the library!
The great thing about my emergency call out was how many people recommended books from past decades. As book reviewers and avid readers, we often forget about the gems that lay buried right at the back of our bookcase shelf, over shadowed by the now three deep row of more recent titles. I have read all of these books many years ago, but indeed they are funny, warm and very entertaining. I have a friend who "binge reads" novels by her favourite author in the same way some of us have a special film or food that we turn to when feeling low, tired or a bit jaded. These books should definitely see the light of day again and be filed under "comfort reads".
Yes, I have to add this one. It is one of the first books I read that actually made me laugh out loud consistently and almost on every page. It was fresh, original and highly entertaining when it was published in 1997 and offered me a protagonist that truly spoke to me when I read it all those many many years ago. The character has not lost her appeal even now and for me, "Bridget Jones' Baby" has been one of the funniest, most feel good films I have seen this year. So perhaps this is my ultimate "comfort read" and nicely rounds my list up to 20 titles that myself and the wise book bloggers - who have shown they can treat any condition with a book recommendation or two!
Hope you find something to make you smile, or maybe you have a title to add to our list? Please drop a note in the comments box below if you want to make any more suggestions.
Thanks so so much to all the bloggers who helped me to collate this post. I can't list you all here, but I am very grateful for your contributions and enthusiasm to always talk books!