**AUTHOR Q&A** SAM CARRINGTON "SAVING SOPHIE"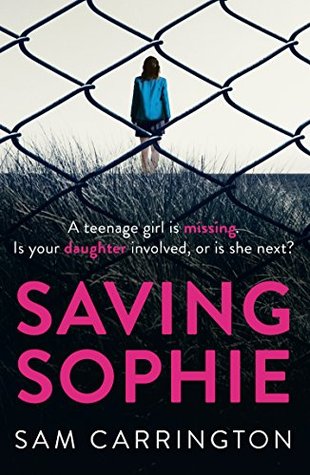 \
It is my very great honour and privilege to welcome Sam Carrington to my blog today!
*Grab the nearest paper bag and breathe!*
For those of you who have seen some of my previous posts and tweets, I am a huge fan of Sam's debut psychological thriller "Saving Sophie". The novel is about Karen and her 17 year old daughter Sophie who returns home one evening drunk and accompanied by the police. She has no memory of how she got into such a state. The next day there is still no news of her friend Amy and then a dead body is discovered. Karen makes it her priority to work out what happened despite battling her own issues - including suffering from severe panic attacks and the need for a paper bag to help regulate and calm her breathing. Myself and fellow book blogger Kaisha Holloway (The Writing Garnet) both agree that the publishers ought to make the sale of a paper bag alongside the paperback essential as it is such a gripping and literally breathtaking read!
So it is a great pleasure to introduce you all to Sam and hear all she has to say about her reading and writing habits.
Which book do you wish you'd written and why?
Oh, that's actually quite difficult. There are a huge number of books I'd love to be able to say I'd written, all for different reasons! I am in awe of most of the authors whose books are in my favourite genre – psychological and crime (shocker there) – and I often stop in the middle of one of them and think, wow, that was a great twist, wish I could think of something that original and brilliant! Just for the fact I loved it so much and it's the one that always stays with me, I will name Into The Darkest Corner by Elizabeth Haynes. It has all the elements that make a great psychological thriller – a brilliant dark edge, characters with depth, tension and good story-telling. It also tackles the frightening topic of domestic abuse. From the reviews I read, it affected a lot of other readers as well as myself and is one of the most recommended books I know.
Great choice - one of my favourites too! The protagonist's fear is absolutely palpable and I was totally absorbed in her predicament. Great writing!
Which fictional character makes you reach for a paper bag?
From a book, Hannibal had the edge for me when it came to raising my pulse and respirations, although that was some years ago! Psychologically I found his character intriguing yet scary, and then when the physical aspects of his behaviour were described (or visualised in the films) my anxiety raised to a whole new level. I always wonder if it was my fascination with his character that drew me to my prison role years later. More recently though, Spector, the killer from the TV series The Fall (one of my favourite series) also had me tense and holding my breath. It's almost just the fact he appeared as a normal, everyday husband and dad but hid his murderous tendencies, that was terrifying.
Ooohh, more great choices! Also love "The Fall" - I take it you'll be watching the third series this week when it returns to TV - if we dare!
Which films or TV series have made you wish you had a paper bag with you while watching?
Other than The Fall and the Hannibal films and TV series, the film Hush was a particularly anxiety-ridden hour and a half for me! I think I held my breath for part of the film, then in the action scenes (which were really quite horrible), I hyperventilated. I didn't relax for the entire film.
I'm useless with scary films and have lately taken to actually screaming loudly at the jumpy bits. The TV series The Enfield Haunting also produced that reaction from me. And, if we're talking panicky paper bag moments – any programme or film involving people crawling/squeezing through small spaces makes me clutch my chest in sheer panic. Don't even get me started on Buried, the film where Ryan Reynolds spends the entire time in a coffin … yikes!
*hands slowly reach for a paper bag as I remember "The Enfield Haunting"....* And I'll skirt over "Remember Me" which I had to watch in daylight with a friend....!
Which authors would you recommend for readers who enjoy a story which leaves them gasping for breath?
There haven't been many novels that have left me actually gasping (that I can think of). For me, it tends to happen more when watching films – I think that's mainly because of the music and visuals that add significantly to the feeling of terror and anxiety. But, there have been books that have given me lots of 'holding your breath' moments – the authors that come to mind are: Mo Hayder, Sharon Bolton and Chris Carter. There are scenes in a number of their books which build tension brilliantly and also give an air of menace which certainly could cause someone to reach for a paper bag! The novel, Room by Emma Donoghue also contained a particular scene that produced a lot of anxiety – I won't put a spoiler in here, but I imagine if you've read it, you might well know which one I'm referring to.
Absolutely. And, amazingly as great books don't always transfer to great films, I practically passed out watching the film of "Room"!
What was the hardest part of writing Karen's character? Did you find it a very emotionally draining book write?
I think the hardest part was ensuring I captured the very real physical symptoms of agoraphobia as realistically as possible. I read a number of articles but also searched for real-life stories from sufferers, which also included reading help forums where people's experiences were detailed. I also suffer from claustrophobia and so could draw on the anxiety I feel when I even think about being in an enclosed space, let alone if I was to find myself in one. The parts of the novel where Karen's condition prevented her from being with her friend were difficult to write, and the scenes between them were emotionally draining. And, as I have a daughter, I often thought 'how would I be feeling?' and 'what if that happened to my girl?' which definitely gave me some sleepless nights.
What do you do to stay calm? How do you relax and unwind after a day of writing a psychological thriller?
I'm not sure that I DO stay calm! Or relax. I suppose I must – although even when asleep my mind works overtime and I have very vivid dreams! I do read as much as possible. But, depending on the book it doesn't necessarily mean I'm unwinding! I guess the most relaxing thing is taking my two border terriers for walks. I'm often accompanied by one of my sons and we have long, sometimes whacky chats that make me laugh – we end up talking about such weird topics that my mind can be taken away from my writing.
What three pieces of advice would you give to aspiring writers about creating tension and suspense in their writing?
1) Keep your chapters quite short. It helps the pace if you're quickly moving from one scene to the next, and it can create an urgency which keeps the reader turning the pages.
2) End those short chapters with cliff-hangers. They don't have to be huge story-changing ones, as that would soon become wearing – but give the reader a reason to read on to find out what you've hinted at previously. The reader has (hopefully) become attached to the character, so it's like foreshadowing that something bad might be going to happen to them. That should create a good level of suspense as the reader moves along with a sense of dread at what might be around that corner…
3) Don't always follow straight on to the next part of the story with the same character, shift to another character's viewpoint or to a different period of time – make the reader wait another chapter to get back to where you left off.
Brilliant advice - thank you for sharing! These devices definitely work very successfully in "Saving Sophie"!
What are you working on next and will we need another paper bag?!
My next novel focuses on forensic psychologist, Connie Summers. After she recommends a prisoner's release, he commits a serious offence which Connie feels responsible for, so she trades her role working with offenders for running her own counselling consultancy helping the victims of crime. One of her newest clients is Steph, a troubled young woman relocated by the Protected Persons Service, who is fearful for her and her son's life. When Connie begins to unpick these fears, she uncovers the tragic circumstances that led to the death of Steph's dad sixteen years ago. Meanwhile, DI Wade and DS Mack pay Connie a visit to tell her that an absconded prisoner has been murdered and his body dumped outside the prison gates. Initially, Connie thinks they are asking for her expert opinion and help in profiling the perpetrator. But then they tell her who the victim is, and that her name is written on the dead man's hand. Suddenly the past catches up, threatening to reveal Steph's true identity and ruin Connie's new career – possibly even her life. Will you need a paper bag? Well I've tried to induce fear in a number of the scenes - so it's a possibility! No actual paper bags in this one, though.
Wow! I'm so intrigued! This sounds fantastic! I cannot wait!
Thanks so much Sam for coming on my blog today and answering all my questions with such interesting responses! It's been lovely to learn more about you and to chat "scary books /TV" with you!
Good luck with completing your new novel and we look forward to hearing more about it nearer publication time!
A BIT MORE ABOUT SAM CARRINGTON.......
Sam Carrington lives in Devon with her husband and three children. She worked for the NHS for 15 years, during which time she qualified as a nurse. Following the completion of a Psychology degree she went to work for the prison service as an Offending Behaviour Programme Facilitator. Her experiences within this field inspired her writing. She left the service to spend time with her family and to follow her dream of being a novelist. SAVING SOPHIE is her debut psychological thriller novel.
Goodreads: https://www.goodreads.com/author/show/15308494.Sam_Carrington\
Facebook: Sam Carrington Writer (@samcarringtonauthor)
For my review of "Saving Sophie" please click on the following link:
http://bibliomaniacuk.blogspot.com/2016/08/saving-sophie-sam-carrington.html
For a few more suggestions about heart stopping books click here:
http://bibliomaniacuk.blogspot.com/2016/02/like-griplit-like-these.html
For my review of "Room" please click on here:
http://bibliomaniacuk.blogspot.com/2016/02/emma-donoghues-room-fantastic-book.html
For more reviews, recommendations and author Q&As please follow me on Twitter @katherinesunde3 (bibliomaniacuk)