Meet Katherine Woodfine (St Albans Literary Festival)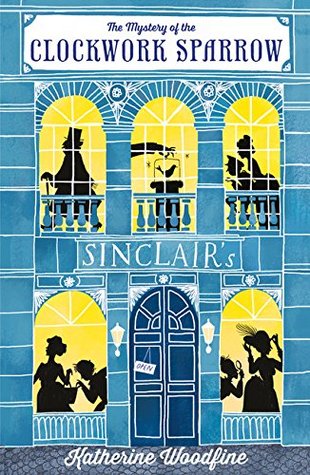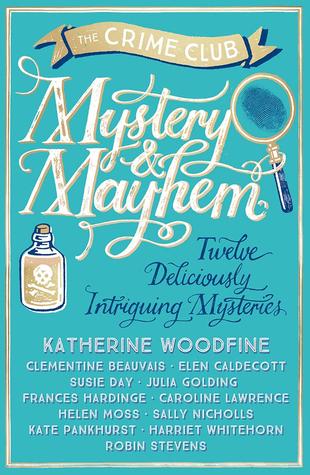 I have had a lovely morning listening to Katherine Woodfine speak at the St Albans Literary Festival on Saturday 9th July! Katherine gave a really interesting and interactive talk to a room full of 7-13 year old fans, all clasping well worn copies of at least one of her gorgeous books! Read on to hear some highlights of what she had to say....
There are two types of books from Katherine's childhood that had a huge influence on her writing:
Mystery and Classics. Her favourite childhood books are:
Enid Blyton "Adventure on..." series, Famous Five and Secret Seven
Carolyn Keene's Nancy Drew series
Macolm Saville "Mystery at Witchend" (now out of print)
E Nesbit "The Railway Children"
Frances Hodgson Burnett "A Little Princess"
Why?
Katherine loves mysteries and stories full of clues where you have to put the pieces of a puzzle together to work out what has happened - and most importantly, books where the children themselves are more brave and clever than the adults; they can solve the mystery even when adults can't!
She also loves stories from the Edwardian era (beginning of the 1900s) because they can transport you to another period in history where there are no mobiles, no internet. Although it's old fashioned, it is still very exciting - even the most simple of things that we take for granted like travelling by train - and the children are still faced with difficult problems to overcome; they still need to be brave and clever.
Tell us more about the inspiration for "The Mystery of the Clockwork Sparrow"....
Set in 1909 the novel stars teenage orphan Sophie who is lucky enough to she find herself with a job in the Hat section in the brand new department store "Sinclair's".
Sinclairs is loosely based on Selfridges which opened in 1909 by American Harry Selfridge. Selfridfges introduced a whole new way of shopping to the Edwardian people. Before, you went to individual small shops for one thing, which you requested over the counter and were handed directly. However Department stores were places to browse, to gaze, to touch, to select from a range of exotic and exciting new products and foods. They were places of intrigue and glamour - therefore the most perfect setting for a mystery story!
Mr Selfridge became a celebrity within society and two details about him - his love for orchids and pug dogs - have been adopted by Mr Sinclair in a way of honouring his influence on Katherine's writing.
Research - but it's not all books and dusty libraries.....
It's obvious Katherine had a lot of fun researching for her detective series. She spoke in great detail about what she found out, keeping it relevant to her novel and of interest to the children listening in the audience. She had a selection of photos from the Edwardian era showing clothes, children working in different jobs and street scenes.
She also looked at adverts, illustrations, maps, bus tickets and anything at all that would help her recreate the details, the sights and smells, to make her writing completely authentic.
The best piece of research looked like photos of her enjoying afternoon tea at Harrods! Because of course, shops had never had restaurants or cafes inside them before and now they were somewhere to socialise and be seen as well as shop! And one couldn't possibly write convincingly without sampling first hand!
Tell us a bit about writing the second book "The Mystery of the Jewelled Moth".....
The sequel gave Katherine a chance to introduce new characters and take Sophie and Lil out of the Department Store and further into Edwardian London. She sets part of the novel in China Town which in the early 1900s was near the Docks in the East End as this is where the Chinese families first arrived and set up their homes.
It also keeps Sinclairs as the most important location and this time Katherine interweaves two story lines between Mei, who we meet in China Town, and a wealthy female customer who Sophie serves in the store. If you want to know exactly what these very different characters could possibly have to do with each other you will just have to read the book and find out!
Sharing.....
Katherine brought lots of things along to share with her captive audience. For example we saw:
-photos of Katherine aged 8 in her detective outfit - huge oversized raincoat, big hat and a magnifying glass
-three Edwardian hats - modelled by children in the audience - Katherine then asked the children to guess who might wear the hat and where they might wear it too. We chatted about how important hats were in this era and what they revealed about the people wearing them
-2 gripping extracts from "The Mystery of the Clockwork Sparrow" - one describing Sophie arriving at Sinclairs for the first time and one about a mystery character witnessing a theft.....
-1 extract from the opening of "The Mystery of the Jewelled Moth"- ending rather unfairly with a cliffhanger!
If you like Katherine Woodfine's books try:
"Mystery and Mayhem" - a collection of 12 crime stories written by the best young adult mystery writers of today
Kate Pankhurst, Robin Stevens, Lauren St John, Chris Riddell, Helen Moss, Caroline Lawrence, Elen Caldecott
(Just got massively sidetracked ordering a bundle of these.... ooppss!!)
Questions from the Audience....
Did you base any of the characters in your books on yourself?
A tiny bit of you creeps into each and every character.... Billy the Porter is always sneaking off to read books rather than work -that's me!
Did you always plan to write more than one book in this series?
As each book is a separate mystery they can be read as individual stories but there is a bigger story arc and I definitely want to write at least four - one for each season of the first year of Sinclairs. Book 3 is due out in January!
What is your advice to young budding writers?
Write! All the time! Write anything - diaries, letters, newspaper articles, poems, blogs....do it for fun! Practise writing like you practise everything else! But get down your ideas, don't get hung up on spelling and punctuation - let your imagination loose on paper! And read! Everything and anything! It's the best way to learn about writing.
What are you reading at the moment?
James Nicol "The Apprentice Witch" -highly recommend especially for fans of Chris Riddell or "The Worst Witch"
Then the children started to tell us more about their writing and ideas for stories!
The best comment came from one girl who offered a title for a future book- "The Mystery of the Emerald Beetle" - fantastic! If Katherine doesn't write it, I hope the young lady does!
One girl explained how they had written a sequel to one of their favourite novels which Katherine thought was a brilliant way to get started if you were unsure how to what to write about.
Lots of the children have started writing their own novels - Katherine said that the most important thing was to try and finish at least one of them! This is the hardest challenge of all but the most satisfying!
Well it was a really great hour and I thoroughly enjoyed seeing all the old photos, learning more about the Edwardian era and being reminded of how well written and exciting Katherine's novels are. The historical detail is so delicately incorporated into her description it enhances the characters and setting without feeling educative or heavy handed at all.
Katherine Woodfine is intelligent, enthusiastic, engaging and lively - and so genuinely interested in what her audience of young readers had to say. She kept us all captivated for the whole hour and it was a real delight to hear her talk. Naturally the highlight was getting our books signed and having a quick word with her in person - a very inspiring moment for my children who are currently working on chapter 1 of an average of 5 novels each and all have "to be read" piles which rival my own!
Thanks so much to St Albans Literary Festival for organising the event and to Katherine for travelling to meet us all! Check out her website for more information (katherinewoodfine.co.uk)
Read on for my reviews of some of her books!
"The Mystery of the Clockwork Sparrow"
I read this a year ago - ages before I started blogging or leaving reviews on Amazon and Goodreads! But I've given it 4/5 on Goodreads and have lost my original copy as have leant it out so many times. I have also bought it for lots of people (adults and children!!) and forced it upon people when in bookshops and see it on the stands nearby!! It's definitely that good!
My Review of "The Mystery of the Jewelled Moth" 5/5 stars
This is completely charming, entertaining and exciting! It's such a gorgeous book - the cover is so lovely, the endpapers are also lovely, the font for the blurb is lovely as is the blurb itself which begins "The Honour of Your Company is Requested...." Lots of fun!
Great recommendation for 9-13 year olds. The characters are clever, positive, energetic, creative, brave, full of life and spark. The language is evocative of its historical setting (early 1900s) but not forced or intimidating or a barrier in anyway. It's authentic and witty. The characters actually feel very contemporary and I think a good balance has been struck.
The setting of a Department Store is perfect for the start of numerous adventures and opportunities for disguise and undercover work. The attention to historical detail is impressive but subtly enhances the story and characters rather than being in anyway educative or intrusive. It's a very fluent and well paced light read. The dialogue between the characters is highly convincing and believable. I found all the characters likeable and engaging.
These books are like watching your favourite, well produced costume drama on a Sunday night. A real pleasure and very refreshing. I highly recommend them to adults and children alike! Enjoy!
My Review of "Mystery and Mayhem"
This is a brilliant collection of mystery stories which are a perfect introduction to the explosion of fresh new voices writing detective fiction for young adults. It is also a great introduction both to the genre of mystery stories and short stories as well as a tantalising read for current fans of all these writers.
I was very keen to read this collection as I have been totally captivated by the recent publications by Woodfine and Stevens; enchanted by their stunning book covers, charmed by their historical settings and their clever embodiment of combining of all the wining ingredients for intriguing mystery stories inherited from the greats like Christie and Conan Doyle to write something fresh and full of modern appeal. I am also a huge fan of Helen Moss and Sally Nicholls so I really had to read this book!
Woodfine says in the introduction that these new mysteries are a "nod to the much loved mysteries of the past but also bring detective fiction bang up to date." This collection is diverse and includes a range of different voices and character; from those of boys and girls, from modern day to the Victorian era to the Georgian period, from realism to the more surreal. What makes them all particularly appealing is that all the writers are clearly big fans of mystery writers and have a deep knowledge of the genre and the voices of previous authors famed for this style of writing. They all seek to have some fun with the traditions of crime fiction and all understand what makes a perfect young adult read. These are not simple, dumb downed pastiches but something more sophisticated, which embrace the legacy of previous crime writers and reinvent the genre. They are all highly skilled and very talented writers and it is a real treat to find them all inside the same covers!
Another great thing about this collection is that they all encourage the reader to solve the crime before the end of the story. Any young sleuth will rise to such a challenge! What will be equally appealing to the reader is that all the young detectives featured are smarter than the adults around them - as Woodfine points out, they are all "smarter, more sharp eyed, more sharp witted and courageous." Adults are not presented in a derogatory way at all, there is always a certain level of respect between the characters which I think is important having been subjected to so much of the more derisive and slightly unpleasant behaviour often portrayed in American programmes where teenagers are always trying to get the upper hand. These young people aren't smug or arrogant, just intelligent lovers of puzzles and mystery!
I enjoyed "Mel Foster and the Hound of the Baskervilles" by Julia Golding. It was lively, witty, modern and engaging. The story was well constructed with appealing characters who were easy to identify with. The adults were a little patronising and mocked gently with comic humour for their simplistic deductions. Some of the stories had hidden references to other detectives and villains from other canonical titles - many of which I probably missed! It was a treat to read a short story by prize winning author Hardinge whose story is set around the Great Exhibition in Victorian Crystal Palace. I really enjoyed Harriet Whitehorn's "Murder of Monsieur Pierre" which is set in 1782 before the protagonist grows up and becomes the "Crime Solver Extraordinaire" and the "cleverest woman in London", preceding Piorot and Holmes. Sally Nicholl's story featuring male characters from an office post room was really entertaining. It was vivid, fast paced, full of authentic dialogue and wry observations about the luck fictional detectives usually have handed to them on a plate compared to the real investigative work that an "ordinary" crime lover must undertake. The book ends with the current queens of the new murder, mystery and mayhem genre: Woodfine and Stevens. The icing on the cake - or should I say "bun break"?!
I liked that the girl protagonists are all very positive and affirming role models who defy the conventions to which they are confined or dictated to by the historical setting of their story. They all have spirit and humour, they follow their instincts and question everything around them. They show initiative and imagination. I liked that the stories covered a real range of settings, contexts and situations. I think they all give a real flavour of the author's style and will certainly encourage readers to seek out other novels once they've had a taster here. It is a rather special and unique collection of stories that would make a perfect gift for anyone over the age of 9 or 10. I will certainly be making sure every young detective I know gets a copy! A hugely enjoyable read!