BLOG TOUR: Q&A with Sharon Maas "The Sugar Planter's Daughter"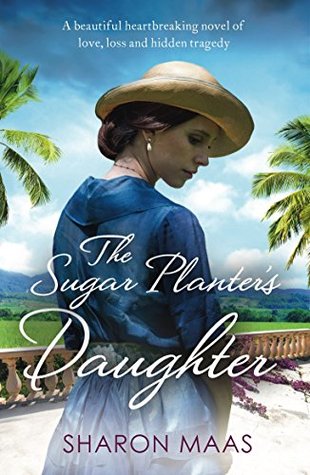 Today is my turn on the Blog Tour for "The Sugar Planter's Daughter" by Sharon Maas. I am delighted to welcome Sharon here and thrilled that she has agreed to answer some questions about her writing and the novel. So, no more from me - over to Sharon!
Hello Sharon! Thanks so much for
joining me! You
clearly have a good knowledge of the country in which you set your novel. Could you tell me a little bit about your background and travels?
I grew up in the capital of British Guiana, as it was then called, Georgetown. Back then Georgetown was known as The Garden City, one of the most beautiful cities in the Caribbean. The atmosphere, for a child, was mellow, friendly; we had a lot of freedom, and my memories are full of fruit trees, beautiful gardens, fun at school, friends, uncles and aunts, trips to the beach or to the creeks in the Interior. This was MY British Guiana, though; I grew up in a middle-class family so I am privileged. There was of course the dark underbelly of colonialism. Families who laboured on the sugar plantations suffered deprivation and cruelty at the hand of the estate owners and overseers. As a child one is oblivious to such problems; thankfully, our elders were aware and fought for a better world for the underprivileged. I'm proud to come from a politically active family: both my parents threw their lives into the struggle for fairer conditions. So the idyllic childhood was followed by massive societal upheavals, protest, violence in the Sixties. This was how we eventually won Independence from Britain.
I had two sides to me: on the one had I was shy, on the other hand I was adventurous and fearless. The latter side won out. I spent a few years in England without my parents (because I wanted to go to a boarding school, like the ones I'd read about!), and when I was 19 left to go backpacking around South America, a trip that took over a year and ended up with me penniless in

Colombian jail. Later I travelled overland to India through Europe and Asia, and later still I came to Germany where I finally settled into a more conventional life.
Wow! That's absolutely fascinating - what an
interesting
life! With so much life experience, w
hat was the main inspiration for this book?
Clearly it was my grandmother, whose name was also Winnie, a white woman who married a black man in the early 20th Century. I could only imagine what a scandal that must have been, so I imagined it into a novel! Including the bit about the sugar plantation: the real Winnie's family background was not on a sugar estate.
The first part of her story is told in the first part of this trilogy, The Secret Life of Winnie Cox. Most of the main parts of my grandmother's story come into the novels: her marriage against convention, raising eight boys, etc. The third book will move on to the next generation, the boys, my uncles. Though of course entirely fictionilised!
Why did you choose this particular historical era for the novel? Did you have to do a lot of historical research? Did you enjoy this? Were there any particular challenges presented by your choice to set the story in 1912 in Guiana?
Yes, it needed a lot of research, and I was hampered by the fact that there really isn't much written down about the details of that time. The big picture is pretty clear: the protest movement, the political upheavals, colonialism, the sugar industry, etc. But in a novel the small details of daily life, how men and women actually went about their lives, are essential, and there really isn't much to go on in writing, and those who lived in that time are all dead. Life in British Guiana would have been profoundly different to life in, say, England or America, so I couldn't use information from those settings. So that was my main challenge: making everything as historically accurate as possible, avoiding anachronisms. I can't say I enjoy the research: I long to get down to the actual story, see it evolve in the actual writing. But research is essential, so I do it, even if with a groan of resignation.
Can you describe Winnie in three words?
Principled, emotional, optimistic
Can you describe George in three words?
Responsible, brave, humble
Who was your favourite character to write and who was the hardest character to write?
I really enjoyed writing Yoyo! She's the one most readers will love to hate, and I hate her too – but she is complex and there are deep-seated reasons she became such a bitch. And as in everyone, there is also a spark of good in her, and it was fun digging into her to reveal those little sparks of goodness. I wonder if that little spark will ever grow to make her a truly reformed person? I guess I'll have to wait for the next book to find out!
George was hard to write because he is a man and he's humble, and suffers from the
that whole inferiority complex that comes from being black in a white-dominated society. I didn't want him to appear weak, because he's not – but in our modern world humility and lack of assertiveness is associated with weakness. He's not your alpha males, but at the same time he's not at all weak, as his final act shows – but will Western readers be able to empathise, and not think of him as a wimp? That was quite a challenge.
There are some moments of extreme sadness in the novel. Was this hard to write?
Not at all. They came quite naturally and I feel that sadness and tragedy are those emotions that help to make a novel great, that tear away blandness. In writing them I felt they add strength to the story.
Out of the books you've written, do you have a favourite or one that has particular significance to you?
Whenever I write a new book it tends to be my favourite at that time. So right now, The Sugar Planter's Daughter is my favourite. I find it very hard to be neutral on the subject, yet I suspect Of Marriageable Age is objectively my best book. It's certainly the most complex, and being the first published novel it has great significance. It changed my life back then, and so it will always be close to my heart.
At the back of your book you ask your readers a few thought provoking questions. So, turning it back to you, could you perhaps tell me what you hope your readers will take away from your novel? Is there anything in particular that you would like readers to be left considering?
I do hope the characters come to life for my readers, and seem real. I hope that readers feel transported to my home country of Guyana so that it doesn't seem foreign to them, and that they are more willing to read other books set in perhaps unfamiliar countries and cultures. Humans are really the same all over the world, and the more we open our hearts and minds to so-called different cultures, the more we grow together as a human family. I believe that there really is, as Bob Marley sang, "One Love, One Heart". I'd like my books to contribute, if only in a small way, to that sense of oneness.
As I have only just come across your work but would like to read more, which title would you suggest I went to next?
You should read next The Secret Life of Winnie Cox, because it tells you how Winnie and George started out, and about Winnie's family background and her growth from a silly, spoilt teenager into womanhood. Then you should read Of Marriageable Age. You can read The Small Fortune of Dorothea Q at any time, as it's a stand-alone – but it does have a few cameo appearances of Winnie, and her eldest and youngest sons, Humphrey and Freddy, have major roles to play. The eponymous Dorothea Q is Winnie's daughter-in-law, so she is the main character, along with Winnie's granddaughter Rika and great-granddaughter Inky. There will be at some point another book in the trilogy, but readers will have to wait a while for that.
Are you
working
on anything at
the
moment?
Top tips for aspiring writers of history or saga?
Write from the heart, and don't be led astray by the current trend. Trends come and go, but the stories within you can only be told by you, and they are authentic. Listen to them! Especially with family sagas, it's important for each character to be unique, so that they speak with different voices. Those voices are within you – listen! With historical, it's important not to get too bogged down by historical facts and backstory. While the facts have to be accurate, it's the characters that make a story alive, so you have to avoid what the industry calls "info-dumps" – that is, too many long texts describing historical events or settings. Try to weave the facts into the story and you'll be all set.
I love that advice! Thank you!
What was the last book you read/ currently reading?
At the moment I'm reading The Woman he Loved Before, by Dorothy Koomson.
Ah, I like her books too!
Which authors and novels have had the greatest influence on you and your writing?
I was a thoroughly addicted Enid Blyton fan. I can still recall the enchantment that would surround me when I read books like The Magic Faraway Tree, or the excitement as I read the adventure and mystery series! Her boarding-school books made me pester my mother to send me to England to boarding school!
However, when I was ten I read My Friend Flicka by Mary O'Hara and that was the first book that reduced me to tears. I can still quote the line that made me burst the moment I read it: it went like this: "I wanted a little girl too." And come to think of it, that very line may be the hidden motivation behind The Sugar Planter's Daughter! For the first time I became aware of the emotional power a book can have over a reader. I read it many times since then. Mary O'Hara taught me of the power the written word can have over a reader's emotions.
Later on it was the great family sagas that made me want to emulate the authors: Colleen McCullough (The Thorn Birds) and Susan Howatch, as well as a Guyanese author, Edgar Mittelholzer. But there's no denying the power the classics had on me: Charlotte Bronte and of course William Shakespeare. I can still quote passages from various Shakespeare plays – I had to learn them in school, and I think that by-heart learning of poetry and beautiful texts helped me to develop a sense for good language and rhythm.
What a touching response - I love your comments about realising the emotional power of a book - thank you!
Thank you so much Sharon - I have thoroughly enjoyed interviewing you and your answers are so interesting. I'm sure your comments here will inspire many readers to get hold of your novels and I know I for one am off to read the other books about Winnie! Thank you so much!
MY REVIEW OF "THE SUGAR PLANTER'S DAUGHTER"
I'm embarrassed to say that this the first book by Sharon Maas that I have read - something I will be urgently rectifying now I've finished "The Sugar Planter's Daughter"! It's really exciting to discover a "new" author - particularly one with a great looking back catalogue. It seems this is actually the second book in a trilogy but it was completely accessible as a stand alone story and it did not affect any of my understanding or enjoyment because I hadn't read the previous sequel.
I was attracted by the cover of this book-and the title too - it reminded me of a Dinah Jefferies novel, or some of the other titles which I am collecting on my kindle which are all set in historic, exotic places featuring "daughters".
So what's the story about? Meet Winnie Cox, a white, privileged daughter living a life of luxury on her father's sugar plantation in Guiana, South America. She is about to marry the man of her dreams, George Quint; a black postman from the slums. When Winnie has to travel to seek medical help for her son, George is left behind. Yoyo, Winnie's sister, is fed up with living in her shadow playing second fiddle to her mother's favourite daughter. Full of resentment, Yoyo sets out to seek revenge against Winnie while she is away, laying the grounds for a trap which will have devastating consequences for them all.
It's set in 1912 and therefore the dynamics between the two families are fascinating, as is the relationship between George and Winnie. It is not a period of history I know much about but there is always something compelling about people who transcended barriers and break with convention. Particularly as it is a woman choosing to marry not only for love, but choosing someone who is such a contrast to her own social standing and race. I thought this inversion of the woman being white and the man black, created a more original take on a story set within a plantation.
The chapters alternate between Winnie, George, Yoyo and occasionally, Winnie's mother. Maas' use of multiple narrators is deftly handled to help us become more involved with Winnie and George as we are more privy to their thoughts and perspectives. I liked hearing so much from George as he grappled with bringing a white woman into his community and fiercely hoping love and dedication would protect them from outside danger. What was also compelling about this novel was how quickly I was transported to another time and place. I was so caught up in the exotic location- Maas' description of her character's actions, behaviours, dialogue so effective - that I got a shock every time I glanced up from the page and out the window at the dark rain clouds outside the window of my modern, gadget filled kitchen.
This is a heartwarming saga of love, marriage and families. Winnie and George are so totally besotted with each other; so patient, understanding, thoughtful and kind to each other, they immediately gain the admiration of the reader. George says that "Winnie and I filled spaces in each other's souls" and even after some distressing arguments and overcoming various challenges, George comments on how desperately they need each other. Winnie knows the "real" him and they need each other in order to fulfil their own potential and recognise who they really are. At the beginning of the novel, I did feel a sense of foreboding as their relationship was so perfect I knew that it was surely going to be tested and wasn't quite sure how they would survive that. However, as Mama says, "We live in order to learn the lessons of love."
George is a character of integrity, loyalty and morals. His empathy and constant consideration of how his wife might be coping with having to leave her huge, comfortable home and live with his parents in the slums is charming. Winnie is a character of great strength. Occasionally she imagines what might have happened had she followed in a more conventional path but she is not perturbed by her sudden need to learn to cook, clean and raise a family without any assistance or paid help. She is unfailingly positive and embraces the challenges.
Conversely Yoyo has married more "appropriately" and is running the family business. She is married but unhappy and childless. She is almost the opposite to Winnie. She is a jealous and bitter woman who is manipulative and clever. Although not the main protagonist, Yoyo undergoes a real journey throughout the novel and although hard to like, she can rustle up some sympathy from the reader as more of her past and present is revealed. But her role in the novel is well handled - powerlessly watching her orchestrate a monstrous plan creates so much tension and suspense, that it is difficult to read on without feeling slightly sick with nerves!
This is a story about love, secrets, obsession, social conventions and pressure. There is laughter, happiness, strength and fortitude but there is also grief, helplessness and sadness. It's not a roller coaster ride of a novel, more a meandering along undulating countryside with some hidden and unexpected sharp corners. I liked the atmosphere, tone and pace of the novel and it very much suited the era and characters. And of course, the uplifting message about love - when genuine and truthful - really is able to heal, help and rebuild bridges.
This is going to be a hit this summer and would be the perfect addition to any suitcase. Maas can certainly write a great tale, full of ups and downs, strong characters; evoking a moment in history effortlessly and authentically. I would recommend it to fans of Dinah Jefferies, Katherine Webb, Kate Riordan and anyone who enjoys a saga where the lines between families are crossed, broken and tested.
My thanks to NetGalley and the publishers for an advanced copy of this novel in return for a fair and honest review.