*EXTRACT* "The Fire Child" S K Tremayne
EXCLUSIVE EXTRACT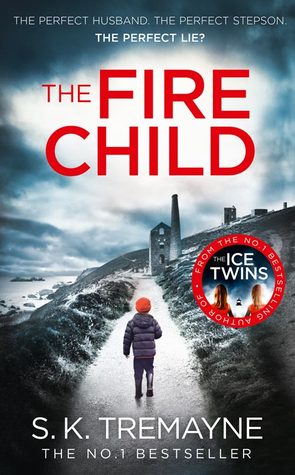 'A magnificently creepy thriller'
Spectator
'Gripping, sad, and desperately poignant, this is a debut to die for'
Daily Mail
'Stunning'
Mail on Sunday
'Unbearably gripping and suspenseful'
Sophie Hannah
'Chilling and utterly compulsive ... builds to an incredibly tense and shiver-inducing conclusion'
Sunday Mirror
'Very eerie'
Marie Claire
When Rachel marries dark, handsome David, everything seems to fall into place. Swept from single life in London to the beautiful Carnhallow House in Cornwall, she gains wealth, love, and an affectionate stepson, Jamie.
But then Jamie's behaviour changes, and Rachel's perfect life begins to unravel. He makes disturbing predictions,
claiming to be haunted by the spectre of his late mother
–
Dav
id's previous wife. Is this Jamie's way of punishing Rachel,
or is he far more traumatized than she thought?
As Rachel starts digging into the past, she begins to grow suspicious of her husband. Why is he so reluctant to discuss
Jamie's outbursts? And wha
t exactly happened to cause his ex-
wife's untimely death, less than two years ago? As summer slips away and December looms, Rachel begins to fear there might be truth in Jamie's words:
'You will be dead by Christmas.'
Here is an exclusive extract from the end of Chapter 1 to give you a bit of background about the legend of Carnhallow
'Hello.'
A little startled, I turn. It's Juliet Kerthen: David's mother. She lives, alone and defiant, in her own self-contained apartment converted from a corner of the otherwise crumbling and unrestored West Wing. Juliet has the first signs of Alzheimer's, but is, as David phrases it, 'in a state of noble denial'.
'Lovely day,' she says.
'Gorgeous, isn't it? Yes.'
I've met Juliet a couple of times. I like her a lot: she has a vivid spirit. I do not know if she likes me. I have been too timid to go further, to really make friends, to knock on her front door with blackberry-and-apple pie. Because Juliet Kerthen may be old and fragile, but she is also daunting. The suitably blue-eyed, properly cheekboned daughter of Lord Carlyon. Another ancient Cornish family. She makes me feel every inch the working-class girl from Plumstead. She'd probably find my pie a bit vulgar.
Yet she is perfectly friendly. The fault is mine.
Juliet shields her eyes from the glare of the sun with a visoring hand. 'David always says that life is a perfect English summer day. Beautiful, precisely because it is so rare and transient.'
'Yes, that sounds like David.'
'So how are you settling yourself in, dear?'
'Fine. Really, really well!'
'Yes?' Her narrowed eyes examine me, but in a companionable way. I assess her in return. She is dressed like an elderly person, yet very neatly. A frock that must be thirty years old, a maroon and cashmere cardigan, then sensible, expensive shoes, probably hand-made for her in Truro forty years ago, and now, I guess, polished by Cassie, who looks in every day to make sure the old lady is alive.
'You don't find it too imposing?'
'God no, well, yes, a bit but . . . '
Juliet indulges me with a kind smile. 'Don't let it get to you. I remember when Richard first brought me home to Carnhallow. It was quite the ordeal. That last bit of the drive. Those ghastly little moorland roads from St Ives. I think Richard was rather proud of the remoteness. Added to the mythic quality. Would you like a cup of tea? I have excellent pu'er-cha. I get bored with drinking it alone. Or there is gin. I am in two minds.'
'Yes. Tea would be brilliant. Thanks.'
I follow her around the West Wing, heading for the north side of the house. The sun is restless and silvery on the distant sea. The clifftop mines are coming into view. I am chattering away about the house, trying to reassure Juliet, and maybe myself, that I am entirely optimistic.
'What amazes me is how hidden it is. Carnhallow, I mean. Tucked away in this sweet little valley, a total suntrap. But you're only a couple of miles from the moors, from all that bleakness.'
She turns, and nods. 'Indeed. Although the other side of the house is so completely different. It's actually rather clever. Richard always said it proved that the legend was true.'
I frown. 'Sorry?'
'Because the other side of Carnhallow looks north, to the mines, on the cliffs.'
I shake my head, puzzled.
She asks, 'David hasn't told you the legend?'
'No. I don't think so. I mean, uhm, he told me lots of stories. The rowans. The evil Jago Kerthen . . .' I don't want to say: Maybe we got so drunk on champagne on the first date and then we had such dizzying sex, I forgot half of what he told me – which is totally possible.
Juliet turns towards the darkened shapes of the mines. 'Well, this is the legend. The Kerthens, it is said, must have possessed a wicked gift, a sixth sense, or some kind of clairvoyance: because they kept hitting lodes of tin and copper, when other speculators went bust. There is a Cornish name for those with the gift: tus-tanyow. It means the people of fire, people with the light.' She smiles, blithely. 'You'll hear locals telling the story in the Tinners – that's a lovely pub, in Zennor. You must try it, but avoid the starry gazy pie. Anyway, Richard used to rather drone on about it, about the legend. Because the Kerthens built their house right here, on the bones of the old monastery, facing Morvellan, yet that was centuries before they discovered the tin at Morvellan. So if you are suggestible it rather implies that the legend is true. As if the Kerthens knew they were going to find tin. I know, let's go and have some pu'er-cha and gin, perhaps they go together.'
She walks briskly around the north-west corner of Carnhallow. I follow, eager for the friendship, and the distraction. Because her story disquiets me in a way I can't exactly explain.
It is, after all, just a silly little story about the historic family that made so much money, by sending those boys down those ancient mines. Where the tunnels run deep under the sea.
Huge thanks to Harper Collins for letting me be part of the Blog Tour and for providing me with both the extract - so generous!
For my review of "The Fire Child" see here:
http://bibliomaniacuk.blogspot.com/2016/06/the-fire-child-s-k-tremayne.html
For more recommendations and reviews please follow me on Twitter @katherinesunde3 (bibliomaniacUK) or sign up to receive future posts via email.