"The Red Notebook" Antoine Laurain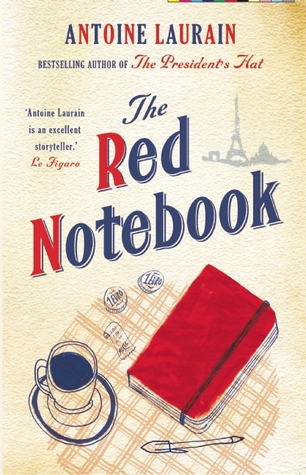 I bought this book after finishing "The Reader on the 6.27" as one reviewer on Goodreads had sighted it as a similar kind of story. It is a slim novel of 160 pages and the chapters are only about two to three pages long making it a really quick read.
Laurent Letellier, a bookshop owner in Paris, finds a purple handbag abandoned in the street. His first intention is to hand it into the police even though he thinks of the police station as one of those "purgatorial places like A& E, Customs Offices at Airports where your always better off outside even if it's raining." Laurent had never opened a woman's handbag with out "explicit instructions - a command only ever valid for a short time" but he decides to look inside the bag. He can find nothing inside it to indicate who it belonged to or how he could return it to the owner but it is full of other fascinating objects; "it was more complicated than dissecting an octopus on a kitchen table." In particular, he finds a red notebook in which the owner has filled pages with her jottings - lists of what she likes, what makes her happy, what she is afraid of, things that have caught her attention. Laurent is filled with a desire to meet this woman even though there is nothing bearing her name or any clue to her identity. "She was an enigma ...like looking at someone through a fogged up window." He is intrigued and feels some kind of connection with the woman - and so begins his search, a search which comes to symbolise something more powerful and leads him to something much more significant than just returning a missing handbag.
Meanwhile there are snapshots of the mysterious owner, lying in hospital following her attack when the handbag was stolen from her. Words like "head injury" and "coma" float into her subconsciousness but she remains unable to wake and let the nurses know who she is. "No sound came out of her mouth," and in her dream like unconscious state she imagines herself to be in a garden with her deceased parents. Memories flicker and float through the sections about the woman who we learn is called Laure, implying a past of grief and pain.
Laurent's daughter gives him an astute analysis of the kind of woman she thinks owned the handbag: "She is in her 40s, judging by her choice of makeup and chic designer handbag....she's attached to the past as her mirror is ancient.... Are you in love?" she deduces, realising that from the objects in front of her, this could indeed be her father's perfect woman.
The book is filled with lyrical writing and insightful observations. For example:"If there was one thing that defined adolescence it was hysterical laughter. In adolescence the brutal realisation that the world and life were completely absurd made you laugh until you couldn't catch your breath whereas in later life, it only results in a weary sigh."
There are also many musings and reflections about relationships and love. "How easy it was to disappear from someone else's life....a chance meeting, a few words exchanged, and a relationship begins. A chance falling out, a few words exchanged and that same relationship is over." This is a book about love, chance meetings, things that could have been. The author writes about having a nostalgia for something that hasn't happened and I like this idea that we can experience a nostalgia for what might have been. He writes about how easy it is for things to "pass by", something important like a job, a love, a move and how we can grab "fragments of what might have been like catching snatches of a far off radio frequency." The author's writing is simple and concise, yet rich and resonant.
The ending of the book is perfect. Like a fairy story, it links all the characters and threads together through literature. We are like spirits gazing down on the city and floating over them, then moving away to leave them to "experience" their lives. This is a story of searching, of love, of belonging, of connections, of chances and the way we can "pass by" people so close "that something of the experience remains" and touches us. The best word to describe the story is charming and it is a real gem. I thoroughly enjoyed it. It is a short, easy read and if you enjoyed "The Reader on the 6.27", "The Little Paris Bookshop" or are fans of writers like Graham Swift, you will love this book. Highly recommend!
For more recommendations and reviews, please follow me on Twitter @katherinesunde3 (bibliomaniacUK) or sign up to receive future posts by email.