BLOGTOUR Leigh Russel "Murder Ring"
"Murder Ring" is Book 8 in the DI Geraldine Steel series and is now available in paperback.
Hearing footsteps pounding along the street behind him he glanced back, fleetingly worried, then laughed because the street was deserted. All the same, he felt uneasy. Everything looked different in the dark. Then he heard more footsteps approaching, and a hoarse voice called out. Turning his head, he made out a figure hovering in the shadows and as it raised one arm, the barrel of a gun glinted in the moonlight… The dead body of unassuming David Lester is discovered in a dark side-street, and DI Geraldine Steel is plunged into another murder investigation. The clues mount up along with the suspects, but with the death of another man in inexplicable circumstances, the case becomes increasingly complex. As Geraldine investigates the seemingly unrelated crimes, she makes a shocking discovery about her birth mother.
Today I am delighted to welcome Leigh Russell to take part in my first ever post for a BlogTour! My huge
thanks to Leigh and No Exit Press for letting me participate in this tour, and for giving me the exciting
opportunity to put some questions to Leigh about her writing and latest publication "Murder Ring".
Welcome Leigh! I am impressed with your knowledge of police procedure. Do you have any
experience of working in the police force? How do you ensure you keep up to date with the latest
detective procedures, technology and acronyms?
I have never worked for the police, but have some very supportive contacts in the Met. At first I was surprised by how many police officers are fans of my books. I'm very relieved that they are forgiving of the occasional liberties I take with police procedure. To write detective novels with an authentic feel, it's probably essential to have contacts who are actually doing the job and able to advise. Of course, like most crime writers, I don't adhere strictly to the facts, but it is helpful to have an idea of what happens in the real world. This makes it possible to sustain the illusion that the world of my books is real. I try to keep up to date with developments in forensics. It's a fascinating field, and can be quite inspiring. In Murder Ring Geraldine makes use of one of the latest techniques in forensics to help her solve the crime, and researching it also helped me to work out how I was going to resolve the plot in the book.
This is the 8th book in the series. Did you always plan to write a series? Did you always have a "journey" or subplot for Geraldine or is it something which evolved as the series progressed? There's clearly another instalment on its way - have you planned how many more there will be or is it more organic than that?
When I wrote the first in the Geraldine Steel series, Cut Short, I had no idea my story would ever be published, let alone become the first in a long running series. I had never even planned to become an author. Always an avid reader, I literally had an idea one day, started to write, and haven't been able to stop since. So Geraldine's development through the series has been evolving from book to book. I really do make it up as I go along! I am currently writing the ninth in the series, with at least another three under contract with my publisher, which will take us up to twelve in this series. And I don't think I'll stop there. As long as people keep reading my books, my publisher will continue to publish them, and I'll carry on writing them.
This book is about gun crime. I remember from listening to your talk at Harpenden Library that is something you feel quite strongly about. Why? Was there a particular incident or case which made you want to write about it? Do you want your book to carry a message about gun crime or was it just something you wanted to explore?
Having written seven books in the Geraldine Steel series, with four set in North London, I felt I couldn't continue indefinitely setting a contemporary detective series in North London without ever mentioning guns. So although I hate guns, I decided to tackle the issue. The topic turned out to be far more interesting than I had anticipated. Of course many people who own guns are not evil master criminals, but dysfunctional people, often acting irresponsibly because they are extremely young. One of the reasons crime fiction is so interesting is that it examines difficult social problems. Murder Ring does not offer any solutions, but it does raise the issue of gun crime.
Who are your favourite detectives? Have any other detective writers influenced your own work?
There are so many brilliant fictional detectives - Dalziel, Poirot, Rebus, Reacher, Lincoln Rhyme, Roy Grace - that it would be impossible to pick out my favourites. That said, I admit my original influence was probably Conan Doyle. Although forensics have moved a very long way from Sherlock Holmes' magnifying glass, Conan Doyle was very skilled at presenting the reader with all the clues necessary to work out the identity of the criminal, without making the answer obvious. This puzzle solving aspect of crime fiction is part of its appeal. I find it very difficult to keep one step ahead of my readers, without introducing a twist that would be impossible to predict.
If the series was televised, who would play Geraldine and what soundtrack would you choose for the opening credits?
The brilliant actress I would like to see as Geraldine is very keen to play the role. As the series is currently in development for television, without anything being finalised, I am not allowed to say more than that! The soundtrack would not be my choice. Although I have a few ideas, producing a television series is a very different artistic endeavour to writing a book. I know something about writing books, but nothing about producing television shows. So if the current project ever succeeds, I'll be happy to leave all the decisions to the experts. I'm just keeping my fingers crossed that Geraldine appears on our screens one day.
As am I! I think the series would transfer brilliantly to the screen. Good luck! Thank you so much Leigh for your time and for answering my questions. I wish you all the best with "Murder Ring" and the next instalment - which I will be looking out for! If you want to find out more about "Murder Ring", please see my review below.
Murder Ring is available to buy on amazon by clicking on the link below:
My Review of "Murder Ring" by Leigh Russell
This is the 8th book in the DI Geraldine Steel Mystery Series. It is only the 2nd one I have read - I fully intend to rectify this but as far as I can tell, these books work equally well as stand alone crime thrillers.
Geraldine is an appealing character. She is considered, professional, successful but also human; "she had investigated so many murders...she remembered them all." She is also in deep emotional turmoil herself following the death of a colleague in the previous novel. There is a contrast between her personal and professional self. She is able to shut off her personal problems and emotions, focussing so wholly on her work that no one suspects how fragile things behind the facade really are. There is a clever "drip feed" of information about her birth mother -just enough to intrigue the reader but not to distract from the main crime or over complicate the novel with too many contrived sub plots. Russell has established a good balance. The reader is empathetic towards her. She appears to be a hard police woman but has her own weakness and vulnerability. She is lonely, a little isolated and struggling to work through her own grief. She generates sympathy but also interest and respect. The reader wants to learn more about her.
There is clearly a back story with Geraldine which has obviously been gradually established over the previous 7 books but the reader is brought up to speed quickly and neatly with any necessary details. This will not be boring or repetitive for those who have already read the other titles but will probably help refresh everyone's memories over what is important as we move forward into the next "chapter" of Steel's life. As I said, this works as a stand alone novel but actually, I liked Geraldine a lot and would like to learn more about her backstory.
The chapters are short, full of pace and deftly switch between the different characters who are either involved in the investigation or a potential suspect. It is impossible not to be drawn straight into the action and finding yourself turning the pages to find out more about the story line you've left behind or intrigued by the new developments presented from the range of characters and the various subplots which Russell swiftly sets in motion and effectively controls in a way which ensures tension and suspense are well maintained throughout the whole book.
The ending is good. There is a clear resolution and conclusion but also a few seeds are sown for the next instalment. I must admit, I am a little hooked! I didn't solve the crime, I fell for all the red herrings -Russell is too clever for me! My attention was held until the last page and I liked the fact that the revelations were held until the very ending of the book. It's an enjoyable, satisfying, easy read. Russell has clearly researched police procedure well and it is not a gratuitously graphic or violent crime novel. The reader is captivated by the characters - their motivation and deception, the tangled web that people spin through greed and opportunism.
This has all the key aspects of a great detective novel. It has multiple characters who are all authentic and convincing. There is good dialogue, plenty of action, a great pace and the plot is well structured. There are complications and revelations which ensure the reader is kept guessing. It is very readable and written in a very fluent style.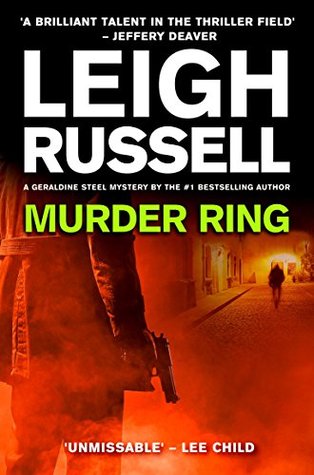 For more recommendations and reviews please follow me on Twitter @katherinesunde3 (bibliomaniacUK) or sign up below to receive future posts by email