Mystery and Mayhem by Katherine Woodfine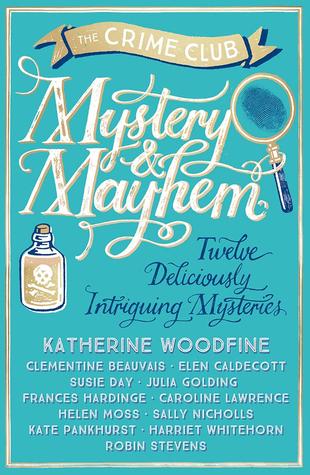 This is a brilliant collection of mystery stories which are a perfect introduction to the explosion of fresh new voices writing detective fiction for young adults. It is also a great introduction both to the genre of mystery stories and short stories as well as a tantalising read for current fans of all these writers.
I was very keen to read this collection as I have been totally captivated by the recent publications by Woodfine and Stevens; enchanted by their stunning book covers, charmed by their historical settings and their clever embodiment of combining of all the wining ingredients for intriguing mystery stories inherited from the greats like Christie and Conan Doyle to write something fresh and full of modern appeal. I am also a huge fan of Helen Moss and Sally Nicholls so I really had to read this book!
Woodfine says in the introduction that these new mysteries are a "nod to the much loved mysteries of the past but also bring detective fiction bang up to date." This collection is diverse and includes a range of different voices and character; from those of boys and girls, from modern day to the Victorian era to the Georgian period, from realism to the more surreal. What makes them all particularly appealing is that all the writers are clearly big fans of mystery writers and have a deep knowledge of the genre and the voices of previous authors famed for this style of writing. They all seek to have some fun with the traditions of crime fiction and all understand what makes a perfect young adult read. These are not simple, dumb downed pastiches but something more sophisticated, which embrace the legacy of previous crime writers and reinvent the genre. They are all highly skilled and very talented writers and it is a real treat to find them all inside the same covers!
Another great thing about this collection is that they all encourage the reader to solve the crime before the end of the story. Any young sleuth will rise to such a challenge! What will be equally appealing to the reader is that all the young detectives featured are smarter than the adults around them - as Woodfine points out, they are all "smarter, more sharp eyed, more sharp witted and courageous." Adults are not presented in a derogatory way at all, there is always a certain level of respect between the characters which I think is important having been subjected to so much of the more derisive and slightly unpleasant behaviour often portrayed in American programmes where teenagers are always trying to get the upper hand. These young people aren't smug or arrogant, just intelligent lovers of puzzles and mystery!
I enjoyed "Mel Foster and the Hound of the Baskervilles" by Julia Golding. It was lively, witty, modern and engaging. The story was well constructed with appealing characters who were easy to identify with. The adults were a little patronising and mocked gently with comic humour for their simplistic deductions. Some of the stories had hidden references to other detectives and villains from other canonical titles - many of which I probably missed! It was a treat to read a short story by prize winning author Hardinge whose story is set around the Great Exhibition in Victorian Crystal Palace. I really enjoyed Harriet Whitehorn's "Murder of Monsieur Pierre" which is set in 1782 before the protagonist grows up and becomes the "Crime Solver Extraordinaire" and the "cleverest woman in London", preceding Piorot and Holmes. Sally Nicholl's story featuring male characters from an office post room was really entertaining. It was vivid, fast paced, full of authentic dialogue and wry observations about the luck fictional detectives usually have handed to them on a plate compared to the real investigative work that an "ordinary" crime lover must undertake. The book ends with the current queens of the new murder, mystery and mayhem genre: Woodfine and Stevens. The icing on the cake - or should I say "bun break"?!
I liked that the girl protagonists are all very positive and affirming role models who defy the conventions to which they are confined or dictated to by the historical setting of their story. They all have spirit and humour, they follow their instincts and question everything around them. They show initiative and imagination. I liked that the stories covered a real range of settings, contexts and situations. I think they all give a real flavour of the author's style and will certainly encourage readers to seek out other novels once they've had a taster here. It is a rather special and unique collection of stories that would make a perfect gift for anyone over the age of 9 or 10. I will certainly be making sure every young detective I know gets a copy! A hugely enjoyable read!
My thanks to NetGalley for the advanced copy in return for a fair and honest review. For more recommendations please follow me on Twitter @katherinesunde3 (bibliomaniacUK) or subscribe to my blog for email updates of future reviews.