"Love Anthony" Lisa Genova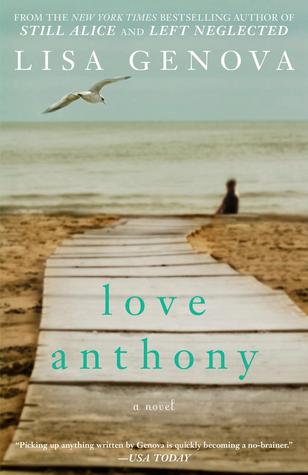 I have been saving this book to read on holiday as I absolutely loved "Still Alice". I had also convinced the Book Group I am part of to read this as our choice for April. Look out for a blog about our discussion - coming after our meeting!
The book opens with Olivia, recently separated from her husband and mother to Anthony, who was autistic and tragically died aged 8. She has returned to the holiday home they own in Nantucket that they stopped coming to once Anthony turned 3 as "pretty much everything stopped once Anthony turned three". Olivia is completely unable to move forward with any aspect of her life, so full of guilt and grief. She hasn't gone back to her job as an editor of Self Help books in five years as she has become so disillusioned with the genre. When Anthony received his diagnosis (aged 3) Olivia read everything, searching for someone to "transform their lives....somebody must have the key that would unlock her son." But now she says bitterly, "What do they know? What does it matter?" And this is really the fundamental question for which Olivia is searching answers. What does anything matter? What did Anthony's life matter? What was its reason and purpose? What is her reason and purpose now? As well as answers, she is also desperately seeking atonement and an acceptance of the past and the cards she has been dealt. She hopes to find some space to recover in Nantucket.
In contrast, we are then introduced to Beth who receives a card in the post from an anonymous sender claiming to be sleeping with her husband. Both women set out on a journey for closure, release, happiness and love. They are also both in need of new beginnings and a need to redefine themselves for who they are, not who they were responsible or accountable to.
Beth and Olivia meet by chance and a gentle friendship begins to form, Beth seeks Olivia's advice on a manuscript she has been compelled to write, rekindling a passion for writing from long ago while she finds herself at a crossroads. Through Beth's fictional narrative of a child who experiences the world more unconventionally, Olivia begins a journey of self discovery showing us that sometimes we receive help in the most unexpected places and from the most unexpected people.
Olivia's situation is sad. She doesn't really want to move on. She doesn't know how to live without Anthony, he so dominated and defined every waking moment of the last 8 years. She reminisces about Anthony's life, each new day reminding her of a past day and a past sadness -like Anthony's birthday and how this was always a day of dread and desperation when they were "forced to stare at the severity of Anthony's autism straight in the eye, to be fully cognisant of how much progress he hadn't made." Olivia presents the role of a parent of a child with autism as a very challenging one; one of relentlessly trying situations, one where you are unable to form the most simple of bonds with your child and the heartbreak that Anthony is unable to speak means that any communication of love or response is so limited and so rare, it is truly painful to keep going daily in a world where you feel so alone and isolated. Looking through forgotten belongings that have been stored in the house, she comes across her old journals and begins to read them again. They reflect some of her anger and frustration that became part of her mothering and accounts for the subsequent guilt she feels now her short time with Anthony is over. As the novel progresses it becomes clear that Olivia needs to see Anthony as Anthony the boy with autism, not autistic Anthony. She needs to understand him, his perspectives and the way he saw the world; his love. It's interesting that this understanding comes from Beth who has no direct experience of autism at all. Perhaps this is exactly why she is able to offer Olivia the perspective she needs?
I was slightly skeptical about the part of the story which showed a psychic link between Beth and Anthony but the characters definitely share an affinity of some kind. They also mirror each other in the sense they are both frustrated and angry and feel they are not being heard. Through her writing, Beth not only finds a voice for Anthony so he can at last be heard, but also is able to find a new voice for herself and see answers through her words that offer her closure. Also, on rereading the prologue once I had finished the book, I wondered if it was Olivia and Anthony that Beth meets and therefore deep in her subconscious is a striking memory of the child. She is reading "The Curious Incident of the Dog at Night Time" and another book about a mother of a child with autism so actually, her choice of subject and her engagement with Anthony's voice, is not totally out of the blue. They are subtly involved and there are several hints and suggestions at Beth's interest in this subject. In fact, on rereading, the prologue seemed laden with deeper symbolism now that I had experienced the characters.
There is a really interesting contrast between the two women's reactions to Anthony and how they describe that experience. In her journal, Olivia writes:
"How can I help you if you don't tell me what you want? We say all these words but we don't talk about anything.......We're the parents of a permanently disabled child and our marriage is crippled. I don't feel abused by Anthony but abused by this life. What happened to my life? ....all about autism....living it, reading it, talking about it...sick of it. Scared this is all it will ever be.... David and I are self trained therapists working on the same patient ....trying to fix him but failing."
And then Beth, while she sleeps, dreams of a boy who "hears and feels the world in a unique and unimaginable way". ..."
Detached from people. Bewildered by emotions. Enthralled by repetition. An uncelebrated intelligence. Persistent. Silent. Honest. Brave. Misunderstood."
She is fascinated by the "neurological alchemy not described in any book" and then her own process of writing takes on a daily routine where she begins to obsess about order and ritual before she can work. Both the women's responses to Anthony are so different that this reveals much about their own internal conflict and how they need to heal themselves. Olivia is isolated, closed, "guarded and weary". Beth is tactile and more openly loving and giving - but her life has been upended by her husband's infidelity. She is perhaps more attuned to people's emotions and needs - but then, unlike Olivia, she hasn't been living with autism for 8 years so this may be the reason she is enabled to offer this insight. There are several examples of where the women react differently - one with fear, one with happiness. Olivia needs Beth. Beth needs Anthony.
I loved the chapter Beth wrote about Anthony's incident with the "french stick". The grammar, structure, pace, repetition and language made it feel so authentic and so effective. It must be as close as one can get to gaining insight to how the mind of someone with autism works.
It is a sad book but ultimately one of hope and love. It is heartwarming. The various different threads, stories and voices all become intrinsically linked by the end and there is a sense of the women having completed difficult journeys successfully. The last 40 pages gain pace and show a deepening relationship between the women. It is emotional and leaves us asking big questions like what is our purpose in this life?
I think there will be a lot to discuss at Book Group regarding this book and I am really looking forward to the opportunity to talk about it some more. I hope the rest of the group have enjoyed it as much as me! I am definitely going to get hold of Genova's other books as I like the way she writes about complex, difficult issues with a sensitive and considered manner. I did not feel I was reading a book about "autism" but a book about motherhood, marriage, love and friendship. I guess that's one of Genova's main messages about Anthony. You need to look beyond the label and see the person first. We all need to look beyond our labels and enjoy the world around us for what it is.
If you haven't already discovered Lisa Genova, then I highly recommend you seek out her books! My review of "Still Alice" is also available on this site (23/01/16)
For more reviews and recommendations, follow me on Twitter @katherinesunde3 (bibliomaniacUK) or subscribe to receive future posts by email.