"Fates & Furies" Lauren Groff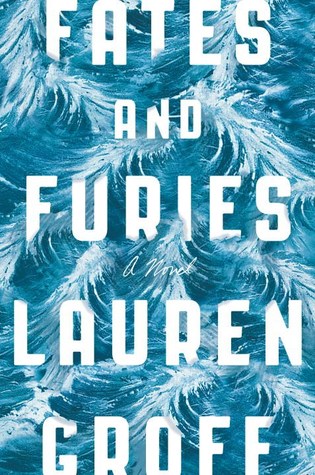 I was intrigued to read this book as the reviews used words such as enchanting, exhilarating, electric, complex and addictive. It follows the story of Lotto and Mathilde, married at 23 years old after a fleeting romance which is largely based on a deep sexual attraction. We meet them on the day of their secret marriage where Lotto is completely enamoured with this girl he has "magicked into his life". It is very different from the ceremony Lotto had in mind when he'd imagined his wedding, coming from a wealthy and privileged background but it was what Mathilde wanted and she was "always right... he would know this soon enough." There is a hint that this dream like love will be tested over time - the thought that "marriage meant forever" briefly runs through his thoughts but they are both so consumed with their obsession and hunger for each other that they try to ignore that "between his skin and hers, there was the smallest of spaces....a third person, their marriage, had slid in."
It is an inciting opening. The reader is intrigued; caught up in the fairy tale coupling and hoping for a fairy tale life. This relationship always appears nothing short of perfect in front of their friends - Lotto is a charming, attractive man heralded as a genius by all around him (to such an extent it almost gives him a sense of entitlement). Then there's quiet Mathilde, siren like with her beauty and equally worthy of a great future. But what is really going on beneath the surface? What feelings do the couple really carry for each other and what secrets bubble away beneath this surface of perfection?
The story continues to chart the marriage over the following 24 years, reflecting on its triumphs and tribulations; the continuous ebb and flow, give and take, undulating rise and fall of patience, disappointment, failure, success, hope and love that a marriage journeys through. Their friends are disparaging about the future of the relationship and take bets on its future but the couple continue to survive. One of their friends comments that "Mathilde is a conundrum wrapped in a mystery, wrapped in bacon. She's so calm and quiet. And Lotto is the loudest. Opposites. First marriage. Guess who'll be there with casseroles when it all comes apart."
The early days of their marriage reminded me of accounts about Hemingway and Hadley (I highly recommend the "The Paris Wife" by Paula McLain). A couple that "have so little....still so happy". A couple full of artistic potential and talent and constantly floating between one party after another. Lotto and Mathilde seems to spend the early years of their marriage constantly entertaining with "Yuppies in embryo.....hurricanes of entitlement....nothing at the centre." Groff writes beautifully about Lotto's back story and this helps understand his present behaviour. I enjoyed reading about his parents and how Lotto learns to "live in this world". His first sighting of Mathilde reads like something from a halcyon place and Mathilde something more celestial. His happiness is constantly referred to and repeated and it does seem that he is bewitched by her and unknowingly being played. There are subtle hints that Mathilde is not so enamoured with her husband and marriage. There are insinuations that she is more frustrated and fed up; but then the animalistic attraction and lustful desire consumes her when there are times of success and celebration. The reader begins to realise that one of them is more powerful and controlling than the other.
Groff writes that up before Lotto rose a "vision of himself as if attached to a hundred shining strings by his fingers, eyelids, toes, the muscles of his mouth. All the strings led to Mathilde pointer finger and she moved it with the subtlest of twitches and made him dance." I though this was one of the most brilliant sentences in the whole book. It captures the essence of the relationship and actually as the book continues the reader becomes more and more aware that she "choose" him, she saw his genius as soon as she met him and has looked to release it and nurture it throughout his periods of apathy, inertia, depression and inactivity. With artfulness and a pretence of effortless coincidence, she skilfully manipulates him and directs him towards his artistic development and success. This reveals a more complex, perhaps even slightly unsettling, side to Mathilde's apparently shy exterior. It also reminded me of the phrase "Behind every great man is a great woman". Unsung. Out of the limelight. An ability to weather any storm. A resilience and patience that is not mirrored by her partner.
I also liked the description of the marriage "picking itself up off the ground, stretched, looked at them with its hands on its hips..." following one of their brief periods where they are a little lost to each other.
The prose captures the artistic nature of the couple. It is dreamlike and poetic. The phrases run on into each other, building images fused with contrasting half finished sentences and half formed suggestions. Metaphors are piled on top of each other and the cadence of the descriptions depicts both the carefree, unpredictable, disordered life of the couple. The dialogue is revealing and pertinent. Like the couple, Groff's writing appears effortless and smooth, masking the "sacrifices and machinations" and work that goes on to create this illusion. This novel is as much about language, metaphor and words as it is characters and marriage. It is intense and mediative. It is a style which takes some getting used to and does require quite a lot of investment and engagement from the reader. I did find that I needed to persist with my reading a little; at times I found the way the passages drifted along in a fluent and unbroken manner made the passing of time difficult to track and differentiate between the changes. However, Groff's purpose must be to show how time aimlessly meanders from year to year and the changes in people, friendships and relationships are so slight and tiny they often go unnoticed or without immediate impact.
I would recommend this book to people who admire authors who explore language and who enjoy reflecting on the power of metaphors and poetic imagery. It is a literary novel. At 390 pages long it's not a quick read and actually the weighty dense prose does make it feel a little longer. However, there is some beautiful writing to enjoy and marvel!
My thanks to NetGalley and the publishers for an advanced copy of this book in return for an honest review.
For more recommendations and reviews, follow me on Twitter @katherinesunde3 (bibliomaniacUK) or subscribe to receive future posts via email.