Clare Mackintosh "I Let You Go"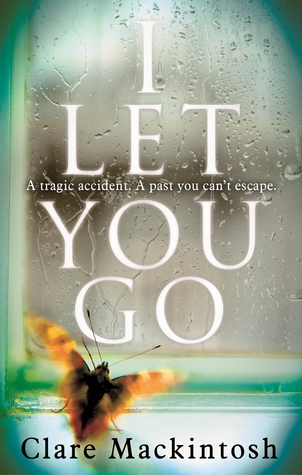 "Compelling, intriguing and thought-provoking this well written psychological thriller kept me guessing and turning the pages long after I should have gone to bed. An astonishing debut novel." 5 * rating on Goodreads from C L Taylor (author of "The Lie", "The Accident" and "The Missing")
I read this last summer and it honestly was one of my most favourite reads of 2015. I picked it up as it was part of the Richard and Judy Summer Book Club reads and I always find they are a reliable source of satisfying reads - light enough to suit the time of year and read on holiday but with enough depth of character and plot to provoke engagement, offering more than perhaps a "chick lit" or slightly sensationalist novel would.
This book was no exception. I was interested in Jenna's story from the first chapter. After being involved in a terrible accident, she has fled to the remote Welsh countryside to try and escape the traumatic repercussions of this fateful evening. However, she remains haunted by fear and grief, constantly reminded how her life has changed irrevocably, frightened that any chance of future happiness will be thwarted if her past ever manages to catch up with her.
I was enjoying the book and would have classed it as a 3/5 rating until I got about half way through. And then everything changed. I was absolutely stunned. And I read the second half without barely a glance up from the pages. It had suddenly become a 5/5 read!
Sadly, I can't say much more than this without seriously giving anything away. All I can say is it is a fantastic book with really good characters. Mackintosh's writing oozes tension and is full of suspense. Atmosphere is created through her evocation of setting and location and through the actions and behaviour of the characters who are all convincing and well constructed.
A couple of days later I was in the queue for school waiting to drop the children off when I heard the person behind me complaining about having had no sleep the night before. Sympathetically her friend murmured in empathy about the curse of young children and broken nights. "Oh no," she replied. "It was totally my own fault. I started this book which was ok, then I got half way through and, well, I just couldn't put it down until I'd finished it - even when it was gone 1 o'clock in the morning!" "Excuse me," I said, turning round, "You weren't by any chance reading
I Let....
" "
You Go
!" she finished off. And then we lost all our children and nearly missed the registration bell as we were so caught up in our conversation about it! Judging by my other friends which subsequently read it and the reviews on Goodreads, we aren't the only people who found this! I highly recommend you read it - and then brace yourself for the second novel coming out in July!
This has been on my "want to read" list since the moment I saw it was due out! July the 28th feels ever such a long time to wait and I don't know whether receiving an exclusive extract from the first has made it easier or harder! All I can say is that I was absolutely gripped by Mackintosh's first novel "I Let You Go" and this second novel seems like it is going to be equally unputdownable!
The first chapter opens with a very ordinary woman travelling home from work on the tube. Details are captured well so the scene is clearly visualised and all of us will be able to picture ourselves on a crowded carriage, processing the events of the day and ticking off a mental check list of what else we need to do as we flick mindlessly through the newspaper. Only, for the narrator, a careless glance through the personal adverts at the back of the paper which include a few of the less respectable sort of women offering "services" causes a spine chilling reaction. There is a photo of a woman alongside a list of contact details. The woman in the photo is her........
Once again, Mackintosh has intrigued me with what will undoubtably by a thrilling page turner of a read. The narrative is so easy to engage with and the character so relatable that I'm already involved in her situation and if there was ore to read I would probably still be there ploughing on through the whole book in blissful ignorance of the rest of the world!
All I can say is ......Roll on July!
If you want to find out more about Clare Mackintosh and her books then please visit her site www.claremackintosh.com
For more recommendations follow me on Twitter @katherinesunde3 )bibliomaniacUK or sign up below to join the email subscription for future posts.