Sneak Preview of "Poppy's Place" for Children aged 8+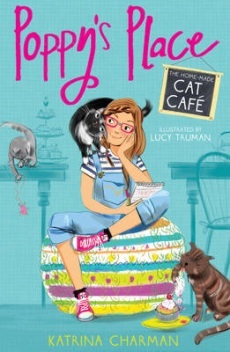 I won a free copy of a sneak preview (the first two chapters) of this book from the publisher Stripes at Little Tiger Press.
Synopsis:
All Isla has ever wanted is a cat. She loves everything about them but especially that "it was impossible to be sad with a cat around." Isla has a notebook with a list of nine reasons why they should get a cat - but her mum won't even listen to number one! Her mum works at the vets and is constantly "going on about how grown-ups didn't like to bring their work home with them. Isla couldn't understand this at all. If Mum worked in a pizza restaurant, Isla was sure that she wouldn't have a problem bringing her work home with her then." So until she can convince her mum, she decides that she will spend the summer holidays hanging around at the vets and make do with looking after the animals there.
In one of the cages at the vets is a cat. A clever, sweet, silky soft cat. With no owner and no home...... Isla needs to find a good reason- no the best ever reason- to convince her mum to let them keep it.....
When Gran comes to stay with them she takes Isla back to visit the cat and sees how fond they are of each other. Mum is coerced into agreeing to let the cat come back with them as a "temporary" measure (we've all heard that before and know only too well where it leads.....!!) Isla names the cat Poppy.
And then she comes up with the most perfect idea which will allow her to keep the cat. She will open a cat cafe!
Both myself and my daughter, who is 7, enjoyed reading 40 page extract (full book is 192 pages) from the opening of the novel. Isla is an engaging, bright child and her lists are entertaining and fun. The plot moves along quickly with lots of dialogue and extracts from Isla's notebook to break up the text. The interaction with her siblings is realistic and humorous and it was a very tempting sneak preview which had us both keen to read more.
There are some lovely illustrations to go alongside the writing. There is just enough of them to make the book visually appealing and ensure the full pages of text are not intimidating for less confident readers but not too many to make it seem too young or babyish. The illustrations are stylish, contemporary and original without being cartoony or "disney-like". The illustrator, Lucy Truman, is influenced by all things vintage and this is reflected in their attraction.
Poppy's Place is going to be a whole series of adventures based around Isla's cat cafe ("cat cafe or catastrophe?!") which will be ideal for reluctant readers and enthusiastic readers alike. The first book comes out on March 10th and the next instalment will be out in July. It will be a perfect read for any Holly Webb fans (of which my daughter must be number one!). I think these will be a lovely set of stories about nimals and friendship with a very likeable main character. They will suit girls between the ages of 8-11 years.
This is Katrina Charman's first novel - if you don't count her epilogue to "Matilda" which she wrote when she was 11! She was winner of "Undiscovered Voices" in 2014 and I think her writing shows an assured understanding of her target audience and a confident, easy style that will capture her readers' attention and interest. The concept of a cat cafe sounds like a great conceit and full of huge potential.
Keep your eyes peeled for its publication on 10th March at £5.99 and follow #poppysplace on Twitter for more information, news and cat-tastic fun!
For more recommendations, reviews and bookish chat follow me on Twitter @katherinesunde3 (bibliomaniacUK) or sign up for email notifications on the right hand side for future posts.