Poetry Collections for Children
Here are some suggestions for Poetry Collections for children! Some of the collections are more recently published than others, but I think they are all collections that have been thoughtfully collated and designed to introduce children to a range of poets and styles as well as extending a wider enjoyment of the genre with those who are more familiar with it. It might also mean you can pick some of them up at a bargain price!
Poet Laureate and a prominent writer on the GCSE and A Level syllabus, Carol Ann Duffy is my absolute favourite poet. Her poems are imaginative, funny, clever, observational and memorable. They are dynamic, relevant and accessible. Her "New and Collected Poems for Children" is specifically for young people and as we would expect, it is full of wit and humour. It includes the voices of the Loch Ness Monster's husband, the oldest girl in the world and a heard of cows on a shopping trip to Manchester! A teacher reviewed this as the perfect collection for her class of 10 year olds as the poems were gritty, thought provoking, helped extend vocabulary and led to interesting discussions on a variety of topics. I think it would be a perfect starting place from which young people could discover poetry. The "100 Poems for Children" have been very thoughtfully selected by Carol Ann Duffy and include a broad and refreshing range of both classic and modern poems. This would suit older primary school aged children, encouraging both an enjoyment of poetry as well as extending wider reading amongst the more able.
Can't not include a Michael Rosen book in a list of poetry for children! Wacky, energetic Rosen writes poems which make children laugh as well as pause for thought. They are often great for reading aloud and my children seem to be able to recite them after only hearing a few times they are so memorable, rhythmical and sometimes a bit cheeky!
I haven't read this collection but I am a fan of Grace Nichols and have read a lot of her poems. I liked the concept of this book and feel a family visit to the Tate coming on to see if we can have a go ourselves! As the first Writer-in-Residence for the Tate, Nichols worked with London Schools running a project to help children respond to art through poetry. These are the poems she was inspired to write as a result, also inspired by works of art exhibited at the Tate. I would hope it could show children how poetry is versatile, diverse and a way to express your responses to everything and anything you discover in the world as well as you emotions and more standard, obvious muses.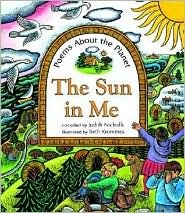 I have used Judith Nichols' poetry a lot when I was an English Teacher. These collections focus on the environment and the planet. They include a range of poets and I found they were good for analysis, discussion and for inspiring children's own writing.
This would probably suit ages 7-9 more but Julia Donaldson's endorsement will encourage even the more reluctant poetry reader to take a look inside! And poetry, after all, is for performing! Have some fun with this collection and hopefully it will inspire reading, performance, a deeper understanding of language and poetic devices as well as enjoyment and creativity!
This collection is probably about 15 years old now and the "literacy hour" has greatly changed but this book is still a great resource as it includes every type of poem you can think of including chants, riddles, shape poems, epitaphs, limericks, raps and narrative verse to name a few. It also includes a huge range of classic and contemporary poets. It is great for dipping in and out of and there should definitely be something in here for everyone!
I've popped this in as Benjamin Zephaniah is such a "cool guy" who isn't afraid to tackle issues and writes poems that shout from the pages. He is the best example of performance and rap poetry! It may be a bit dated - I confess to not having really looked at his poetry very recently but he used to be a very high profile author who could engage even the most disinterested student! His poems here address different cultures and diversity. Good for introducing discussions, for exploring raps and hip hop in poetry and for performance poetry.
Again, you can't have a list of poetry collections without referencing these "Kings of Poetry"! This is their selection of poems deliberately selected to appeal to children and to make it fresh and accessible. It introduces a wide range of poets and styles and should be a staple for any young person's poetry shelf.
I am a big fan of Sarah Crossan and this novel is unique as it is written in prose and can be read (by an adult) in about an hour. It may be worth skimming over before you share with your children and I would recommend it for aged 10/11+ as it deals with a few issues and might need a little explanation. The story is of 12 year old Kasienka and her mother arriving in England as immigrants. The writing is exceptional and I like the fact it will challenge reader's perceptions of poetry and novels. It will introduce them to a different way of using poetry and show them that there are no restrictions or conventions that cannot be broken with creativity and imagination.
I have to include this book as another novel written in verse even though it is more suitable for 11+ readers. The 14 yr old narrator meets a 17 year old single mum who needs a babysitter. I read this about a decade ago and it was the first YA "novel as verse" book I had come across. It really impressed me and I haven't ever forgotten it. I shared it with some pupils I was teaching at the time and one, who hated poetry, reluctantly took it and was completely converted -she began reading poetry quite vicariously! She had also previously argued that a poem was only a poem if it rhymed - this book changed her opinion. Therefore I have a soft spot for this book and the effect it had on my students!
For more recommendations, reviews and bookish chat please follow me on Twitter @katherinesunde3 (bibliomaniacUK) or sign up for email notifications of future blog posts.