My Review of "The Finding of Martha Lost"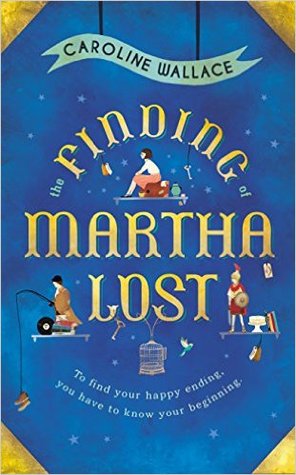 I'm afraid I was a bit of a bibliomaniac book stalker about this title! The world of book lovers are very excited about "The Finding of Martha Lost," but what really intrigued me was the way all the reviewers and bloggers confessed that they had found it impossible to review this Young Adult novel; they had all struggled to formulate their responses and define the impact it had made on them. Of course, they all actually wrote exceptionally eloquently and competently about it - far better than I will manage today - but I was suddenly desperate to get hold of Wallace's novel and find out exactly what had left these critics literally lost for words.
Now I have read it, I totally understand their reaction! How do you write about something so magical, inspiring, uplifting, imaginative, unique and stunning? Wallace's command of language is so masterful, anything I attempt to put into words will be seriously inferior!
"The Finding of Martha Lost" is set in 1976, Lime Street Station, Liverpool. Martha was abandoned as a new born baby in a suitcase on the train from Paris in 1960 . Sixteen years later she still remains hopeful that someone will come to claim her from the lost property desk where waits; the station is her home and she has never ever taken a single step outside of it in all her life. As she waits, her life continues with mysteries to solve, secret tunnels under the station to discover and a suitcase that might have belonged to the Beatles to deal with. But Martha wants solve the mystery of who she is and who her birth mother is. The authorities have found out about her hiding out in the station and her time is running out. If she can't discover who she really is she will lose everything. After all, "to have your happy ending, you have to have your beginning."
I don't think I've read a book that is wholly set on a station before but it made me realise how well such a location lends itself to inspiring fiction. Stations are full of people, journeys, secrets, beginnings, endings and things that get left behind and forgotten. The building itself automatically creates a dramatic stage and Wallace ably evokes the atmosphere so that it is easy to visualise every nook and cranny. You feel as if you are standing there, pirouetting behind Martha and her group of colourful friends.
It's not just the setting and situation that are bewitching. It is the character of Martha. She is curious, vivacious, loving, warm, dramatic, energetic, colourful and out of a fairy tale. She spins and twirls across the platforms, oblivious to anything but seeing the best in things. Her infectious inquisitiveness seeps out of her, highlighting her childishness and naivety. Yet her observations about people, and the objects in Lost Property, indicate a more perceptive mind than many adults. Such observations often seem quirky and too fairy-tale like, but in reality they reveal deep insight and awareness. Martha also has a special gift: "When I rub my finger over something that is lost, I can tell how the item came to be lost." However, her real gift - her real magic, is being able to understand people's truths and hidden emotions.
Yes, this is a book of magic and wonder; where fairy tales and real life intermingle, producing an intoxicating brew which will leave you thirsting for more!
Martha collects books which she arranges by colour to create a "rainbow of secrets". It is her library of found books as she wants to "collect lost words and let them have a voice." She is concerned with showing respect for the books and seeing their beauty. Some of the books have inscriptions which "tell me a different story to the one in the book....these words weren't meant for me; it's like I've overheard a secret." The inscriptions are a secret message between the book giver and the book receiver; the reason for giving a book is another story of its own that interests her more than what is printed on the actual pages. Now I not only want to give even more books as gifts but inscribe every book I will bestow in the future!
Martha reflects on stories, books and language throughout the whole novel. The words "lost" and "found" are sprinkled across the pages as a constant reminder of Martha's need to "find" her birth mother and her own name. Her responses to books are so innocent yet so original and astute I am jealous of the way in which she is able to view the world.
Martha breaks all conventions. For example, of reading she says "Sometimes I think it's ok to meet characters and then create your own story for them.... If a character is killed or hurt and I'm not happy with that, I turn back to just before the events took a nasty twist." She is surely the most captivating and beautifully imagined character in children's fiction that I have come across in a very very long time.
As her search for her birth mother, name and National Insurance number continue, Martha begins to receive books in the post with inscriptions just for her. The books chosen are all brilliant choices to further illustrate the overriding themes of searching, of lost and found - for example: "I Know Why the Caged Bird Sings", "Great Expectations" and "Stranger in a Strange Land'. And the quotes about fairy tales scattered between the chapters are equally effective and from equally great literary voices. But they are not overly worthy, just gently reminding us of the continuation of Martha's fairy tale as she picks up the narrative and begins the next part.
There is more depth to the story than just a world of words and an enchanting sprite. It is an exploration of trust, friendship, questions and answers, love, safety, protection, being lost and being found. To borrow Martha wise words - "I wonder if being lost is more about waiting to be found."
The adjectives that follow "The Finding of Martha Lost" across Twitter are "remarkable, astounding, compelling, endearingly breathtaking, hypnotic, surreal and simultaneously innocent and wise". It's been a while since I've seen such unrestrained passion over a new novel! There were numerous blogs about this book and I can't list them all but three which I felt really captured the essence of Wallace's charming and whimsical book were bookaddictshaun, Lindasbookbag and fromfirstpagetolast. Have a look at their eloquent and thoughtful reviews. This is a Young Adult novel but the excitement and enthusiasm from the adult reviewers prove that children's fiction is pertinent to all ages and a great place to discover talented and innovative writers.
As other bloggers also found, this review took far too long to write and was a real challenge. Now as I come to an end, I feel bereft at leaving the world of Liverpool Lime Street and Martha's story.
Borrowing more words from the book, I'd like to end by repeating what is said to Martha: "You bring delight to all who cross your path."
I hope you also take the time to delight in Martha and her story.
Enormous thanks to NetGalley for an advanced copy of this book in return for a fair and honest review.
For more recommendations, reviews and bookish chat follow me on Twitter @katherinesunde3 (bibliomaniacUK) or sign up for email notifications of future posts.