Children's book suggestions for Mother's Day
I've written three posts about books for Mother's Day but this post is full of ideas for books children could read that are about families.
Younger Readers
The "Large Family" books are a firm favourite with my children and this one is all about Mummy Elephant trying to get five minutes peace from her delightfully energetic children. The four children just want to help their mum relax but their kindness is, unfortunately, a constant stream of interruptions and noise! As with all the Jill Murphy stories, it's lovely, funny and full of bright illustrations.
I love Anthony Browne's books and his illustrations are just extraordinary. This is a moving story about Hannah and her love for Gorilla's and visiting the zoo. Her dad works too hard and never has time for her, then one night she is visited by a real Gorilla and they set out on an adventure together. In the morning, everything has changed. It's heartwarming and affirming. Children will love it
Set in a zoo again, this is the heart warming, gentle story of more unconventional family. Two male penguins long for a baby together. This is a good introduction to talking about the fact that every family is different and there are lots of different ways of being a family. Another good book which deals with this subject is "Donovan's Big Day" by L Newman.
Full of black and white illustrations and engaging stories about a "naughty" little sister this is a timeless, appealing classic which will entertain young readers. A perfect transitional book for either reading aloud or for children who are becoming a little bit more confident with their own reading.
Set in the 1930s this will interest parents from a social point of view but will still appeal to young readers despite it's historical setting. It is the lively tale of a large, happy and simple family and their everyday life. Each chapter takes another member of the family and gives them one adventure. It's uplifting and although the grown ups will appreciate the insight into poverty and social welfare, the children will enjoy the spark and character of the adventurous loveable children.
For ages 5-8
Although Judy Blume is more well known for her books for preteen / teenage girls, these are a fun series for younger readers. Narrated by the witty Peter they tell the stories of his mischievous little brother Fudge and all his humorous escapades. Good for reading aloud as well as for those beginning to read more independently. Black and white illustrations and a clear, large print.
Everyone is familiar with this author! Wilson is famous for her numerous books which are all written with flair and humour but at the same time tackling important issues. This is for younger readers and includes fun illustrations by Nick Sharratt. Wanna-be comedian Elsa is forced to move into a Bed and Breakfast hotel when they lose their family home. A good introduction to Wilson.
Another well established and accomplished author for this age range is Anne Fine. She has also written extensively. Try this one for starters and then look out for "Goggle Eyes" and "Madame Doubtfire". "Bill's New Frock" is fun too! She also writes for 9-11 age range so just check through the story lines when making a selection to ensure you've got the right age range in mind - although there is nothing "inappropriate" in any of her novels - it would just be to check the use of language and accessibility of the text.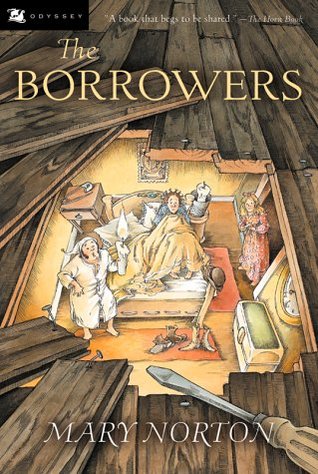 Another classic which has been brought back to life through several recent film and TV adaptations. This story of the tiny people who live underneath houses, "borrowing" things from the human world and adapting for their own homes will appeal to creative and bright minds who love playing their own imaginative games with small figures and invisible friends. An endearing story with plenty of adventure and excitement along the way.
Ages 9-12
So many of Dahl's books look at families: Matilda, Fantastic Mr Fox, Danny Champion of the World..... A brilliant author for this age to discover. Try David Walliams once they have read through all Dahl's books!
Again, a real classic but still very appealing to young girls! The story of three orphan sisters and their journey to the stage this remains engaging and enjoyable for a contemporary audience.
A great edition for introducing young readers to classics such as "The Railway Children" and "The Secret Garden" bridging the game until they are brave enough to tackle the originals or more sophisticated adaptions. Beautiful illustrations and accessible, well edited versions.
These are fantastic for boys and will be read, reread and read again! It doesn't matter! There are about 7 of them now and its great to get boys hooked on a series. There are lots of subsequent books appearing in the same style now but I think these are still the best. We love the films too - highly entertaining!
For Older Readers
There's about 11 of these I think so again, a great series on which to get a reluctant (or any!) reader hooked. They are quirky, witty, sharp and funny. They follow the unfortunate events of three orphaned children as they try to find a new relative with which to start a new life. I assure you that you will be grabbed from the very first line! I picked these up to skim through to check the reading age / appropriateness and ended up reading the entire series! They are well written and will stretch the reader's vocabulary. Unique and innovative, creative and full of adventure.
Sally Nicholls is one of my favourite YA authors. This is a novel about a family trying to get by together and avoid being taken into care. Following a visit to an old aunt and the discovery of an old photograph, they go in search for an inheritance that will give them the security they need and this novel is about their journey. It is an affirming novel of family, relationships and survival.
Siobhan Dowd was a very talented writer and was able to publish several books before her recent untimely death. Her books are often a little mystical and she writes with lyricism and great imagery. This book is about the lively and determined Holly Hogan who walks away from her foster family in search of her mum, taking on the liberating persona of "Solace" as she sets off on her journey. This is a coming of age story; heartwarming, affirming, moving and thoughtful.
I can't resist adding this! It is my all time favourite novel as a young girl! It is a little dated but I think will still resonate and I have reread it several times - including last summer! Dicey and her three younger siblings are abandoned by their mother in a supermarket carpark with no money. This is long before the days of sat navs, mobile phones and the internet! Dicey bravely takes the family on a long journey searching for the only distant relative she knows them to have. On foot, they walk and walk, camp and get by through Dicey's constant improvisation and instinct for survival. And then when they finally reach their destination - well that's a whole other story in itself. Fascinating and captivating this is a coming of age novel about what family really means, love, relationships and survival. Thought provoking. It has stayed with me for the last twenty eight years.
I hope this gives your mini bibliomaniacs something to enjoy over the weekend while we are all celebrating our families in whatever form, shape or size they may be!
For more recommendations, reviews and bookish chat follow me on Twitter @katherinesunde3 (bibliomaniacUK) or sign up for email notifications on the right hand side.