My Top Ten Valentine Reads
Looking for love amongst the pages of a book? Look no further! Here are my Top Ten books about love!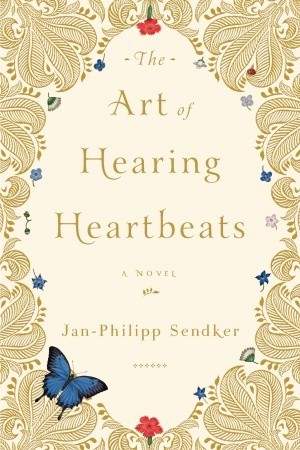 "The Art of Hearing Heartbeats" by Jan-Philipp Sendker
I read this book a long time ago but it really is as beautiful as its front cover! It's mainly set in Burma and follows Julia as she tries to solve the mystery of her father's sudden disappearance. Her search is founded on an old love letter she finds buried in his belongings and takes her on a journey where not only does she have to come to terms with his past, but in doing so exposes a magical, poignant and inspirational story of passion, resilience and love. This truly is a novel about the power of love.
"Four Letters of Love" by Niall Williams
"Nicholas Coughlan and Isabel Gore are meant for each other - they just don't know it yet. Though each has found both heartache and joy in the wild Irish landscape, their paths are yet to cross. But as God, ghosts, fate and the sheer power of true love pull Nicholas and Isabel together, so too does life threaten to tear them apart. . ."
Appropriately I read this on my honeymoon (far too many years ago now!) and have been recommending it ever since. It is about different types of love - all as powerful and moving as each other. It is intensely beautifully written and it's lyrical prose will stay with you. This really is exceptional.
"Eleanor and Park" by Rainbow Rowell
I am delighted to have discovered Rainbow Rowell's novels! This is a great read, set in the 80's over the course of one school year following the story of two 16 year olds. It is about first love. It's a nostalgic read for some of us but moving and affirming. Highly recommend.
"Doctor Zhivago" by Boris Pasternak
Feeling bereft after the end of "War and Peace"? Feeling inspired to tackle some Russian Literature? How about this classic? Dr Zhivago is a poet and philosopher who's live is disrupted by the war. He is in love with Lara, the wife of a revolutionary. At nearly 600 pages it isn't as long as "War and Peace" but will take some dedication! Alternatively, there are some equally good films of the book too!
While on the subject of classic reads about love, don't forget about "Emma" by Jane Austen - the original matchmaker! And if you like stories about the haphazard and unpredictable world of dating and matchmaking remember to try recent hits "Sofia Khan is not Obliged" and "Match Me if you Can"
"The End of the Affair" by Graham Greene
After ploughing through a few classics, why not take a break with a much shorter 160 page read?! Read Maurice's account of his adulterous obsessive affair with Sarah which explores hate as much as love with a stunning denouement.
You could also try:
"Like Water for Chocolate" by Laura Esquivel
"The History of Love" by Nicole Krauss
"Enduring Love" by Ian McEwan
"The Fault in our Stars" by John Green
"The Last Letter from your Lover" by Jojo Moyes
I hope you find something that reaffirms your belief in true love and brings you a truly romantic Valentine weekend! Happy Reading!
For more suggestions, reviews and bookish chat follow me on Twitter @katherinesunde3 (bibliomaniacUK)