My Review of The Shadow Hour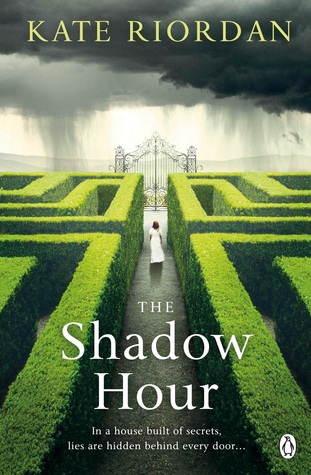 Why have I not come across Kate Riordan before?! How have I missed her books?!
This is an absolutely compelling read. Alternating between the two different settings of 1878 and 1922, the novel follows the stories of Harriet and Grace, grandmother and granddaughter, both governesses, both working for the Pembridge family at Fenix House. Grace is sent to take up the post at Fenix House on the insistence of her grandmother. But why is Harriet so determined that Grace should go there? What secrets hide within the house? What haunts Harriet's past? Riordan takes you on a compelling journey filled with intrigue and atmosphere as Grace searches for the truth about her family's history.
This book is a perfect match for me. An historical drama, dual narratives cleverly woven together, secrets, hidden pasts, revenge, romance, troubled characters and all within the gothic setting of a crumbling country mansion lived in by a broken family.
I was captivated by the lyrical opening: "It's not always as simple as beginnings, middles and ends. Some [stories] are formed like a circle with something terrible and secret at the core and everything else radiating out, like ripples from a raindrop on water." Bewitching.
As you begin the story you are immediately transported back in time. The house is so easy to visualise because of the beautiful, fluid writing style which is so evocative and poetic yet accessible and unfussy. I was carried away with the plot from the absolute beginning; swept up in the mystery, suspicious hints and suggestions of something more untoward. Harriet's "glimmers" of the future imply a sense of magic, yet are so well executed that they don't become overly fanciful but only add to the brooding atmosphere. Both the characters of Harriet and Grace are realistic and convincing. At the beginning there is a sense that Grace is being unfairly manipulated by her grandmother by being pushed into a situation where she is not fully aware of the relationships, history and reasons that it's so important for her to be there. Harriet is a compelling woman; clearly still haunted by her buried past. Both are women are appealing and easy to relate to. Both generate tension and suspense.
Riordan's male characters are equally interesting, particularly Jago, Lady Pembridge's brother. His threatening, malevolent presence creates an unnerving sense of something more predatory and deeply unpleasant. A much murkier past and relationship with his sister is also alluded to. Robert, the master of the house, is a man of conflict whose eyes "seemed as full of sadness as the clouds above them brimmed with rain."
Agnes, the housekeeper, is also a well drawn character. At first she resembles the foreboding Mrs Danvers from "Rebecca" but there is much more to this outwardly brusque woman.
There are echoes of "Jane Eyre" - mysterious houses with people hidden away, harrowing sounds during the night, a young inexperienced governess ... This has been used as a deliberate device -a copy of the book features within the story itself- and it is effective in creating further atmosphere and anticipation.
The writing is exquisite. The description and phrases are stunning and enthralling. I could quote endless passages as examples of just how enchanting I found the writing. For example: "Misery, loneliness and regret seemed to leach out of every badly papered corner, lifting tiles and staining plaster as they bedded in over the years." Mesmerising.
I don't want to spoil the book in any way so I'm not revealing any more about the plot except to say if you want to read a novel with unreliable narrators, lies and revelations then this is the novel for you! If you like period dramas, then this is an excellent exploration of the life of a lowly governess within a troubled family. If you love well written books written by imaginative, talented authors this is definitely for you!
And I'm not the only one raving about this new release. It's all over Twitter this week! Dinah Jefferies, author of the also beautifully written and evocative "The Silk Merchant's Daughter" and "The Tea Planter's Wife" said she was "immediately drawn in .... I loved the sense of intrigue and the air of mystery at Fenix House and was itching for answers as the two narratives unfolded." Who needs any further endorsement?!
If I could write, it would be to write like this. If I could think of a plot, it would be this one.
I highly recommend this book and would rate it 5/5 stars.
Kate Riordan has also written "The Girl in the Photograph" (published last January) and her short story, "The Red Letter" was published in January 2016. Can't wait to read them!
Thank you to NetGalley for the opportunity to read this book ahead of publication in return for a fair and honest review. It was a real privilege.
For more recommendations, reviews and bookish chat follow me on Twitter @katherinesunde3 (bibliomaniacUK) or sign up for email notifications of new blog posts on the right hand side.