My Review of Disclaimer by Renee Knight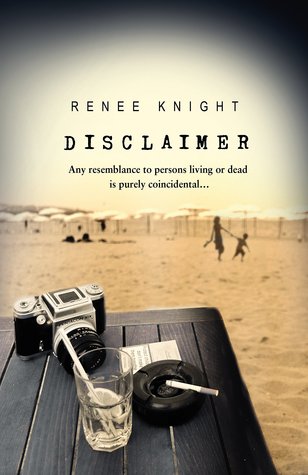 This is an excellent psychological thriller and a fine example of "GripLit"! Catherine Ravenscroft finds a book on her bedside table all about her and the dark secret she has kept buried from her husband and son. Knight uses the popular pattern of alternating chapters between the voice of Catherine and Stephen Brigstoke - the retired teacher who has set out to destroy her life - to effectively build tension and drive the plot forward at a great pace.
I don't want to give too much away but as the narratives develop, Stephen becomes more sinister and vengeful; the increasing references to his dead wife show him to be more unhinged and dangerous which complicates the reader's relationship with him which is initially more sympathetic. His announcements in his very opening chapter where he states "I am not a cruel person......I have allowed things to slide..." imply a hidden malevolence.
Similarly our reaction to Catherine, which is not always sympathetic, is also completely challenged by the end of the book. The last third of the novel hurtles at such an accelerated pace, crammed full of plot twists, that the minute you finish the last page you feel the need to go back to the beginning and start again. The revelations are so clever that you have to reconsider everything you've just read.
I was completely gripped from the opening chapter. It's been a long time since I have been grabbed so firmly and so fully catapulted headlong into a story. You feel like you are trying to catch up with events from the first line and I was reading so rapidly just to try and uncover the secrets and the truth about Catherine's buried past. This can make the start feel a bit jerky and confused but it mimics Catherine's emotions as she realises the book on her bedside table is about her and her overwhelming fear of being discovered. Although the reader remains in the dark, Catherine's fear of being watched and her trauma from the near death of her son create a jittery tension which makes you read on. Knight's unique skill is her ability to force you to read on in order to try and make sense of what's happening and constantly having to piece together the secrets, the revelations, the actions of the various characters and which narrator is in fact reliable enough to listen to.
It's a winning easy read. It has all the right ingredients for a psychological thriller. It's a page turner, full of twists and surprises. I liked the fact that the story centred around a bitter, hurt and frustrated man's calculated personal revenge rather than a psychopathic criminal as it was more unsettling and realistic. Ordinary people, people that you think you know inside out, that you have lived with all these years, have deep secrets - which once revealed could destroy everything you have. Be prepared to put everything else on hold once you pick up this book!
for more recommendations, reviews and bookish chat follow me on Twitter @katherinesunde3 (bibliomaniacUK) or sign up for email notifications