My Review of "Carry On" by Rainbow Rowell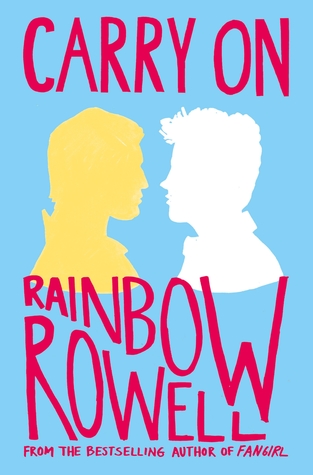 Rainbow Rowell is a quirky,
humorous, talented writer for Young Adults. Her previous novels are all a good blend of emotional drama and self discovery, teenage angst and perceptive observations about coming of age and relationships. I have enjoyed them all and was really pleased to get a sneak peak at her latest novel, "Carry On".
This novel is more of a departure than the others. It is a story about magic and fits into the supernatural and fantasy genre. It is based on one of her other books "Fangirl" in which the main character becomes obsessed with Simon Snow, a fictional character in a comic. "Carry On" takes the character of Simon Snow and gives him his own story. As Rowell says, it is the story of a "fictional-fictional" character which gives her the scope and freedom to really play around and have some fun - which she does!
The story is set at Watford School of Magicks, run by the Head Mage, and the main character is eighteen year old Simon. Even though he was born to "Normals", Simon is a magician - well, more than just your average magician actually. He is the "chosen one". He, and he alone, can save the world of Magick from the constant wars and the enemy "Humdrum".
"Most magicians know who I am. Most of them knew I was coming before I knew myself; there's a prophecy about me - a few prophecies actually about a super powerful magician who'll come along and fix everything. .....Let the greatest power of powers reign. May it save us all."
There are similarities with "Harry Potter" in that Simon is ordinary and unassuming; he doesn't embrace his magical talent or fully want to accept the responsibility to save the his people. He just wants to get through his final year of school and get over his heartbreak of being dumped by Agatha. "What's the etiquette for talking to your girlfriend after three months when the last time you saw her she was holding hands with your nemesis?"
He lives in a world of pixies, vampires, goblins, flibbertigibbets, old families, war and the evil of the Humdrum. He struggles with his spells and studies. ("Is there a book called All the Magical Things that are Actually True and All the Other Ones that are B******* just like You Thought?") He is a likeable, witty and appealing young man. However, what makes this book different from your run of the mill "wizard-esque" book is the sense of something more ironic and playful. Rowell's writing is fresh, innovative, imaginative and hugely entertaining. I frequently found myself chuckling out loud and smiling as I read.
There is a wide cast in this lively engaging book. Each chapter comes from a different character. Agatha the ex girlfriend, Penelope - Simon's best friend, the mysterious Laura, the missing Baz, Mage, and several more. This creates great tension and pace as the plot develops into more of an adventure to solve the disappearance of Baz and the uncover the more haunting and eerie presence of the ghost Laura as "the veil lifts and dead people return to the living if they have something that really needs to be said." Laura's voice is particularly intriguing and mysterious, a real contrast with the energetic teenage humour of the others.
There is lots of dialogue in the book which captures the vitality and dry wit of teenagers with realistic conviction. It makes it a page turning, easy read. Rowell has a real aptitude for writing conversations and creating believable, engaging characters. This book would adapt very easily to screen and also feels like a comic strip or film which plays appropriate homage to it's original inspiration.
I loved all the quirky, imaginative, magical detail. The school has hidden rooms which can only be entered with the right spell, it has a whole extra storey hidden between two floors which echoes the floor above it - the same things happen but a day later. The characters talk about being half troll and half mermaid, they suffer from gnomeatic fever and go numpty hunting. I loved the spells - "have a break, have a kitkat"; the nursery rhymes being the most powerful spells you could use with Humpty Dumpty having the power to turn back an entire army. I loved the throwaway remarks and description, "She's all brute force and 90's cliches." And the more serious sense of duty and responsibility that the characters all feel with the burden of magical talent:
"Magic is a religion. There is no such thing as not believing - or only going through the motions. Your whole life revolves around magic al the time. If you are born with it, you are stuck with it, other magicians and wars."
The final section of the book moves at a rapid pace created through very short extracts and comments from all the characters giving glimpses of the action, revelations and confessions. I can't quote from the last pages without spoiling the adventure but they are very well written and poignant.
Ultimately this is fun, fantastical, magical novel and you will need to suspend all reality to fully immerse yourself in the comic strip world of Simon Snow. But it is also a love story - a love triangle - a coming of age story, a story of belonging, identity, self discovery, friendship and high school. It is also a story of melodrama, murder, overcoming your nemesis and accepting destiny. This must have been a liberating book for Rowell to write and she has clearly enjoyed inventing Simon's world and obviously cares about the characters she has created. This can be read alongside "Fangirl" or is equally successful as a stand alone novel. It will appeal to anyone over the age of 14, including adults who like magical escapism.
I would recommend this book if you are looking for something different, refreshing, humorous and original.
I would also highly recommend Rowells' "Eleanor and Park" as an incredibly moving story of first love and "Landline" is also a good read with a more supernatural element. You can follow Rainbow Rowell on Twitter.
I am very grateful to NetGalley for the opportunity to review this book before publication in return for this honest and fair review.
For more recommendations, reviews and bookish chat follow me on Twitter @katherinesunde3 (bibliomaniacUK) or sign up for email notifications on the right hand side.