Like #GripLit? Like these....
With the phenomenal success of novels like "Gone Girl" and "The Girl on the Train", "Grip Lit", the new genre of psychological thrillers, is taking over the book charts everywhere. It is not a new genre -as Sophie Hannah pointed out last week in an article in the Guardian (check it out for a great list of thrillers past and present) but one which is producing an exciting range of un-put-down-able reads. Here is my list of the best #GripLit books I have read recently.
"Into the Darkest Corner" Elizabeth Haynes
Queen of the psychological thrillers! If you haven't read this yet then stop and get on Amazon immediately! Myself and my friends could not stop talking about this book and we all rated it 5 stars. It tells the story of Catherine Bailey who is trying to build a new life following a relationship with Lee Brightman which has left her haunted and traumatised. The description of Catherine's debilitating OCD is so real and evocative that you feel yourself suffering alongside her. This book is dark, violent, chilling and riveting. Easily her best novel and completely captivating.
"The Ice Twins" S K Tremayne
Sarah and Angus relocate to a tiny Scottish island hoping to rebuild their lives after one of their identical twin daughters has died in an accident. As the winter seeps in and Angus is forced away with work, an isolated Sarah is stranded with her daughter only to find herself questioning what exactly happened on the day of the accident and which twin actually died. I loved the cold atmosphere of this ghostly and unsettling thriller. The setting intensified the suspense; the description of the island and the weather was as chilling as the action itself. It is a psychological thriller but with elements of a ghost story, which for me, made it a winning combination.
"The Unquiet House" Alison Littlewood
Emma Dean inherits the dreary Mire House from a distant relation but soon after arriving she begins to see ghostly figures as the house starts to reveal its dark secrets. To be honest, I didn't overly rate this when I first read it but nearly eighteen months later I am still haunted by some of the imagery evoked in this gothic style horror story. The graveyard scenes and the presence of shadowy figures is particularly unsettling. There is a supernatural element to the ending which I think initially disappointed me but it is a good ghost story with many traits of "grip lit" and unnerving echoes of "The Woman in Black" in places.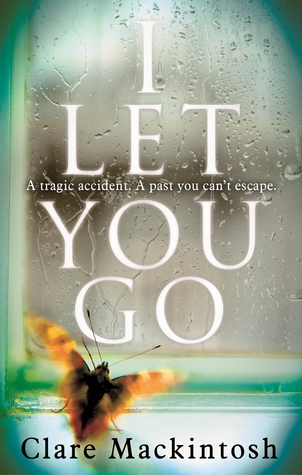 "I Let You Go" Clare Mackintosh
No, you will not be able to let this go and I dare you not to be able to read in more than one sitting! This book will seriously keep you reading in to the small hours! I was completely captivated and could not put it down. Jenna Gray's world is turned upside down in a split second. She escapes to the remote Welsh coast to try and rebuild her shattered life that continues to haunt her. But can she ever escape the past? This book is exciting, tense, clever and impressive. The ending is exceptional.
"How I Lost You" Jenny Blackhurst
Emma Cartright has been released on parole with a new identity in the hope to start a new life. But then she receives an envelope addressed to Susan Webster - the woman used to be - with a photo of a toddler called Dylan - the son she believed she killed three years ago. With no memory of the event, only accepting what happened because everyone around her, including friends, doctors and the police told her, Susan now begins to question everything she thought was true, grasping desperately on to the chance that her son is actually alive. A real page turner - I read it in twenty-four hours!
"The Attic Room" Linda Huber
Nina, a single mother, travels from the Isle of Arran to Bedfordshire to find a relation has left her a house and a lot of money - and a police investigation. Nina uncovers a shocking crime but in her search to find out more about the secrets of the house and it's family, she ends up putting both herself and her ten year old daughter in danger. Huber takes a taboo subject and uses it to create an uncomfortable and chilling read.
"The Lie" C L Taylor
Jane Hughes has successfully rebuilt her life over the last five years following a holiday with friends that should have been a trip of a lifetime but instead it was a nightmare ending in the death of two women. She thought she'd put it all behind her until a letter arrives claiming "I know your name's not really Jane Hughes." Quickly she realises someone is out to destroy her. Echoes of "The Beach" by Alex Garland and a discerning exploration of what can go wrong amongst a group of young people trying to create their own secret idyllic community.
"After Anna" Alex Lake
Five year old Anna is abducted from outside her school when her mother Julia is late to collect her one afternoon. But then Anna is returned a week later with no memory of where she has been or what has happened and this is where the real story begins. The novel is full of suspense and tension and I'm not saying anymore except that there are plenty of twists and turns to keep you guessing and re-evaluating your perception of the characters right up to the very end.
"In Bitter Chill" Sarah Ward
In 1978, two schoolgirls are abducted and only one, Rachel, returns. Thirty years later, the mother of the other still missing girl commits suicide, and the case is reopened as DI Sadler thinks a recent event has triggered the mother's death. Despite remembering nothing, Rachel works with the police to uncover the truth about the abduction and the suicide; a search which uncovers dark secrets. Ward has a career in crime fiction and in this compelling debut she fuses crime and psychological thriller to produce a satisfying read.
"The Shadow Year" Hannah Richell
Five friends find an empty secluded cottage buried deep in the countryside one hot summer in 1980. They decide to set up home there, running from their real lives and seeking to survive away from the outside world. Three decades later, Lila tries to escape her marriage crisis by fleeing to the same cottage which has lain deserted all this time. But, as she sets about restoring it, a story of secrets, tragedy, lies and betrayal are revealed and ultimately an explanation of why the friends abandoned their home and all their belongings. It is more a mystery than a thriller but I came across it in a charity shop and was instantly hooked. There is sinister characterisation mixed with the menace of what happens within a group when normal rules are suspended. Relationships ruled by power, control and emotional responsibility add an element of underlying suspense to what appears to be an idyllic set up.
#GripLit on my to read list:
"Disclaimer" Renee Knight
"The Cold Cold Sea" Linda Huber
"The Dolls House" M J Arlidge
"Behind Closed Doors" B A Paris (out in mid Feb)
"The Stopped Heart" Julie Meyerson (out in March)
Other #GripLit must reads:
"Dark Places", "Sharp Objects" Gillian Flynn
"The Furies" Natalie Haynes
"The Good Girl" Mary Kubica
"The Kind Worth Killing" P Swanson
"In a Dark Dark Wood" Ruth Ware
Simon Mayo's Radio 2 Book Club are reading "Coffin Road" by Peter May; a crime thriller which also comes highly rated.
Hope that gives you lots to choose from! Sleep well............