#BibliomaniacsBookShelves #SummerRoundUp Bank Holiday August
Bibliomaniac's Bookshelves: Summer Reading Round Up
Yes, I'm still 'on a break' so I'm still writing my mini reviews! Here's what has been going on in the book world of Bibliomaniac over the last little while!
THERE IS ALWAYS MORE TO SAY by LYNDA YOUNG SPIRO
*My thanks to the author from whom I received this book in return for an unbiased and honest review*
This book opens with the intriguing words
"I feel compelled to write this story. I don't know the ending yet and I can't remember the beginning. Full of the unexpected. Like life itself."
And so begins a story that perhaps isn't really a story but more a meditation on life, on love, on friendship. To me, this is more like a long love letter; a letter rather than a journal as the narrator refers to "you" the whole way through and is very much aware that this story is for someone specific. Although it is for "you" (a best friend, a lost love, a soul mate) and there is some very personal reflections within the pages, there is so much that is universal and the themes alluded to and explored with resonate with all readers. There is also something very intimate about reading a story addressed to "you" throughout the entire book and something that draws the reader into the relationship with the narrator on a deeper level. The story is also so honest that it is impossible not to become involved in the characters emotion's and feelings.
Each of the short chapters, which flit backwards and forwards through key moments in the narrators life as she remembers, explains and considers, start and end with a quote. I was quite fascinated by the quotes used - they range from literary figures, philosophers to much more mainstream well known quotes but each is carefully chosen as it is used to encapsulated the theme or thought of that particular chapter. Each quote helps the reader to reflect on what they have read and I thought there inclusion was very effective.
This is a short read and unlike anything I have read for a while. The narrator is fifty five and although at a different point in her life from where I am, there was plenty for me to relate to and to empathise with. I'm not sure which genre I would use to classify it as it transcends the labels I would normally fall back on. I would recommend it to people who enjoy a kind of stream of consciousness, a book which is thought provoking and reflective and for people who enjoy fictional memoirs. Although the structure of the story is shaped around some action - or key moments in the character's life - it's not really about happenings and events; it is about hopes, dreams, fate, destiny, choices, regrets, expectations and apprehension. It is about what could have been and what has been. It is about life.
There is Always More to Say was published in April 2016.
THE SEVEN RULES OF ELVIRA CARR by FRANCES MAYNARD
*My thanks to the publisher from whom I received this book via NetGalley in return for an unbiased and honest review*
One afternoon, Elvira's mother suddenly has a stroke and ends up in hospital, leaving Elvira alone and having to look after herself. Socially challenged, and only having known being ruled by an overpowering mother, Elvira finds herself learning to navigate her way through the days both physically and emotionally.
The novel is narrated in first person by Elvira which allows the reader to really see the world from her point of view. I thought this was really effective as the reader is fully aware of Elvira's responses and interpretations of situations which helps us not only understand her thought process and issues, but also ensures we form a strong bond with her. It is a challenge for any author to successful create a convincing character who suffers from the kind of issues Elvira has but Maynard definitely does this. There is a lot of gentle wit and humour on every page of this story and Elvira's stark, honest and obvious responses will make you smile. The author writes with heartwarming sensitivity and respect rather than mockery.
Elvira is not a character for us to pity either. The reader will feel sympathetic towards her but only in a supportive manner - and only with a realisation that actually our use of "figure of speech" or turn of phrase is sometimes ironic, illogical or confusing! No, Elvira does not need us to feel sorry for her or to closet her - her mother has been fiercely controlling of her and some of the things she has said to her in the past have been incredibly hurtful and destructive. Now her mother is in hospital, Elvira has the chance to see what she is indeed capable of and although she makes mistakes and misjudgements along the way, the reader is rooting for her and thrilled to see all that she does achieve.
To help navigate her way through her new independent life, Elvira develops a spreadsheet with rules. Her notes on why these rules are important and phrases she can use to help implement the rules are endearing, clever and insightful. They are a great framework on which to hang the story line and perhaps everyone can take something away from some of the rules Elvira tries to adhere to!
I also really enjoyed the quotes at the beginning of each chapter. They were as pertinent, poignant and heartfelt as any quote from literature of philosophy and I thought they underlined the essence of the book and what the author was trying to achieve.
It's always nice to be appreciated. And apologised to - Janice Drapkin, Checkout Operative, Asda.
I enjoyed this book. It is well written with a lovely turn of phrase which captures the personality of Elvira effectively. The use of dialogue is clever and I was impressed how well the author not only managed to create such a readable, likeable and well judged voice but also sustain it over the entire course of the novel. We have seen characters like Elvira in several other contemporary fiction novels but The Seven Imperfect Rules of Elvira Carr definitely stands out and deserves to gain recognition. It is simple, understated, humorous and engaging. It has a bit of everything; sadness, loss, struggles, pain, friendship and happiness. There's also a bit of a mystery to solve as well. I recommend.
Oh and there are some fabulous book group questions at the end so make sure you tell your book club all about this novel too! Definitely lots to discuss here!
The Seven Imperfect Rules of Elvira Carr is published by Pan MacMillan on 24th August 2017.
THE BURNING GIRL by CLAIRE MESSUD
*My thanks to the publisher from whom I received this book via NetGalley in return for an unbiased and honest review*
This is a story of two girls, Julie and Cassie, who have been friends since nursery. It charts their friendship over the years, the ups and downs, the ebbs and flows, the highs and lows that exist in any friendship and in any relationship that spans many years.
The novel is narrated by Julie and there is relatively little dialogue. It is very descriptive, very mesmeric and very atmospheric as we really become part of this relationship and realise the significance it has had on Julie as she grows from toddler, to young girl, to older girl. Told through Julie's point of view we only really know Cassie from the details Julie gives us but this is not a book that is short on detail. I trusted Julie and believed her account of events and the way the relationship between the two girls developed. I also enjoyed the fact that we were able to infer more about what was happening with Cassie from what Julie revealed and able to piece together any missing parts of the jigsaw for ourselves.
Friendships, particularly those formed at school, are a fascinating base for any novel, perhaps because we are nosy or because of our vicarious nature and I enjoyed the fact that the author had decided to explore this friendship in such immense detail. Readers will enjoy watching this friendship as it tries to survive the friends growing emotionally and physically at different rates, deal with differences in their respective family lives, differences in their popularity at school and so on. The novel is very engaging despite the fact it is so dependent on one character's narration with perhaps less dialogue or action than other novels about teenage girls around at the moment and it should not be overlooked. This isn't just about friendship, it is about how we define ourselves, how we consider ourselves and the stories and myths we build around ourselves. It's also about confronting issues, pain and truths.
I was struck by the idea that whatever happened to these girls, they had a bond that would never leave them. Even when Cassie is with new friends and has left Julie a little behind, there is a certain flick of the hair or a particular phrase and Julie knows immediately exactly what is going on in Cassie's mind. That's what defines a friendship - that's the feeling you have about that special person who you've grown up with. A person you were so close to you even pretended to be sisters.
"....it would all still be there between us: you couldn't take away our whole lives. But our friendship was, at the same time, like a city you hadn't visited in a long time, where you knew the streets by heart but the shops and restaurants have changed....."
There's some really beautiful writing in this novel and some fantastic observations. I enjoyed the girls envy of each other's mothers, family homes and how Messud had captured so many universal themes about human nature in a very personal story particular to two girls. I liked the atmosphere of the novel which is actually quite foreboding and dark and I was caught up in the fluency of the polished and eloquent writing.
This is not a typical thriller or a typical "Girl" titled novel but it deserves a spot on the shelf amongst the best sellers. There is fire in this subtle, well written novel and it's flames will flicker inside your mind once you've finished reading.
The Burning Girl by Claire Messud is published by Little, Brown on 7th September 2017.
TRY NOT TO BREATHE by HOLLY SEDDON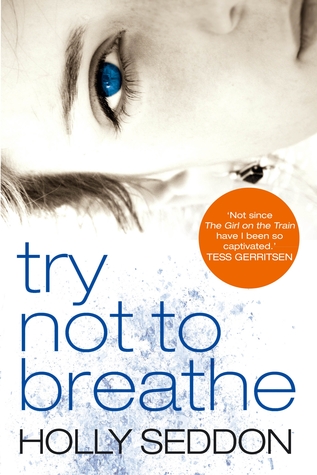 I recently read Holly Seddon's new novel
Don't Close Your Eyes
and loved it so much I was determined to buy and read her first novel this summer while on holiday. I was delighted to find that
Try Not To Breathe
is equally compelling, chilling, exciting and as gripping! Seddon's writing is very polished and her ability to orchestrate several narrative threads that gradually converge is impressive and very well executed.
Try Not To Breathe is the story of Amy who has been in a coma since she was 15 and her broken body was recovered in the park. She disappeared one night after school and was eventually found, left for dead. Her step father, boyfriend and neighbours were all interrogated, but the perpetrator and the true events of the attack are still unknown.
Alex, a former journalist but now a woman struggling to hold herself together as her life crumbles around her - her marriage over, her alcoholism consuming her days - decides to investigate Amy's story and starts to visit her in hospital. And so begins an unique friendship where Alex seeks to find the truth even when it means placing herself at risk.
This novel alternates from Alex's point of view in the present day, Amy's narrative which includes flashbacks from 1995, and also the voice of Jacob who was Amy's boyfriend at the time she was attacked. It is not hard to follow or to keep track of where in the story we are - in fact Seddon uses the variety of voices and switch in view point to maximise tension and drama. For me it made the novel even more unputdownable because I was so desperate to keep going back to each character and find out more. Although there is plenty of action, twists and turns I thought this was also a very character driven novel and once again I was impressed with Seddon's ability to balance both a griping, multilayered plot with highly developed, intriguing, interesting and complex characters.
The voices are all a good contrast to each other and all very distinctive. Each character is really well created and comes with their own heap of baggage and problems which is also beautifully handled with conviction and authenticity by Seddon. I really admired the way the author developed the characters, their frustrations, weaknesses, fallibility and fears. I loved the way their paths began to overlap and inform on each thread of the story. I was left in awe of Seddon's storytelling skills and ability to achieve such a complex, suspenseful psychological thriller. Seddon's observations are candid, acute and poignant. Her understanding of human emotions, relationships and the complexities of parenting, love and marriage are insightful and powerful.
I could talk about this book for a whole lot longer but all I'm really going to say is that you really should read it. It's such a treat. I thoroughly enjoyed it and at the risk of a series of cliches, I was gripped from the start, totally immersed in Seddon's writing, I was hooked and consumed by the characters and just didn't want to put it down. I am in love with the way Seddon's writing is compelling and page turning but also sharp, intelligent and original. Her novels are excellent and I know it's a bit cheap to borrow other reviewers words but it is "top notch" and a "must read".
I can't believe this is a debut novel. I can't believe I have to wait for a third book. I am in love with Seddon's writing.
Try Not To Breathe by Holly Seddon was published by Corvus in 2016.
A GUEST POST FROM FIONA SPARKS
In case you missed it, I also hosted a guest post from Fiona Ford this week where she answered lots of questions about her favourite books and the inspiration behind her new series of books set in WW2. You can read the interview by clicking on the link below!