#TheMemoryBook #RowanColeman #Review
When time is running out, every moment is precious…
When Claire starts to write her Memory Book, she already knows that this scrapbook of mementoes will soon be all her daughters and husband have of her. But how can she hold onto the past when her future is slipping through her fingers...?
I
decided to read this book after hearing Rowan Coleman talking on the radio with Angela Clarke this week. To hear the show - which is only an hour and definitely well worth a listen - please click on the link here. I got The Memory Book out of the library as Coleman is coming to Harpenden Books on Thursday 13th July and I will so be there, stalking in the interest of writing an unbiased review of Coleman's latest novel The Summer of Impossible Things and helping her celebrate her book launch!
Claire, mother of two daughters and wife to Greg, has early onset Alzheimer's. This novel is about her demise, about her collecting memories which help tell us more about her past, about her coming to terms with her illness and about the changing roles within her family. Her own mother, Ruth, becomes her carer, her husband Greg becomes someone she doesn't recognise and her youngest daughter is still unaware of what is happening but enjoys this uninhibited, free and playful version of her mother. However her eldest daughter, Caitlin, is also facing a crossroads in her life which finds her more in need of her mother than ever before.
When my friend read the back cover she said, "Hhhmm, that sounds cheery," with a little hint of sarcasm, but do you know what, somehow Coleman has made this amazingly uplifting and heartwarming. It is not depressing. Of course there is incredible sadness within this novel and of course there is tragedy about what is happening to Claire. There are some very tender, moving and poignant moments, but there is also a lot of kindness, love, humour and courage within the pages. And some important observations about family, motherhood and love in Claire's moments of clarity and lucidness.
"Being a mother is about protecting your children from every conceivable thing that might cause them hurt, but its also about trusting them to live the best way for them, the best way they can; and trusting that even when you are not there to hold their hand, they can succeed."
The story is told through Claire, Ruth and Caitlin's point of view with extra chapters in italics that tell us about what goes into the Memory Book. The items selected reflect key moments in Claire's life but perhaps not the moments that you would automatically assume. As with all of us, the "grace notes" in life - the small non-essential moment that actually embellish the real melody in our lives, are often the ones we cling on to.
There is also a slight mystery to solve about Claire and Caitlin and
this is gradually revealed through the extracts in the memory book. Caitlin's story is a sub plot but serves to develop the key themes in the novel and reveal more about Claire's life as well. The relationship between mother and daughter - both through Claire and Caitlin and Claire and Ruth - is central to the book and reflects the circular pattern of life. The relationships between the women are well conveyed and an honest reflection of the cycle of dependence, independence, love, frustration, respect and friendship that continually exists between mothers and daughters.
"For now at least, I am around 10 years old to her, and it doesn't matter, not now. Because I feel safe."
The Memory Book is really about motherhood and love. It's also about patience and understanding, and redefining who and what you are to members of your family as their needs change and evolve. The memory book itself is a way of driving the plot forward but this novel is as much about the characters as memories. The theme of alzheimers is given the serious consideration and sensitive handling it requires but Coleman has built it into a more universal story of mothers, daughters, marriage, families and love.
For Claire, her failing memory does not seem as threatening as it is for those around her. Coleman has captured very effectively the sense of confusion and the sense of floundering when you can't use a phone or remember where you are and what you are doing; she conveys it with a sense of calmness and humour. It is harder for those around her who have to re-learn their relationships and adapt to the changing situation.
The ending did make me shed a tear or two - but it is so touching, so beautiful and so heartwarming.
I did really enjoy this novel. It is an easy read, it is an engaging read with a gentle turn of phrase and characters that are appealing and likeable. There is enough drama, sadness, triumph and entertainment to satisfy any reader and I think Coleman is a very able writer who knows how to craft a good story. She has taken a emotive subject and placed her character in an emotional situation, but done so with sensitivity, care and thoughtfulness.
I recommend! And I have just taken two more of Coleman's books out of the library with the hope I can squeeze them into my reading schedule before her visit to Harpenden Books in July!
The Memory Book was published in April 2014 by Ebury Press.
If you like the sound of this book then maybe try: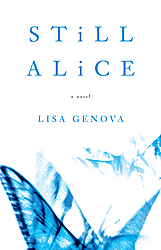 THE SUMMER OF IMPOSSIBLE THINGS by Rowan Coleman
publishing on 29th June 2017 by Ebury Press but available for preorder here
This summer, get ready to believe in Impossible Things with the brand new book from international bestseller, Rowan Coleman. This is THE TIME TRAVELLER'S WIFE for a new generation of readers. Available to pre-order now! If you could change the past, would you? It is only after her mother's death that Luna begins to discover her secrets. While in New York to settle the estate, something impossible happens to Luna. She finds herself in 1977, face to face with her mother as a young woman, in the week that changed her life forever. If time can be turned back, can it also be rewritten? Luna becomes convinced she can save her mother from the moment that will eventually drive her to suicide. But in doing anything - everything - to save her mother's life, will Luna have to sacrifice her own? From the Sunday Times bestselling author of The Memory Book, this is a beautiful lush novel about love, courage and sacrifice, The Time Traveller's Wife for a new readership.
For more information about Rowan Coleman's event on 13th July, please click on this link:
Harpenden Books Events
To listen to the brilliant Angela Clarke chatting to three authors - including Rowan Coleman - here's the link again!
BBC THREE COUNTIES RADIO SPECIAL with Angela Clarke
ROWAN COLEMAN
Rowan Coleman lives with her husband, and five children in a very full house in Hertfordshire. She juggles writing novels with raising her family which includes a very lively set of toddler twins whose main hobby is going in the opposite directions. When she gets the chance, Rowan enjoys sleeping, sitting and loves watching films; she is also attempting to learn how to bake.
Rowan would like to live every day as if she were starring in a musical, although her daughter no longer allows her to sing in public.
Twitter
@rowancoleman
Website:
www.rowancoleman.co.uk/
For more recommendations and reviews follow me on Twitter
@KatherineSunde3
or
via my website
bibliomaniacuk.co.uk