#Review #TheDarkestLies #BarbaraCopperthwaite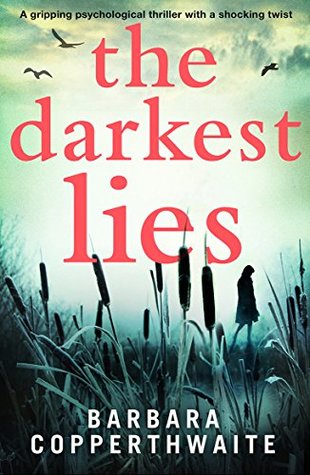 A mother desperate for the truth. A daughter hiding a terrible secret.
Melanie Oak
appeared to have the perfect life. Married to her childhood sweetheart, Jacob, the couple live with their beautiful, loving, teenage daughter, Beth, in a pretty village.
Nothing can shake her happiness -
until the day that Beth goes missing
and is discovered beaten almost to the point of death, her broken body lying in a freezing creek on the marshes near their home....
If the stunning and eye catching front cover hasn't already grabbed you, and this blurb doesn't make you want to rush out and buy the book then I don't know what will!
I have wanted to read one of Barbara Copperthwaite's books for ages. I have
Flowers for the Dead
and
Invisible
on my kindle, patiently waiting. Every now and again they make it to the top and then are brutally usurped by an interloping arc. So I jumped at the chance to read
The Darkest Lies
when I saw it pop up on NetGalley as this was a guaranteed way of ensuring I would finally get to read one of her novels!
And now, having read this one, I am more determined than ever to read her preceding books!
I was impressed with Copperthwaite's use of language from the opening prologue. The atmosphere created is tense, dramatic and very well evoked through great use of description and images.
"A moon hangs so fat it oozes an aura into the sky that almost blots out the stars surrounding it. It looks down on land as flat as an open palm, and as unforgiving as a clenched fist, and gives no answer to the screams of fear and rage that float up to it."
There's always much debate about to prologue or not to prologue but personally, I do like one - especially when it is done well. This prologue succeeds because we don't know who, where, when and what is going on. It raises lots of questions and sets the tone for the rest of the novel. What I especially liked about this prologue was that I didn't realise how much I liked it until I read the epilogue! My!
The chapters are told from several perspectives and jump around a little bit between events leading up the disappearance of Beth and events afterwards. It's not confusing and is well signposted. The voice is also significantly different in each section to make sure the reader is always able to place themselves with the right character.
We hear from Beth - in third person - and Copperthwaite is able to capture the realistic voice of a teenager torn between love, adulthood, secrets and still being close to her mother.
"Beth wanted to call a halt to her plan. To throw her arms around her and confess everything."
We hear mainly from Melanie but sometimes it is in third person and sometimes Melanie is addressing Beth. This works well as the reader is able to see the progress of the investigation, watch the dynamics, actions, relationships and events unfold but at the same time gets more insight into Melanie's character. The sections where Melanie is talking to Beth become more significant as the story progresses and as the twists begin to take hold of the narrative.
"I wanted someone with gravitas. Someone I knew had the skill and experience to find you. Not a child."
Melanie isn't an easy character and at times I found her love for Beth a little suffocating. But this is a woman who is totally distraught; maybe it's just that the presentation of her grief is so palpable that it's hard to read. Her interference with the investigation is a little overbearing but then it is only through her insight, her provocation and her determination to piece all the bits of the jigsaw together that she is able to begin to uncover the truth behind Beth's death. She represents the epitome of what it means to be a mother.
I think what also makes this novel such a good read is that Melanie tells us:
"We have a perfect life together. Untroubled, full of laughter. We are not the kind of family this sort of thing happens to."
Well, I don't think any family is the sort of family this happens to and that is what hooks us all in to the story - What if? What if it happened to us? And also, call me a massive cynic, but can this family really be so perfect? Can Melanie really believe that their life is so untroubled? Is there a delusion there, an awakening needed - is anyone lying or keeping secrets? Ooohhhh, I'm saying nothing more!
There is another voice included in the narrative sequence, an anonymous voice who only gives us one short page at a time. Not much, but enough to unnerve us and imply that there is something more untoward going on. I enjoyed the fact that this voice got more time to talk to the reader as the novel progressed and becomes very significant in the final series of twists and turns.
This is a very readable, engaging story. The plot moves along at a strong pace and the characters are well conceived and realistically portrayed. Copperthwaite writes fluently and there are some great passages of clever imagery but mostly the prose is about action, dialogue and driving the plot forward. There are a few further passages I'd like to comment on but for fear of spoilers I will leave it for another day.
When I was reading this I kept mis-remembering the title as "A Dangerous Lie". Although obviously, Copperthwaite's title is absolutely the right one for the novel as there is more than one lie and there are all very dark, I think the fact that one of the things I was left thinking about was how one small untruth, one small omission, one tiny lie can lead to such a catastrophic situation. Again, Copperthwaite has tapped into that question of What If? The reader is left with that sense that actually, life can change quickly and being perfectly happy will not save you.
I would recommend this to anyone who enjoys a gripping thriller and a story with a few twists that you might see and a few more that you won't. This is a novel about love, motherhood, trust and lies. I recommend it!
The Darkest Lie
is published on the 12th May by Bookouture.
BARBARA COPPERTHWAITE
One of the reasons why I am so keen to read all of Barbara Copperthwaite's books is because I follow her on Twitter and really enjoy the book reviews she writes, the books she reviews and her blog posts. Here's a little bit more about the author and if you scroll down there are all the links that you need to find her on social media.
Barbara Copperthwaite is an Amazon UK best-selling psychological crime author.
Barbara's writing career began over 20 years ago when she became a journalist. She has written and edited for a number of national magazines and newspapers.
At the start of her working career she also worked in a men's maximum security prison. It was there that her fascination with crime began, as she realised that bad guys don't always seem that bad - and are often charming.
Interviewing real people who have been victims of crime, either directly or through the loss of loved ones, consolidated Barbara's interest in crime. As a result, she knows a lot about the emotional impact of violence and wrongdoing. That's why her novels are not simply about the criminal act, but the repercussions they have. People are always at the heart of her thrillers, along with a genuine ability to get under the skin of even the most evil of characters.
This insight is what has propelled both of her novels, INVISIBLE and FLOWERS FOR THE DEAD onto Amazon's bestsellers charts, and led to rave reviews.
barbaracopperthwaite.com
@BCopperthwait
facebook.com/AuthorBarbaraCopperthwaite
Barbara has a regular feature on her blog / website called
Blood Type
- where crime authors spill their guts about writing! I highly recommend that you follow this - she interviews great authors and the pieces are always very interesting to read.
And if you think you'd like to read the other novels by this author then here's the blurbs!
ADAM WILL DO ANYTHING TO MAKE YOU HAPPY. EVEN IF IT KILLS YOU.
Adam Bourne is a serial killer who thinks he is a saviour. When he murders young women and cuts off their lips, he believes he has done it to make them happy.
How did he become warped from the sensitive four-year-old who adored his gran and the fairy tales she read to him? What turned him into a monster who stalks his victims? And what is he trying to say with the bouquets he sends?
When he meets Laura Weir, Adam weaves a fairy tale romance around them. A tale she has no idea she is part of. As he hatches his twisted plan for their fairy tale ending, can anyone stop him before he creates the ultimate sacrifice to love?
There's one victim of crime no one notices.
Something is wrong. With her marriage, with her husband, with her. But as she pours her heart out to her diary, it's clear she doesn't know what.
Until one explosive night she finds a possible answer.
Suddenly hated and vilified by everyone, she clings to her relationship – even while wondering if she really knows her husband at all...
INVISIBLE is a stunningly powerful, gripping and original psychological thriller of subtle insight that takes you on a twisted journey through one woman's marriage.
For more recommendations and reviews you can follow me on Twitter
@KatherineSunde3
or via my website
bibliomaniacuk.co.uk