#SixStories #MattWesolowski #Review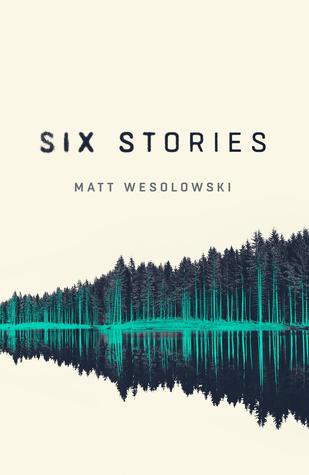 It's very easy to give you a reason to read
Six Stories
- in fact I could give you six - no, sixty reasons why you should read it! But here's three: the cover, the author and the blurb. Any reader who loves crime, thrillers or original and fresh fiction must read this book!
It's very easy to sum up the premise of
Six Stories
. In 1996 Tom Jeffries went missing. A year later his body was found. Twenty years later, investigative journalist Scott King decides to interview six people close to this unsolved, cold case; six interviews giving the reader six stories about what really happened.......
It is not so easy to convey the brilliance of the book. It would be easier if you just read it!
This is a relatively short, extremely readable, unputdownable novel. It is split into six sections with an extra narrative from one of the characters, which links the sections together, filling in a little bit more of the gaps - or possibly adding a bit more tension, suspense and mystery!
The thing I enjoyed the most about this book was its completely unique narrative structure. Wesolowski has written a crime novel - a traditional whodunnit - that follows the conventions of the crime genre, but the way in which he tells the story is nothing but traditional - it is completely unconventional! It is completely contemporary, fresh, original and bold. Crime readers are used to watching the police interview suspects, they are used to gathering clues and piecing the story together but Wesolowski takes this to a whole new level. He has almost invented a brand new way of telling a story which reflects the increasing interest in investigative journalism and our fixation with social media in today's society.
Six Stories
is not actually six stories but six podcasts. What struck me most was the experience of reading something that is meant to be heard. It is quite a strange sensation as I actually could 'hear' it; it really made me tune in and listen to the voices. I paid attention to every word, hesitation and statement they made. I liked that you were given the stories one at a time and left to try and determine who you could trust, who was reliable and who was telling you the truth. I do have a soft spot for a crime that takes one event and looks at it from different perspectives and I think Wesolowski takes this concept a step further and really plays with it. Hugely effective!
There are lots of unnerving ingredients in this novel - all of which will send shivers down your spine. There is a deep, dark forest. There is a man wearing a mask. There is a local figure who has autism and is easily manipulated by teenagers. There is the Marsh Hag and the Beast of Belkeld. This is a story which merges the local legends and urban myths with the known facts about the murder investigation to tell a compelling tale. This is a story where six characters are able to look back at an event that happened twenty years ago and seek the truth one final time.
Ultimately this is an author who knows exactly how to create a chilling atmosphere and who is able to tell a chilling story in a most imaginative and yes, chilling, way!
Recommend!
Six Stories
was published by Orenda Books on 15th March 2017. I bought my copy via their website
orendabooks.co.uk
- careful though, chances are you won't be able to stop at one book once you look at the titles they have........sooooo many good books - all sooooooo tempting!
For more recommendations and reviews you can follow me on Twitter @katherinesunde3 (bibliomaniacuk)