Bibliomaniac's Book Club: Criminally Good Books
Today's post is of full of bibliomania for Criminally Good Books!
On Wednesday 18th January 2017,
Bibliomaniac's Book Club
will be hosting a live event featuring four crime writers. Here's everything you need to know about them and their books!
So, are you ready? It's time to get seriously thrilled, chilled and scared rigid by four criminally good authors!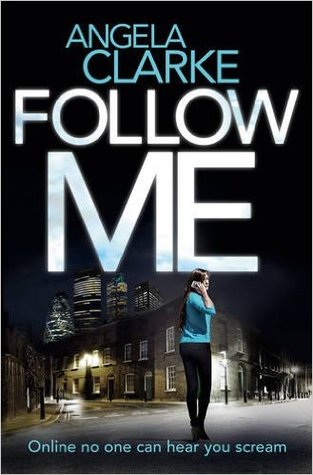 FOLLOW ME by Angela Clarke
LIKE. SHARE. FOLLOW . . . DIE
The 'Hashtag Murderer' posts chilling cryptic clues online, pointing to their next target. Taunting the police. Enthralling the press. Capturing the public's imagination.
But this is no virtual threat.
As the number of his followers rises, so does the body count.
Eight years ago two young girls did something unforgivable. Now ambitious police officer Nasreen and investigative journalist Freddie are thrown together again in a desperate struggle to catch this cunning, fame-crazed killer. But can they stay one step ahead of him? And can they escape their own past?
Time's running out. Everyone is following the #Murderer. But what if he is following you?
ONLINE, NO ONE CAN HEAR YOU SCREAM. . .
Bibliomaniac's review of Follow Me
WATCH ME by Angela Clarke
YOU HAVE SIX SECONDS TO READ THIS MESSAGE…
The body of a 15-year-old is found hours after she sends a desperate message to her friends. It looks like suicide, until a second girl disappears.
This time, the message is sent directly to the Metropolitan Police – and an officer's younger sister is missing.
DS Nasreen Cudmore and journalist Freddie Venton will stop at nothing to find her. But whoever's behind the notes is playing a deadly game of hide and seek – and the clock is ticking.
YOU HAVE 24 HOURS TO SAVE THE GIRL'S LIFE.
MAKE THEM COUNT.
Bibliomaniac's review of Watch Me
Guest Post from Angela Clarke
THE WOMAN NEXT DOOR by Cass Green
Two suburban women. Two dark secrets. The almost perfect murder.
Everybody needs good neighbours…
Melissa and Hester have lived next door to each other for years. When Melissa's daughter was younger, Hester was almost like a grandmother to her. But recently they haven't been so close.
Hester has plans to change all that. It's obvious to her that despite Melissa's outwardly glamorous and successful life, she needs Hester's help.
BLACK WOOD by SJI Holliday
Something happened to Claire and Jo in Black Wood: something that left Claire paralysed and Jo with deep mental scars.
But with Claire suffering memory loss and no evidence to be found, nobody believes Jo's story. Twenty-three years later, a familiar face walks into the bookshop where Jo works, dredging up painful memories and rekindling her desire for vengeance. And at the same time, Sergeant Davie Gray is investigating a balaclava-clad man who is attacking women on a disused railway, shocking the sleepy village of Banktoun.
But what is the connection between Jo's visitor and the masked man? To catch the assailant, and to give Jo her long-awaited justice, Gray must unravel a tangled web of past secrets, broken friendship and tainted love. But can he crack the case before Jo finds herself with blood on her hands?
WILLOW WALK by SJI Holliday
When the past catches up, do you run and hide or stand and fight?
When a woman is brutally attacked on a lonely country road by an escaped inmate from a nearby psychiatric hospital, Sergeant Davie Gray must track him down before he strikes again. But Gray is already facing a series of deaths connected to legal highs and a local fairground, as well as dealing with his girlfriend Marie's bizarre behaviour. As Gray investigates the crimes, he suspects a horrifying link between Marie and the man on the run - but how can he confront her when she's pushing him away? As a terrified Marie is pulled back into a violent past she thought she'd escaped, she makes an irrevocable decision.
And when events come to a head at a house party on Willow Walk, can Gray piece together the puzzle in time to stop the sleepy town of Banktoun being rocked by tragedy once more?
Bibliomaniac's review of Willow Walk
THE DAMSELFLY by SJI Holliday
Katie Taylor is the perfect student. She's bright and funny, she has a boyfriend who adores her and there are only a few months left of school before she can swap Banktoun for the bright lights of London. Life gets even better when she has an unexpected win on a scratch card. But then Katie's luck runs out.
Her tragic death instead becomes the latest in a series of dark mysteries blighting the small town. The new school counsellor Polly McAllister, who has recently returned to Banktoun to make amends in her own personal life, is thrown in at the deep end as the pupils and staff come to terms with Katie's death. And it's not long before she uncovers a multitude of murky secrets. Did Katie have enemies? Is her boyfriend really so squeaky clean? And who is her brother's mysterious friend?
With Banktoun's insular community inflamed by gossip and a baying mob stirring itself into a frenzy on social media, DS Davie Gray and DC Louise Jennings must work out who really murdered Katie before someone takes matters into their own hands . . .
Bibliomaniac's review of The Damselfly
Guest Blog Post from SJI Holliday
JOURNEY TO DEATH by Leigh Russell
Lucy Hall arrives in the Seychelles determined to leave her worries behind. The tropical paradise looks sun-soaked and picture-perfect—but as Lucy soon discovers, appearances can be very deceptive. A deadly secret lurks in the island's history, buried deep but not forgotten. And it is about to come to light.
As black clouds begin to gather over what promised to be a relaxing family break, Lucy realises that her father stands in the eye of the coming storm. A shadow from his past is threatening to destroy all that he holds dear—including the lives of his loved ones.
A dark truth is about to explode into their lives, and that truth is going to hit them right between the eyes.
MURDER RING (DI Geraldine Steel #8) by Leigh Russell
Hearing footsteps pounding along the street behind him he glanced back, fleetingly worried, then laughed because the street was deserted. All the same, he felt uneasy. Everything looked different in the dark.
Then he heard more footsteps approaching, and a hoarse voice called out. Turning his head, he made out a figure hovering in the shadows and as it raised one arm, the barrel of a gun glinted in the moonlight…
The dead body of unassuming David Lester is discovered in a dark side-street, and DI Geraldine Steel is plunged into another murder investigation. The clues mount up along with the suspects, but with the death of another man in inexplicable circumstances, the case becomes increasingly complex. As Geraldine investigates the seemingly unrelated crimes, she makes a shocking discovery about her birth mother.
Bibliomaniac's review of Murder Ring
COLD SACRIFICE by Leigh Russell
When three dead bodies are discovered in Detective Ian Peterson's hometown of Kent, it becomes clear that a vicious killer is on the loose. And without his trusted colleague, Detective Geraldine Steel, by his side, Ian's left to take the lead on a complex murder case with few clues.
The first victim is a middle-aged woman named Martha, brutally stabbed to death in the local park. Her husband, who did not report her missing, is the prime suspect until a young prostitute, Della, reveals his whereabouts the night Martha was murdered. But then she is strangled to death in her apartment. While the police are frantically gathering evidence and looking for a connection, a second prostitute is suffocated.
With nothing but the timing of the murders to tie the three women to one another, Ian and his new partner, Polly Mortimer, struggle to make sense of the case and find the elusive killer before he strikes again. But by the time Ian realizes the truth, it may be too late to save Polly.
DEADLY ALIBI by Leigh Russell
A double murder investigation threatens not only Geraldine Steel's career, but her life...

'Unmissable' – Lee Child

Two murder victims and a suspect whose alibi appears open to doubt.... Geraldine Steel is plunged into a double murder investigation which threatens not only her career, but her life. And then her previously unknown twin Helena turns up, with problems which are about to make Geraldine's life turn toxic in more ways than one!

For fans of Rachel Abbott, Angela Marsons, Peter James and Robert Bryndza, Deadly Alibi is a gripping murder investigation that will keep you turning the pages late into the night
Bibliomaniac's review of Deadly Alibi
Guest Post from Leigh Russell
To keep up to date with all Bibliomaniac's reviews, recommendations, author interviews and Bibliomaniac's Book Club information please follow on Twitter @katherinesunde3 (bibliomaniacuk) or sign up to receive all future posts via email on this blogsite.