Ghostly Tales for Christmas Eve
I love a good gothic tale full of suspense and eerie suggestion and as it's a tradition to tell a ghostly tale on Christmas Eve I thought my last post before Christmas should be a recommendation for some of the best books to end shivers down your spine tonight!
This is just 160 pages long and can be read in one sitting. Although you will not sleep after reading it.
It's such a famous tale now that I'm sure you are all familiar with the premise. Arthur Kipps, a junior solicitor in London is summoned to deal with the papers of Mrs Alice Drablow who has recently died. Her house is across a causeway and Kipps is forced to stay the night there alone to complete his task. But what is the mystery surrounding this woman and what is her legacy? And what will happen to Kipps alone on this island for the night?
I love this book. I have read it and read it and taught it and bought it and seen the play and seen the film and read it and taught it and seen the play again and again and again. I have not slept because of it, I have seen the woman in black hiding in my curtains, in the corridor and literally jumped out of my skin watching it at the theatre even after five times of seeing it! Susan Hill is a brilliant writer and this tale will creep under your skin and haunt you long into the night of Christmas Eve!
In a dusty post-war summer in rural Warwickshire, a doctor is called to a patient at Hundreds Hall. Home to the Ayres family for over two centuries, the Georgian house, once grand and handsome, is now in decline, its masonry crumbling, its gardens choked with weeds, the clock in its stable yard permanently fixed at twenty to nine. But are the Ayreses haunted by something more sinister than a dying way of life? Little does Dr Faraday know how closely, and how terrifyingly, their story is about to become entwined with his.
I bought this in hardback when it was first released and absolutely loved it. Waters has achieved a truly masterful tale that is so full of suspense that it is the reader's own imagination which reacts to Waters' suggestions and makes it all the more terrifying and chilling. Even thinking about the book now, 7 years later, I can remember key passages that literally made me shiver with fear. It's a long book at over 450 pages but absolutely well worth it.
1867. Eliza Caine arrives in Norfolk to take up her position as governess at Gaudlin Hall on a dark and chilling night. As she makes her way across the station platform, a pair of invisible hands push her from behind into the path of an approaching train. She is only saved by the vigilance of a passing doctor.
When she finally arrives, shaken, at the hall she is greeted by the two children in her care, Isabella and Eustace. There are no parents, no adults at all, and no one to represent her mysterious employer. The children offer no explanation. Later that night in her room, a second terrifying experience further reinforces the sense that something is very wrong.
John Boyne's novels are always a guaranteed good read and this is no exception. It's a mix of "Turn of the Screw", "Rebecca", "Jane Eyre" and Dickens but hugely readable, accessible and chilling. Another 5 star rating from me!!
Classic ghostly reads from the original inventors of the psychological thriller and detective fiction, these short story collections will satisfy any reader looking for a dose of ghost stories. The stories are short, chilling, accessible and haunting. Recommend!
In 1935, young medic Stephen Pearce travels to India to join an expedition with his brother, Kits. The elite team of five will climb Kangchenjunga, the world's third highest mountain and one of mountaineering's biggest killers. No one has scaled it before, and they are, quite literally, following in the footsteps of one of the most famous mountain disasters of all time - the 1907 Lyell Expedition.
This relatively shorter novel of 288 pages is subtitled "A Ghost Story" and that is exactly what it is! A clever, c
hilling, compelling read that is short enough to enjoy in a couple of sittings thus ensuring that the tension is taught and beautifully controlled throughout the whole length of the book.
Paver's writing easily captures the style of the 1930s, placing you firmly in that era; her ability to narrate so convincingly in the believable voice of a male protagonist is commendable. I liked the tone and it reminded me of several other very established authors - particularly Susan Hill.
Biographer Margaret Lea returns one night to her apartment above her father's antiquarian bookshop. On her steps she finds a letter. It is a hand-written request from one of Britain's most prolific and well-loved novelists. Vida Winter, gravely ill, wants to recount her life story before it is too late, and she wants Margaret to be the one to capture her history. The request takes Margaret by surprise — she doesn't know the author, nor has she read any of Miss Winter's dozens of novels.
As Vida Winter unfolds her story, she shares with Margaret the dark family secrets that she has long kept hidden as she remembers her days at Angelfield, the now burnt-out estate that was her childhood home. Margaret carefully records Miss Winter's account and finds herself more and more deeply immersed in the strange and troubling story.

Both women will have to confront their pasts and the weight of family secrets... and the ghosts that haunt them still.
I read this many many years ago but I can still recall the haunting atmosphere and mystery surrounding the story of Vida. There are twists, shocks, confusion, suspense and tension and all set in a rambling country house revolving around a family's hidden secrets. Compelling. It has also been adapted by the BBC in 2013 very successfully with a stunning cast of Olivia Coleman and Vanessa Redgrave.
Mire House is dreary, dark, cold and infested with midges. But when Emma Dean inherits it from a distant relation, she immediately feels a sense of belonging.

It isn't long before Charlie Mitchell, grandson of the original owner, appears claiming that he wants to seek out his family. But Emma suspects he's more interested in the house than his long-lost relations.

And when she starts seeing ghostly figures, Emma begins to wonder: is Charlie trying to scare her away, or are there darker secrets lurking in the corners of Mire House?
This has overtones of Susan Hill and "The Woman In Black" and although there is a supernatural twist to the story, it certainly still unnerved me and kept me jumping from shadows after staying up too late to finish reading it!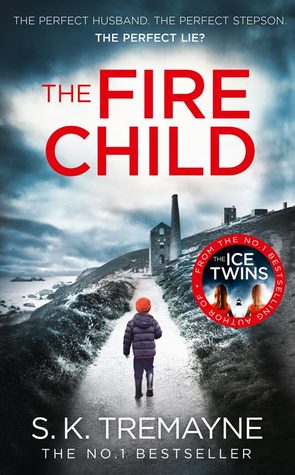 The Fire Child:
When Rachel marries dark, handsome David, everything seems to fall into place. Swept from single life in London to the beautiful Carnhallow House in Cornwall, she gains wealth, love, and an affectionate stepson, Jamie.
But then Jamie's behaviour changes, and Rachel's perfect life begins to unravel. He makes disturbing predictions, claiming to be haunted by the spectre of his late mother – David's previous wife. Is this Jamie's way of punishing Rachel, or is he far more traumatized than she thought?
As Rachel starts digging into the past, she begins to grow suspicious of her husband. Why is he so reluctant to discuss Jamie's outbursts? And what exactly happened to cause his ex-wife's untimely death, less than two years ago? As summer slips away and December looms, Rachel begins to fear there might be truth in Jamie's words:
'You will be dead by Christmas.'
The Ice Twins:
A year after one of their identical twin daughters, Lydia, dies in an accident, Angus and Sarah Moorcraft move to the tiny Scottish island Angus inherited from his grandmother, hoping to put together the pieces of their shattered lives.
But when their surviving daughter, Kirstie, claims they have mistaken her identity—that she, in fact, is Lydia—their world comes crashing down once again.
I loved both these books. Chilling. Haunting. Ghostly. Suspenseful. Highly highly recommend.
When I was growing up we adapted the ghost story telling tradition and always saved something spooky to watch on New Year's Eve which we always spent with friends. Here's are a few recommendations:
So all that's left is for me to wish you a very Merry Christmas and a very Happy New Year! Thanks to everyone who has supported me with my blog this year and all the publishers, authors and book bloggers who make Bibliomaniac possible and have helped feed my passion for books!