All I Want For Christmas.....
All I want for Christmas is a good book - and some time to spend reading it!
So here's a list of books which I think would be perfect to feast on over Christmas - hopefully something to suit everyone's stocking and not cause too much indigestion!
The Snow Child by Eowyn Ivey
Set in Alaska in 1920 this is an absolutely beautiful story, written in equally beautiful and mesmerising prose. Jack and Mabel are setting up their homestead in the brutal, isolating, wild countryside of Alaska; struggling to cope with the work of the farm and the loneliness of living in such a hostile location. One night they build a snow child and from this moment things change. The Snow Child disappears, but in it's place appears Faina, a young girl who they come to love as their own daughter. Yet as they begin to learn more about her, Faina's presence begins to change Jack and Mabel. Ivey's evocation of human nature, love, despair, hardship and the incredible setting are powerful. The characterisation is equally compelling. There is just enough sprinkling of magic and fairy tales to make it a unique and captivating read, which I gave 5* and always recommend!
A Week in December by Sebastian Faulks
Following the success of "Birdsong", "Charlotte Grey" and his incredible 790 page "Human Traces", Faulks has become a highly acclaimed and hugely successful author. This book is set in contemporary London and although published in 2009, deals with concerns which are very relevant within our society today. This will be a rewarding and thought provoking read for fans of literary fiction.
London, the week before Christmas, 2007. Over seven days we follow the lives of seven major characters: a hedge fund manager trying to bring off the biggest trade of his career; a professional footballer recently arrived from Poland; a young lawyer with little work and too much time to speculate; a student who has been led astray by Islamist theory; a hack book-reviewer; a schoolboy hooked on skunk and reality TV; and a Tube train driver whose Circle Line train joins these and countless other lives together in a daily loop.
With daring skill, the novel pieces together the complex patterns and crossings of modern urban life. Greed, the dehumanising effects of the electronic age and the fragmentation of society are some of the themes dealt with in this savagely humorous book. The writing on the wall appears in letters ten feet high, but the characters refuse to see it — and party on as though tomorrow is a dream.
Sebastian Faulks probes not only the self-deceptions of this intensely realised group of people, but their hopes and loves as well. As the novel moves to its gripping climax, they are forced, one by one, to confront the true nature of the world they inhabit.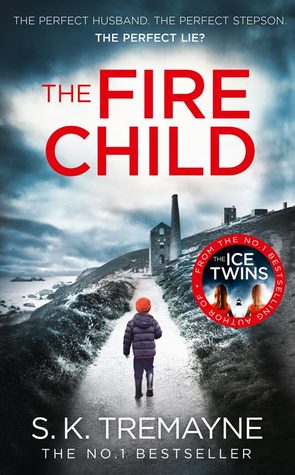 I love these books. They are atmospheric, eerie, chilling and full of suspense. A perfect blend of gothic, ghost and psychological thriller writing. I rated both 5*. "The Ice Twins" is set on a tiny Scottish island and the description of the sea, the landscape and the freezing weather is immensely atmospheric. "The Fire Child" is set in Cornwall - equally rugged, dark and gothic, with the chapter headings as a countdown to Christmas day as events begin to spiral out of control. A real treat!
The Ice Twins by S K Tremayne
A year after one of their identical twin daughters, Lydia, dies in an accident, Angus and Sarah Moorcraft move to the tiny Scottish island Angus inherited from his grandmother, hoping to put together the pieces of their shattered lives.
But when their surviving daughter, Kirstie, claims they have mistaken her identity—that she, in fact, is Lydia—their world comes crashing down once again.
As winter encroaches, Angus is forced to travel away from the island for work, Sarah is feeling isolated, and Kirstie (or is it Lydia?) is growing more disturbed. When a violent storm leaves Sarah and her daughter stranded, Sarah finds herself tortured by the past—what really happened on that fateful day one of her daughters died?
The Fire Child by S K Tremayne
When Rachel marries dark, handsome David, everything seems to fall into place. Swept from single life in London to the beautiful Carnhallow House in Cornwall, she gains wealth, love, and an affectionate stepson, Jamie.

But then Jamie's behaviour changes, and Rachel's perfect life begins to unravel. He makes disturbing predictions, claiming to be haunted by the spectre of his late mother – David's previous wife. Is this Jamie's way of punishing Rachel, or is he far more traumatized than she thought?

As Rachel starts digging into the past, she begins to grow suspicious of her husband. Why is he so reluctant to discuss Jamie's outbursts? And what exactly happened to cause his ex-wife's untimely death, less than two years ago? As summer slips away and December looms, Rachel begins to fear there might be truth in Jamie's words:

'You will be dead by Christmas.'
A Place Called Winter by Patrick Gale
In the golden 1900s, Harry Cane, a shy, eligible gentleman of leisure is drawn from a life of quiet routine into courting and marrying Winnie, eldest daughter of the fatherless Wells clan, who are not quite as respectable as they would appear. They settle by the sea and have a daughter and conventional marriage does not seem such a tumultuous change after all. When a chance encounter awakens scandalous desires never acknowledged until now, however, Harry is forced to forsake the land and people he loves for a harsh new life as a homesteader on the newly colonized Canadian prairies. There, in a place called Winter, he will come to find a deep love within an alternative family, a love imperiled by war, madness and an evil man of undeniable magnetism.
So this is more tenuous as Christmas read - in fact it isn't really about Christmas, just features a town called Winter. But it would be a great book to spend the holidays reading - a book to read when you have time to fully immerse yourself in Harry's world and time to process the prose as well as the story line and characters. As with all Gale's books, it is emotive, heart rendering, poignant and unforgettable. Set in the 1900s, it explores the social history of this time including attitudes to marriage, madness, grief and love. It is beautifully written, absorbing and a book to truly immerse yourself in. A 5* rating from me.
The Quality of Silence by Rosamund Lupton
On 24th November Yasmin and her deaf daughter Ruby arrived in Alaska.
Within hours they were driving alone across a frozen wilderness
Where nothing grows
Where no one lives
Where tears freeze
And night will last for another 54 days.
They are looking for Ruby's father.
Travelling deeper into a silent land.
They still cannot find him.
And someone is watching them in the dark.
I've included this book because it is set in Alaska. The description of the desolation, the snow, the ice, the cold and the sheer brutal conditions is very well evoked and adds incredible tension to the story line. This is quite an easy read and I read this as part of my book group early this year. It's a satisfying
page turner.
"A Year and a Day" by Isabelle Broom
For Megan, a winter escape to Prague with her friend Ollie is a chance to find some inspiration for her upcoming photography exhibition. But she's determined to keep their friendship from becoming anything more. Because if Megan lets Ollie find out about her past, she risks losing everything - and she won't let that happen again . . .
For Hope, the trip is a surprise treat from Charlie, her new partner. But she's struggling to enjoy the beauty of the city when she knows how angry her daughter is back home. And that it's all her fault . . .
For Sophie, the city has always been a magical place. This time she can't stop counting down the moments until her boyfriend Robin joins her. But in historic Prague you can never escape the past . . .
This is for people looking for a much lighter read, for a story with more heartwarming moments than spine chilling ones and for those who love a good bit of romance and intertwining story lines. It's set in Prague and the descriptions of the city steal the show. It's a great read, a perfect winter holiday read; enjoyable with a good blend of emotion, drama, happiness and humour.
And here's a few more ideas.....
Classic Christmas reads:
Popular Christmas reads:
What will you be asking for this Christmas? What's your all time favourite Christmas novel and what book would you like to find in your stocking on the 25th of December this year? Let me know in the comments below!
If you'd like to follow me on Twitter you can find me at @katherinesunde3 (bibliomaniacuk) for more recommendations, reviews and bookish chat.