"The Last Days of Leda Grey" Essie Fox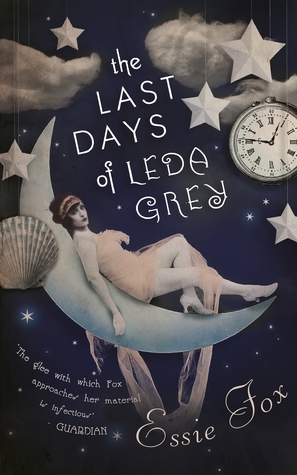 During the oppressive heat wave of 1976 a young journalist, Ed Peters, finds an Edwardian photograph in a junk shop in the seaside town of Brightland. It shows an alluring, dark-haired girl, an actress whose name was Leda Grey.
Enchanted by the image, Ed learns Leda Grey is still living - now a recluse in a decaying cliff-top house she once shared with a man named Charles Beauvois, a director of early silent film. As Beauvois's muse and lover, Leda often starred in scenes where stage magic and trick photography were used to astonishing effect.
But, while playing a cursed Egyptian queen, the fantasies captured on celluloid were echoed in reality, leaving Leda abandoned and alone for more than half a century - until the secrets of her past result in a shocking climax, more haunting than any to be in found in the silent films of Charles Beauvois.
The words used by critics and reviewer are "sensuous", "beguiling", "mesmerising" and "surreal". I would have to agree with all of these.
The opening is very factual and indicates that ultimately we can expect some tragedy and misdemeanours by the end of the story, but then we are led into a narrative voice that sounds so very unlike a thriller or mystery and much more like literary fiction.
The protagonist, Ed Peters, reminded me of a more grown up Leo from L P Hartley's "The Go Between" as we meet him when he is "lonely, restless and bored" in the "summer's endless heat". He finds a photo of the actress Leda Grey whilst browsing in a shop and
"when the sunlight dazzled on the glass it gave her the look of a living skull. It was such an odd illusion, and it lasted no more than a moment or so but I felt a prickling jolt of fear, a sense that if I stepped too close that girl might reach out through the frame and try to drag me into it. .....When I looked back up again the natural features were restored, so perfect and alluring......"
The shop keeper's riddles ("The light of attraction between lost souls. Do you also see between the veils?") made me wonder if I was wandering into a kind of 'Tales of the Unexpected' story or whether there would be a supernatural twist emerging along the way. Then he begins to reveal more about the mysterious life of Leda Grey, the girl in the photo, and explains how she is locked away in a house, tucked away from everyone and everything.
"The way she hides herself away like a doomed princess in a fairy tale. I used to visit, every month, as regular as clockwork. But my health, and these drugs I have to take, mean I can no longer drive. Even if I could, the cliff side road has grown too perilous. They've closed it off. The path's still there, but I'd never manage such a trek."
Now I was beginning to think of Miss Havisham, or someone out of a Susan Hill novel as the man continues by saying:
"My sister keeps many secrets. Many skeletons in her closets.....those ghosts may rise to haunt us all."
Ed decides to go and meet Leda and find out more about her story and her past. He is intrigued by her and sets off to locate the house, buried deep in the overgrown countryside, mystified at how a woman can survive there for so long without visitors and without needing to leave the house. He description of the inside of the house is even more like something from Miss Havisham or 'The Woman in Black':
"....zigzag cracks riddled through the ceiling, all the corners where large spider's webs were dangling down to reach the floor......stained with years of mould and penetrating damp. The paper fell away in folds."
And later on, the location reinforces this more ghostly and malicious atmosphere when Ed is warned of riptides; he glances back to see the "
silhouette of a woman who stood beneath the wall, as vague as a photo negative."
But Leda is not frightening or unkind, not malicious or cruel. She openly begins to chat with Ed and appears very normal. She welcomes his company. Her conversation is lively and full of imagery as she her thoughts tumble out without any sense of restriction, only openness.
"Such a tumble of memories in my mind, like the tinkling beads of coloured glass that you find in a child's kaleidoscope. Which patterns are the prettiest? how to know which random arrangement of shapes might be the best with which to start?"
I love her speech. I love Fox's use of language and her beautiful, lyrical prose.
Each chapter begins with a quote from Shakespeare and very cleverly create an ominous sense that something deeply unpleasant lurks in the shadows of the house and of Leda's past. The quotes were very effective in creating suspense and tension to the unraveling story.
Fox then switches to italics and we are privy to Leda's story. Her voice is strong and provides a good contrast to that of Ed's. Again, Leda's passages are exquisitely written. They are engaging and intriguing as well as full of metaphors, connotations and analogies.
"My soul had been stolen. Or was it cursed? I only know, from that day on, my fate would be forever bound to the man who'd filmed the promenade. Who didn't even know my name."
The story continues with the same compelling and mesmerising pull as it delves into themes of love, control, obsession, power and relationships. It is a very original piece of writing with passages that deserve recognition for their lyrical detail and imaginative choice of adjectives. It was not quite the story or style I was expecting but it was enjoyable and absorbing. I was impressed with the prose (as you can tell from the number of quotes I've used) and thought the characters were well crafted.
I have not read anything else by Essie Fox but I am now tempted!
"The Last Days of Leda Grey" will publish on 3rd November 2016.
I received an advanced copy of this novel through NetGalley.
For more recommendations and reviews please follow me on Twitter @katherinesunde3 (bibliomaniacuk)