**KillerWomen** Silver Scream - Book v Film
This was my final event of the day and was a discussion about the issues surrounding adapting a novel for TV or Film and whether people preferred the book or the film!
The panel line up was very impressive with:
Paula Hawkins
(Girl on the Train - Film),
Louise Doughty
(Appletree Yard - TV),
Alex Marwood
(several books optioned for TV),
SJ Watson
(Before I Go To Sleep - Film) and chaired by
Erin Kelly
(The Poison Tree - TV and adapted Broadchurch's TV series to a novel)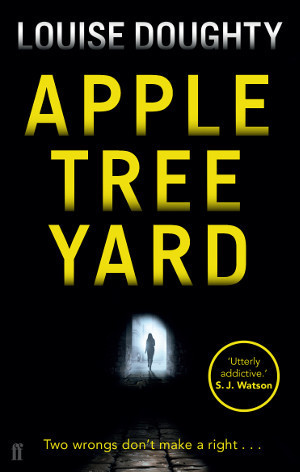 Do you "fantasy cast"?
"No! Couldn't have cast for Girl on the Train because Emily Blunt is so beautiful and yet the character in the book has terrible self image and is drunk. It's a real credit to the skill of Emily that she pulls this off so convincingly." Paula Hawkins
"For me it all kind of happened before I realised my manuscript was more than just a word document and I couldn't have cast any more fantastically if I'd tried to! I did have only one small moment of panic as when they mentioned Nicole Kidman all I could think of was Moulin Rouge......!" S J Watson
"Emily Watson has been cast for Appletree Yard and this is beyond my fantasy as it is often so hard to tempt actresses who usually work in Film to take on a TV role." Louise Doughty
What are some of the considerations for adapting a novel to film? What makes it different?
"You are relying on the director to reveal the character's thoughts as you are no longer reading the narrative or internal thoughts." Erin Kelly
"There is an inability to get inside the mind of the main characters so this needs real thought." Erin Kelly
"My novel relied on a diary which would have been impossible to leave in for a film version. The only way would have been a lot of voice overs but that would have become boring. Using a video tape suited the structure of the plot. It makes complete sense and is a really good interpretation of the book." SJ Watson
"Appletree Yard has used a voice over. I don't really like them as it always feels a bit like cheating but in this case, it really needs it. It's kept light and short so its more as a helpful guide than a crux." Louise Doughty
"With good enough direction, most things can be seen or done. Title cards to establish time and place and narrative voice are often necessary though just to keep the viewer on board." Paula Hawkins
Is the violence in books easier to handle and absorb than on screen?
"Graphic violence in my books tends to have an edge of comedy and humour in it which is hard to translate to screen." Alex Marwood
"My novel has a rape scene and the real challenge is not making this sexy or glamorous in anyway at all and retaining the horror and unpleasantness of the whole experience. We had a largely female team working on the adaptation and I think that really helped convey the emotion and atmosphere that had been established in the book." Louise Doughty
Has seeing your book adapted to film changed the way you write?
"I don't write with a view to having the book filmed but I do try to add more drama to a scene now I have seen how the setting of a few scenes was changed for the film to make it more dramatic. I probably think about setting a little bit more." SJ Watson
"I've had 7 of my books optioned but none have quite made it to screen yet. It seems like my books look like they will make good films but somehow they don't!" Alex Marwood
"I write to write not to write a film. After Appletree Yard I deliberately wrote an 'unfilmable' book as a reaction! For me, each new novel is written to correct the failings of the previous one not with a film adaption in mind." Louise Doughty
What are the differences between adapting your novel to a 3 or 4 part TV series which is watched over a month and a 2 hour film which is watched in one sitting?
"My book is written in 3 parts but they adapted it into 4 parts which was surprising. I think it had more to do with the location, setting and premise as it is very much grounded in London and UK law. It wouldn't transfer to an American setting therefore it works better as a UK TV series than a US film. I think it is more about how transferable it is to America rather than the length." Louise Doughty
"Things had to be simplified and compressed - in a 2 hour film you really have to get to the knub of the story without taking anything away or detracting from the novel at all." Paula Hawkins
"It's best to hand over the novel to the producer and scriptwriter - they are very different jobs from being an author so leave it in the hands of an expert!" SJ Watson
"Screenwriting is a very different skill and a good screenwriter will adapt your book successfully as they will make it work for TV." Alex Marwood
Can a film ever capture the intimacy of a book?
"A film of a book is like a cover version of a good song. It still exists but just with different aspects. They can be seen as separate entities and enjoyed individually for what they are." S J Watson
"You can't ever satisfy readers with a TV or Film adaptation as no reader reads the same and it can never capture how the reader saw it in their head." Paula Hawkins
"In a novel there is no budget so you can give the readers at least another hour of detail and characterisation. In a film, every actor has to be paid and every time they speak it costs more money so in film, each character has to really earn their stripes and justify their place on screen. An adaption will often halve the cast and combine the speeches so I guess that affects the intimacy." Erin Kelly
What makes a novel easy to adapt to film?
"In the words of Simon Booker:

keep time lapses bigger or smaller - either weeks and months or decades, trying to show three or four years is really hard to show on screen
if a character has to age, either keep it months or weeks or decades - again it is hard to show a few years of ageing in a character but easier to show decades
have as few location changes as possible
keep the settings restricted too - one house, one area, one main room will always make it easier
its always about budget!

But then my new book has ignored all of this advice and has still been optioned......" Erin Kelly
Books that should never be adapted to film?
Donna Tartt "Secret History"
Bronte "Wuthering Heights"
Books that should be adapted to film?
M Atwood "The Handmaid's Tale" - a new version is coming out and SJ Watson is very excited!
Louise is very excited about a new book by Charlotte Wood which is a dystopian novel that has just been adapted for film as she is intrigued to see how they convey the bleakness of the setting ....
Books that make better films?
Stephen King "The Shining" & other short stories like "The Green Mile", "Running Man"
"Don't Look Now"
Can a bad adaption have a negative impact on your writing career?
"No! 'Plausible Deniability' - if it's bad, then you tell everyone that the book is much better and they should read it, if it's good then you just bask in the glory!" Louise Doughty
This was a really interesting panel discussion and great to hear from authors who have worked with TV and film adaptations. Erin Kelly was a fantastic chair with so many interesting questions and comments. I can not wait to see Doughty's "Appletree Yard" and I also want to re-watch "The Poison Tree" having listened to Kelly talk in such detail about her novel / TV series.
Of course I'm desperate to see "The Girl on the Train" and I have added Alex Marwood's books to my TBR pile as I am intrigued about her stories from the comments she made about them!
Thanks Killer Women - another Killer Panel!
For more recommendations and reviews please follow me on Twitter @katherinesunde3 (bibliomaniacuk)