"As I Descended" Robin Talley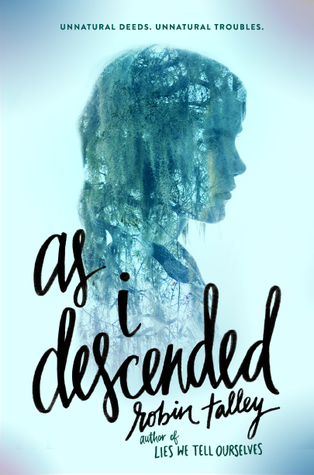 Maria Lyon and Lily Boiten are their school's ultimate power couple—even if no one knows it but them.
Only one thing stands between them and their perfect future: campus superstar Delilah Dufrey.
Delilah runs the school, and if she chose, she could blow up Maria and Lily's whole world with a pointed look, or a carefully placed word.
But what Delilah doesn't know is that Lily and Maria are willing to do anything—absolutely anything—to make their dreams come true......
This YA novel transcends so many genres I'm not quite sure how to begin my review! It is a story of love, gay relationships, power plays within a boarding school, murder and madness. It is a tale that is ghostly, magical, fantastical and supernatural. It is chilling, unsettling, gripping and highly original despite the fact that the story line is one of the most
famous in literary history!
Talley's novel is a reimagining of "Macbeth". It is refreshing. It is clever. It is well written; every word chosen as wisely and each piece of punctuation placed as carefully as Shakespeare did with his play. The passages are powerful, the characters are realistic, the dialogue is well constructed and it is a successful contemporary update of a timeless story.
Some of the key ingredients in "Macbeth" are witchcraft, power, murder and madness. How brilliant to transfer these themes to the setting of a modern day, elite boarding school. It's inspired. It's effective.
Talley shows huge creative and imaginative skill through her modernisation of the ancient story. The book opens with a Oujia board where the planchette takes on a life of its own as the characters watch, each convinced the other is moving it, as curious messages are spelt out. From here on, the story rapidly gains momentum, propelling you forward as the characters become more and more embroiled in a downward spiral of deadly games.
There are quite a few main characters to relate to and engage with. All have important roles within the plot and each are effectively developed through strong dialogue, description and narrative. Talley is able to draw characters that will both resonate with and be relatable to her YA audience. They are memorable characters; their emotional fragility well expressed.
The location and setting of the haunted school create the feel of a gothic horror story and Talley exaggerates this gothic feel by adding ghostly sightings, communications with spirits, dreamlike experiences and a descent into chaos and madness which is palpable and consuming, making the novel a truly spine tingling read.
I must confess, I have taught "Macbeth" numerous times and it is one of my favourite Shakespeare plays. I really enjoyed seeing what Talley did with it and how she reinterpreted characters, relationships and situations. I really enjoyed her incorporation of direct "borrows" from the original script and how she subtley wove in other key moments from the play to enhance her own very fresh retelling. Her new take on the dialogue, famous key speeches and supernatural aspects of the play are fresh, vivid and inspired.
I would quote from the text but the passages I highlighted while reading are too long and too numerous. I was unable to whittle down the lines or select any key phrases without taking away some of their beauty and effect. I was particularly impressed with the way Talley's sentence and paragraph structure was able to mimic the internal dialogue of the key characters so well.
I would recommend this book. It is different from a lot of other things I have read recently and also different from "Lies We Tell Ourselves" (which I rated 4/5). I don't think you need to have read Macbeth - or even like Shakespeare at all -to enjoy it as it definitely works as a stand alone story.
I think it will really appeal to a YA audience as it is full of complicated relationships, peer group dynamics and dark spirits. It did not feel like a Literature lesson, it felt like watching an episode of something like "Pretty Little Liars" combined with Donna Tartt's "Secret History", a dose of Susan Hill and a dollop of Edgar Allen Poe. Well worth a read. And yes, if I was teaching "Macbeth", this book would also be a compulsory read for all students!
My thanks to Harper Collins HQ and Net Galley for an ARC of this title in return for a fair and honest review.
For more recommendations and reviews you can follow me on Twitter @katherinesunde3 (bibliomaniacuk)