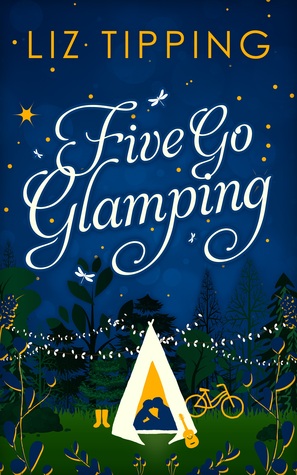 Glamping Check list

Festival tickets
Double check best Instagram filter
Avoid thinking about work/Connor/five year plan!!

A four day break from her hectic life to relax in the countryside and hang out at a local festival (for free!) is just what Fiona Delaney needs. With her best friends, great tunes and a cool looking hat her Instagram shots are going to look A-Mazing!

Until suddenly glamping starts to feel a lot more like camping and Fiona's in desperate search of a comfy chair, wi-fi and a chilled glass of wine. But when she finally makes it to the local pub she discovers this trip could be more than just a holiday, it might just change her life forever…
I saw this recommended on Twitter; it was ridiculously cheap on kindle and I was just about to go on holiday so I took a gamble on it- it looked like the perfect light read to while a way the boredom of hanging around in airports.
I liked the cover, the design is immediately appealing and eye-catching. The title also attracted me, it made me smile - I think it sets the perfect tone for this enjoyable light chick lit read and gives the reader a very fair idea of the sort of story lying between the pages.
I liked Fiona. I liked her attempt to stick to her five year plan and Tipping's description of Fiona's office job and colleagues was amusing and brought a wry smile to my face. I liked the group of friends - it was reminiscent of Bridget Jones and her crew on a night out but ultimately, you felt enough interest and affection towards them to care about reading on ahead to find out where the story might take them.
Tipping's writing captures the lifestyle of a young group of friends well and I think readers will find them authentic and convincing, even if a little cliched. But, let's face it, sometimes we all want a bit of cliche - isn't that what a holiday read is all about?
I think I saw that Tipping has a background in film and photography and I think the general pace and dialogue in the novel reflects this influence on her writing. This enhances the book and suits the genre and style.
This is for fans of chick lit; for people who like a fast, warm hearted read that is comfortably predictable and soothingly entertaining. It doesn't want to leave you with a bundle of shredded tissues or terrifying nightmares, instead it sets out to leave you smiling, cheerful and in the perfect mood to start your holiday. What more could you ask for this summer?
Currently it's only 99p on Kindle (30/07/16) so it is definitely worth making room for in your suitcase this summer!