"The Girl of Ink and Stars" Kiran Millwood Hargrave (YA)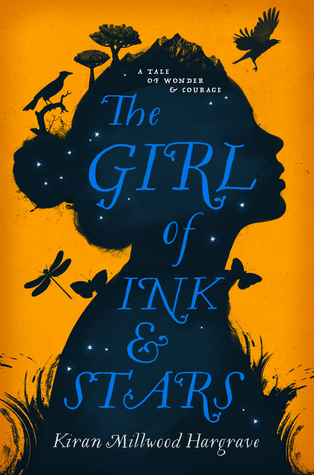 Synopsis:
Forbidden to leave her island, Isabella Riosse dreams of the faraway lands her father once mapped.
When her closest friend disappears into the island's Forgotten Territories, she volunteers to guide the search. As a cartographer's daughter, she's equipped with elaborate ink maps and knowledge of the stars, and is eager to navigate the island's forgotten heart.
But the world beyond the walls is a monster-filled wasteland – and beneath the dry rivers and smoking mountains, a legendary fire demon is stirring from its sleep. Soon, following her map, her heart and an ancient myth, Isabella discovers the true end of her journey: to save the island itself.
Age 10+
This is Waterstones Children's Book of the Month for May 2016 and currently The Times Children's Book of the Week. It is the author's debut novel which I found incredible as it is so magical, imaginative and very well conceived. It's an ambitious novel; immensely creative and the sort of book I would have really found inspirational as a young adult - and probably would have spent the months after finishing it inventing my own maps and fantastical islands - I'm sorely tempted even as an adult!
The cover is stunning, the pages are stunning (full of little images and symbols- printed on white paper), the title pages and sectional headings are stunning. It's a lovely book to just hold and look through, let alone read! The story is a captivating and magical as the front cover suggests. Even the names of the character's and places are attractive arrangements of letters and like pictures themselves, matching the artistic feel of the whole novel. It is clear that Millwood Hargrave has drawn on her background as a poet and playwright to pool all her literary knowledge of language into creating something rather special.
It is a story of myths, legends, adventure, travel and stars. It is fantastical and set in a parallel world but explores themes of friendship, loyalty, love, friendship and dreams. It will appeal to readers who enjoyed Phillip Pullman's "Northern Lights" trilogy - or even has a slight feel of Narnia maybe. It is a great new voice in Children's Fiction and it's great to see such an imaginative and original title being chosen by the bookshops as their recommended read.
There is a fantastic clip on You Tube by the author which is what made me go and by the book so I
would recommend you take a look so you can hear what they have to say and get a little more information about the book (search "introducing THE GIRL OF INK AND STARS by Kiran Millwood Hargrave") Definitely an author and book to watch out for in the future!
For more recommendations and reviews follow me on Twitter @katherinesunde3 (bibliomaniacUK) or sign up to receive future posts by email.