"Murder Ring" Leigh Russell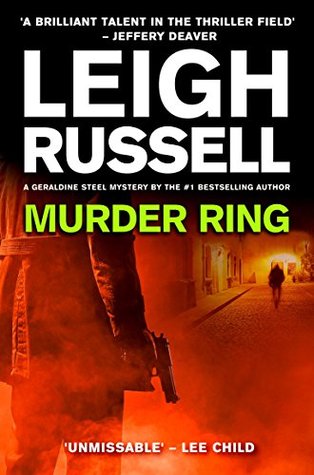 Synopsis:
Hearing footsteps pounding along the street behind him he glanced back, fleetingly worried, then laughed because the street was deserted. All the same, he felt uneasy. Everything looked different in the dark. Then he heard more footsteps approaching, and a hoarse voice called out. Turning his head, he made out a figure hovering in the shadows and as it raised one arm, the barrel of a gun glinted in the moonlight… The dead body of unassuming David Lester is discovered in a dark side-street, and DI Geraldine Steel is plunged into another murder investigation. The clues mount up along with the suspects, but with the death of another man in inexplicable circumstances, the case becomes increasingly complex. As Geraldine investigates the seemingly unrelated crimes, she makes a shocking discovery about her birth mother.
This is the 8th book in the DI Geraldine Steel Mystery Series. It is only the 2nd one I have read - I fully intend to rectify this but as far as I can tell, these books work equally well as stand alone crime thrillers.
Geraldine is an appealing character. She is considered, professional, successful but also human; "she had investigated so many murders...she remembered them all." She is also in deep emotional turmoil herself following the death of a colleague in the previous novel. There is a contrast between her personal and professional self. She is able to shut off her personal problems and emotions, focussing so wholly on her work that no one suspects how fragile things behind the facade really are. There is a clever "drip feed" of information about her birth mother -just enough to intrigue the reader but not to distract from the main crime or over complicate the novel with too many contrived sub plots. Russell has established a good balance. The reader is empathetic towards her. She appears to be a hard police woman but has her own weakness and vulnerability. She is lonely, a little isolated and struggling to work through her own grief. She generates sympathy but also interest and respect. The reader wants to learn more about her.
There is clearly a back story with Geraldine which has obviously been gradually established over the previous 7 books but the reader is brought up to speed quickly and neatly with any necessary details. This will not be boring or repetitive for those who have already read the other titles but will probably help refresh everyone's memories over what is important as we move forward into the next "chapter" of Steel's life. As I said, this works as a stand alone novel but actually, I liked Geraldine a lot and would like to learn more about her backstory.
The chapters are short, full of pace and deftly switch between the different characters who are either involved in the investigation or a potential suspect. It is impossible not to be drawn straight into the action and finding yourself turning the pages to find out more about the story line you've left behind or intrigued by the new developments presented from the range of characters and the various subplots which Russell swiftly sets in motion and effectively controls in a way which ensures tension and suspense are well maintained throughout the whole book.
The ending is good. There is a clear resolution and conclusion but also a few seeds are sown for the next instalment. I must admit, I am a little hooked! I didn't solve the crime, I fell for all the red herrings -Russell is too clever for me! My attention was held until the last page and I liked the fact that the revelations were held until the very ending of the book. It's an enjoyable, satisfying, easy read. Russell has clearly researched police procedure well and it is not a gratuitously graphic or violent crime novel. The reader is captivated by the characters - their motivation and deception, the tangled web that people spin through greed and opportunism.
This has all the key aspects of a great detective novel. It has multiple characters who are all authentic and convincing. There is good dialogue, plenty of action, a great pace and the plot is well structured. There are complications and revelations which ensure the reader is kept guessing. It is very readable and written in a very fluent style.
"Murder Ring" is published on 26th May. She is hailed as "one of the most impressively dependable purveyors of the English police procedural" by The Times and greatly admired by bestselling author Lee Child.
I am participating in the "Murder Ring" Blog Tour this May so look out for my post on the 23rd May!
For more recommendations and reviews please follow me on Twitter @katherinesunde3 (bibliomaniacUK) or sign up to receive future blog posts by email.