An Evening With Renee Knight ("Disclaimer")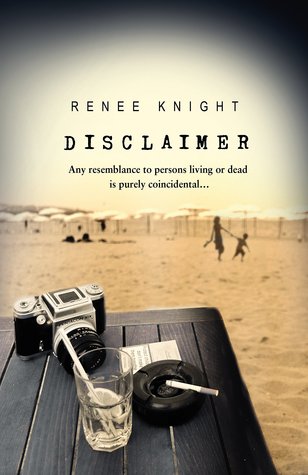 On Friday 20th May I was lucky enough to get tickets to attend a talk from Renee Knight about her recent psychological thriller "Disclaimer" at the Flamstead Book Festival, held in the beautiful church of St Leonards in the centre of the village of Flamstead, Hertfordshire.
Knight began the talk with a reading from her book. Here is the blurb from the back of the book for anyone who has yet to read it:
When an intriguing novel appears on Catherine's bedside table, she curls up and begins to read. But as she turns the pages, she is horrified to realise she is a key character, a main player. This story will reveal her darkest secret. A secret she thought no one else knew.....
This really is a gripping read with a clever twist and the back cover is littered with praise from Val McDermid, Lee Child and The New York Times.
Knight began by explaining where the concept for Disclaimer came from. "
Disclaimer
is my first published book but my actual first novel was about what happens when the son of a friend comes to live in a room in your house. I wanted to explore the idea of privacy and what it would be like to have a stranger who isn't really a stranger, living in your house. It was based on a real friend, so once finished, I sent it on to her to read. While awaiting her response, I began to think about how odd it must be to start reading a book and then realise it is actually about you.......And so came the premise for
Disclaimer
."
The theme of privacy intrigues Knight, particularly in our current world of social media and the way people can present a public persona which may differ hugely to the real persona; the way our privacy can so easily be invaded through our 24 7 culture, our addiction to apps and social media and how people can literally "invent" a personality online too. "I'm intrigued by the way we judge and assume things about people and situations when actually life is much more complex. I suppose I'm interested in the
grey area!
"
"What also appealed to me was the idea that when you are at home reading, you are in a very safe, comfortable, secure place, physically and emotionally, therefore finding out the book was about you and about your deepest, darkest secret, would immediately make you incredibly vulnerable and threatened - and this is what happens to Catherine."
Originally a BBC documentary maker, Knight began writing once all her children were at school and she realised she could not return to the kind of work she had been doing now she had a young family to fit around. "I didn't start to write with the idea of becoming published, it was more just to write, and I knew I would always write even if it was only for me." This was something she could do that fitted around the children and didn't take her away from the house, even though it was often frustrating to keep having to clear up all her research and paperwork every time the family wanted to sit down for a meal! Knight now has a "Shed"; she begins her day straight after taking her daughter to school. "It's essential to have a disciplined routine. I take my coffee and the crossword, then I have to write at least 1000 words a day, which can take anything from 2 hours to over 4 depending on how things are going."
She started with writing TV Scripts and secured an agent but "the real turning point for me was attending some Creative Writing Courses," Renee explains. "I did a course with City Lit which was really like a bit of group therapy! We had to read our work out aloud which I hadn't done since childhood! The beauty of being on a course is that actually it is a very safe way to expose yourself and the critical feedback is absolutely invaluable. It also gave me the confidence to write, a deadline and a momentum." Knight also completed a six month course with Faber and Faber which really accelerated her completion of
Disclaimer
as one of the demands of the course was to submit 10,000 words by the end. On completion, Knight approached her agent for some advice about submitting the manuscript and after working alongside an Editor - "the most lovely of experiences!" adds Knight - the book became published. "Although it was rejected at least ten times first - but if you want to write, you have to be able to cope with rejection sometimes. Just don't let it put you off."
While writing the book, it was the structure that possibly caused the most consideration rather than the plot. "That was easy to work out - the premise was straight forward and I knew everyone's story, their motive, what they were doing when and where, but what was tricky was balancing two timelines, two families and two narratives - one of which is written in third person and one in first." Initially it was Stephen who was written in third person but Knight soon swapped this around. "Stephen needs to be the hunter; he needs to be more frightening, the reader needs to feel trapped by him and almost claustrophobic. This is more easily managed through the first person." Interestingly it wasn't Stephen's character that was the hardest to write (without giving too much away to anyone who has not read the book, he is essentially the character threatening Catherine with revealing her secret) and in fact, Knight seemed particularly "fond" of him! Does this mean she has a hidden dark side? "Only on the page! I guess I see the same situation as everyone else but look at it differently....always asking what if.......! I think Stephen is so far removed from me and the person I am, it is easier to write about him. Funnily enough it was Nick - Catherine's son - who was the hardest character to write."
Knight has signed a two book deal but she does not feel under any particular pressure with her next project. "Perhaps if it was part of a series I would need to get the next book out more quickly but there isn't too much pressure at the moment - more of a looming deadline." Her second book is looking at the relationship between two characters so there is more detail and depth to consider as well as the basic plot and action of the story. "It's taken me a while to get fully stuck in to the book as I wanted to establish the characters firmly - although I know I will probably have to edit most of this out at a later stage so that's affected my progress in getting to the crux of the story. Also, although I have the plot worked out in reasonable detail, often things crop up or change as I am writing. For example, in
Disclaimer
I changed the ending when I was about half way through. If the overall plot is looser there's more room to change the outcome as new things present themselves."
Since the publication of "Disclaimer" in February and indeed over the last year or so, there has been a real boom in the popularity of psychological thrillers and "Grip Lit" novels with female protagonists. "I don't think I was influenced by other titles - in fact I hadn't read "Gone Girl" until after I'd finished writing which was a good thing as there are some similarities. I wasn't particularly thrown by the fact my novel is part of this prolific genre, nor did I feel any extra pressure from such a label." Knight sites her literary influences as Daphne du Maurier -"
Rebecca
is an absolutely fantastic book!"- Lionel Shriver, Graham Swift and she adores
Notes on a Scandal
by Zoe Heller. Knight also praised the Crime Writing Community for their amazing support and encouragement. "Actually, I am as influenced by TV as books," Knight commented. "I love watching creepy shows like
Tales from the Unexpected
and there was a particularly gripping show on in the 70s which I would curl up in front of every Friday night in the dark and watch all night long. I was never freaked out by anything and rarely frightened."
Perhaps more frightening is when you first share your book with friends and family. "You have to hope that they'll forget it's you once they start reading. I think the readers I was most apprehensive about were my children!" As well as taking on board feedback from friends, the whole editing process can't be rushed. For Knight, once her novel is finished, she follows the invaluable advice from her Faber and Faber course. "I left my manuscript for 2 weeks, then I read it in another form. I read it on Kindle and in print. Then rewrote, then did the whole process again. Space and distance are really important to help you get some perspective."
Once the book was finished and ready to go, there was great discussion about the title. "I'd initially thought of a very long winded title like
Any resemblance to actual persons is...
but clearly that wasn't going to help books fly off the shelf! The British publishers like
Exposure
but the American publishers favoured
Disclaimer.
" A fascinating fact she then revealed is that no other language has a word for "disclaimer". "The French edition is called
Reveal
and in Germany it is
Dead Life.
Perfect Life
is also used on some European editions."
The film rights for
Disclaimer
have been optioned and Knight has written a screenplay. Her first version of this was rejected as it was too removed from the original book. "I tried to do a few things I couldn't do within the text version but they wanted it to be much closer." Knight is delighted about the prospect of a forthcoming film but also filled with trepidation as she really does want it to be a film people will enjoy. "There's always that debate about books of films isn't there, but when it's done well, it's a brilliant celebration of the author's work. I mean, isn't Emma Donoghue's Room just amazing? She wrote the screenplay and both the film and the book are totally breathtaking."
And who might play the leads in the film? "I've no idea - I'm rubbish at this sort of thing!" Knight laughs. "I'm not sure about Catherine - Stephen I probably have more stronger ideas about.....especially his cardigan!"
Thank you to Vikki Orvice who interviewed Renee Knight and is one of the main organisers of the Flamstead Book Festival. It was such an interesting evening and a real privilege to hear her speak - and get my book signed! Something to treasure! It was a really inspiring evening and fascinating to get an insight into the whole process of writing and publishing a book as well as the honour of meeting a real live author! I will definitely be looking out for next years festival. If you haven't already read the book then I highly recommend you get yourself a copy and enjoy the enthralling thriller.
For more recommendations and reviews, please follow me on Twitter @katherinesunde3 (bibliomaniacUK).
Please see below for my review of "Disclaimer".
This is an excellent psychological thriller and a fine example of "GripLit"! Catherine Ravenscroft finds a book on her bedside table all about her and the dark secret she has kept buried from her husband and son. Knight uses the popular pattern of alternating chapters between the voice of Catherine and Stephen Brigstoke - the retired teacher who has set out to destroy her life - to effectively build tension and drive the plot forward at a great pace.
I don't want to give too much away but as the narratives develop, Stephen becomes more sinister and vengeful; the increasing references to his dead wife show him to be more unhinged and dangerous which complicates the reader's relationship with him which is initially more sympathetic. His announcements in his very opening chapter where he states "I am not a cruel person......I have allowed things to slide..." imply a hidden malevolence.
Similarly our reaction to Catherine, which is not always sympathetic, is also completely challenged by the end of the book. The last third of the novel hurtles at such an accelerated pace, crammed full of plot twists, that the minute you finish the last page you feel the need to go back to the beginning and start again. The revelations are so clever that you have to reconsider everything you've just read.
I was completely gripped from the opening chapter. It's been a long time since I have been grabbed so firmly and so fully catapulted headlong into a story. You feel like you are trying to catch up with events from the first line and I was reading so rapidly just to try and uncover the secrets and the truth about Catherine's buried past. This can make the start feel a bit jerky and confused but it mimics Catherine's emotions as she realises the book on her bedside table is about her and her overwhelming fear of being discovered. Although the reader remains in the dark, Catherine's fear of being watched and her trauma from the near death of her son create a jittery tension which makes you read on. Knight's unique skill is her ability to force you to read on in order to try and make sense of what's happening and constantly having to piece together the secrets, the revelations, the actions of the various characters and which narrator is in fact reliable enough to listen to.
It's a winning easy read. It has all the right ingredients for a psychological thriller. It's a page turner, full of twists and surprises. I liked the fact that the story centred around a bitter, hurt and frustrated man's calculated personal revenge rather than a psychopathic criminal as it was more unsettling and realistic. Ordinary people, people that you think you know inside out, that you have lived with all these years, have deep secrets - which once revealed could destroy everything you have. Be prepared to put everything else on hold once you pick up this book!