Books to Celebrate Charlotte Bronte's 200th Birthday
The 16th April 2016 will mark 200 years since the birth of Charlotte Bronte, one of Britain's most famous female novelists. Why not celebrate by revisiting one of her classic novels? They are all FREE on kindle!! Or if you fancy something more contemporary, have a look at the selection below which are all inspired by her novels.
Possibly the most well known novel inspired by "Jane Eyre" is this "prequel", which although it was written in 1966, I could not write a post on this topic without including it! It is only 176 pages long so is a short, quick read but an absolutely mesmerising one. This is the story of "the mad woman in the attic" before she is in the attic! It is set in the West Indies and describes the meeting of Rochester and Bertha, their courtship and marriage. It is hugely evocative and full of rich imagery and language. Rochester is portrayed sensitively and after reading this, I found I looked very differently at both him and Bertha each time I re-read "Jane Eyre". It offers a refreshing interpretation of her character and will add depth to a reader's appreciation of the original novel. Well worth a read.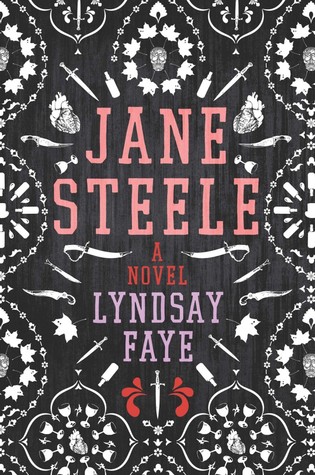 I have reviewed this book in a previous post and rate it a 5/5 stars - a rating shared by many other reviewers, book bloggers and tweeters. It was only published in March but is a fantastic read. Faye's character Jane Steele returns to Highgate House to work for Mr Thornfield, seeking revenge as she believes she is the rightful heir to the property. She is also a murderess - but what happens when she meets Thornfield and becomes part of his household? Here is an extract from my review:
This is a truly gripping and riveting novel. It is not a sequel to "Jane Eyre", it is not a reimagining. It is something completely different. Faye has taken the most unsettling, sinister aspects of Bronte's story and then with the classic features of the gothic horror genre has produced something unique and original. There is also a dose of satirical humour and more ironic tone in some of Steele's observations and remarks. Her skill at creating such an enigmatic, intriguing and captivating character is impressive and shows her to be a very talented writer.
For me, it was a perfect read. A great plot with unexpected twists and turns, highly original writing in the style of a classic novel with a hugely refreshing, beguiling and chilling protagonist.
I really enjoy books which take the "untold" story from a sub plot in a classic or take the secondary characters and give them centre stage. This is exactly what Stubbs has done in her book. This is the story before Jane Eyre arrives - the story she never knew. It is set in Thornfield Hall 1821, Alice Fairfax takes up her new role as housekeeper. Then Rochester presents her with a woman who has to be hidden on the third floor and soon she finds she is responsible for something much more than just the house. This is the story of the servants working to keep Mr Rochester's secret undiscovered.......
Luccia Gray has written the Eyre Hall Trilogy which begin here, 22 years after the marriage of Jane and Rochester. Richard Mason - brother of Rochester's first wife Bertha, returns and sets off a series of events that reveal Rochester's disloyalty to Jane, his murderous plots and a whole litany of other sins. What will Jane to do protect her family and the man she thought she loved?
This books sits comfortably in the genre of Romantic Historical Fiction and sequels are always met with a mixed review from critics but this one scores highly on both Amazon and Goodreads with an average of 4/5 stars rating. Gray's writing shows a deep understanding of the original characters and of Charlotte Bronte herself and she has chosen an interesting point from which to pick up the story which is imaginative and intriguing. What's even more appealing is that there are three books to feast on if you enjoy this one! If you are looking to immerse yourself in a new series of novels full of your favourite characters then this is definitely for you!
This has only just been published and I am yet to get hold of it but it is definitely on my To Read list! It has had rave reviews so far and offers another original interpretation of the Bronte's legacy. Here is a copy of the blurb taken from Goodreads:
Samantha Whipple is used to stirring up speculation wherever she goes. As the last remaining descendant of the Brontë family, she's rumored to have inherited a vital, mysterious portion of the Brontë's literary estate; diaries, paintings, letters, and early novel drafts; a hidden fortune that's never been shown outside of the family.
Samantha enrolls at Oxford University and bits and pieces of her past start mysteriously arriving at her doorstep, beginning with an old novel annotated in her father's handwriting. As more and more bizarre clues arrive, Samantha soon realizes that her father has left her an elaborate scavenger hunt using the world's greatest literature.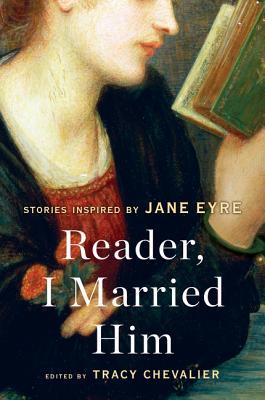 This is on my "Absolutely Desperate To Read" pile! 21 stories inspired by "Jane Eyre" by some of the finest female writers of our time including: Tracy Chevalier, Helen Dunmore, Emma Donoghue, Susan Hill, Francine Prose, Sally Vickers, Esther Freud, Lionel Shriver and Audrey Niffenegger to name but some of them. This will be a beautiful collection of stories to read, showing us how inspirational Bronte remains today. The reviews so far are very positive.
I reviewed this in a previous post when it was published in February and rated it 5/5 stars. Baker takes the story of "The Tenant of Wildfell Hall" (yes, I know, Anne Bronte, not Charlotte - but it's such a good book!) and sets it in contemporary Yorkshire with the protagonist as a war photographer. It is a great "grip lit" psychological thriller and a fantastic reimagining of the story, staying true to the key themes of the original. It's a 5 star rating from me! Highly recommend!
Audio Book:
In March, Woman's Hour -BBC Radio 4- broadcast a new dramatisation of "Jane Eyre". It was written by Rachel Joyce (award winning author of "The Unlikely Pilgrimage of Harold Fry" and "The Love Song of Miss Queenie Hennessy") and stars Amanda Hale and Tom Burke. I thoroughly enjoyed it and it is (just about) still available on iPlayer but also to buy as an audio book from Amazon. In 15 minute episodes, it is a great way to enjoy the story again. Treat yourself!
Why not read a biography of Charlotte Bronte? There are many from which to choose but I recommend these. Elizabeth Gaskell (of "Cranford" and "North and South" fame) was a great friend of Bronte's and this is her biography, written shortly after Charlotte's death and with personal insight and knowledge of the writer, this is an interesting book, particularly given it's literary and historical context. Claire Harman's biography was published in October 2015 to celebrate Bronte's Bicentenary and unfortunately I have not yet been able to read it - although I hope to rectify this very soon! It has had very good reviews and is heralded as "a
groundbreaking biography that places an obsessive, unrequited love at the heart of the writer's life story, transforming her from the tragic figure we have previously known into a smoldering Jane Eyre......Drawing on correspondence unavailable to previous biographers, Harman establishes Brontë as the heroine of her own story, one as dramatic and triumphant as one of her own novels".
I
t sounds like a very educative and enlightening read.
I hope you find something to tempt you here and enjoy celebrating Charlotte Bronte's birthday this April. If you live in Yorkshire, visit Howarth and see the Parsonage and the village in which they lived and wrote or take a walk along the inspirational moors!
For more recommendations, reviews and bookish chat follow me on Twitter @katherinesunde3 (bibliomaniacUK) or sign up to receive emails of future posts.