My Review of "The Little Paris Bookshop" Nina George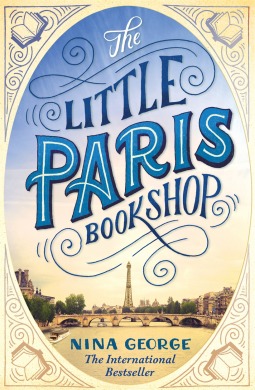 Monsieur Perdu is a "Literary Apothecary". He has a boat with "a low slung belly, a galley, 2 sleeping berths, a bathroom and 8000 books. A world apart from our world. And an arrested adventure." From here he sells books (to anyone under the age of 14, he sells them by weight - making a loss but "we need a future generation who aren't too shy to speak their minds"). He is a literary pharmacist who writes prescriptions for the lovesick. He treats all the emotions for which there no other remedy exists - he wants to treat feelings that are "not recognised as afflictions and are never diagnosed by doctors.... the feelings that wash over you when another summer nears its end or when you recognise you haven't your whole life left to find out where you belong....birthday blues....nostalgia for your childhood...." Books, he upholds, are the "only remedy for the countless, undefined afflictions of the soul." How beautiful! As his new neighbour Catherine concurs, had she had the chance she would have been a pirate and would have "solved all the world's mysteries through reading." I am also a strong believer in the power of books to heal and comfort us all!
But Perdu is able to heal everyone except himself. He has lived heartbroken and grieving for the lost of his love, Manon who disappeared from his life 21 years ago. Then a new neighbour inspires him to go in search for the one book that he believes will cure him and together with Max, a young author, and a cast of colourful and entertaining characters they collect on the way, they unmoor the floating bookshop and set off on a journey in search of the past, their loves and the lives that they have lost in a hope to be cured.
This book was an absolutely gorgeously pleasant surprise! I picked it up randomly in Waterstones as it was part of a "buy one get one free" offer - I was shopping with children and had no time to make a choice - I just knew I wasn't going to walk away from a book deal, and I grabbed the nearest title that was shelved in the shops top ten recommendations. When I got home I thought the cover made it look like a rather "fluffy, Chick lit" kind of read and I shoved it on my "to read" pile ready for a day when I needed something light and perhaps more saccharine following an overdose of crime and thriller fiction. Thank goodness that day came sooner rather than later!
I sat in my favourite spot in my local cafe in a quickly snatched break between work commitments and started reading without much expectation..... As they say you should never, ever, ever judge a book by its cover!
I was immediately mesmerised by the beautiful, poetic and lyrical writing. George's phrases are so pertinent and the pages are littered with apt and thoughtful observations. By page 4, I was entranced by the solitary Monsieur Perdu who can't open the door to the room "in which all his love, his dreams and his past had been buried"; who reflects that "memories are like wolves. You can't lock them away and hope they leave you alone." I was also intrigued by this sad man who seemed full of pain and sorrow.
The book is also full of wry humour and deft characterisations. George is able to expertly reveal personalities through brief yet revealing dialogue, for example like when one of the women informs Perdu that his new neighbour "Madam Catherine Le P-you-know-who" is the "soon to be ex wife of Le Dirty Swine" it cleverly establishes their busy bodying nature and Perdu's lack of interest in society and gossip. Like the author, Perdu is a shrew judge of character - necessary for his job - and refuses to sell people books which will not cure them of their aliments. He chooses an alternative novel for one of his customers advising her to "surrender to the treasures of books instead of entering into pointless relationships with men." Books keep "stupidity at bay. And vain hopes. And vain men." As he reflects to himself, booksellers don't look after books; they look after people.
"A book is both medic and medicine at once. It makes a diagnosis as well as offering therapy. Putting the right novels to the appropriate aliments that's how I sell books. Books are more than doctors - loving lifelong companions.... they wrap you in a warm towels when you've got the autumn blues..."
Any book lover will enjoy indulging themselves in a novel which celebrates the world of stories and the power of reading. I absolutely loved the concept of a Literary Apothecary - it is inspired and George uses it in such an imaginative way to explore themes of love, loss, grief, fear and life. Perdu's interview technique with his clients is fascinating. He sees people as books; are they the main character? A secondary character? What is their motive? Are they editing themselves out of their story as their job / children / husband begin to consume their whole text? He listens to their voice rather than the answers they give. He looks beyond their words and hears the cadence in their voice as he establishes what it is that truly bothers them. Perdu is so initiative and so caring. He is so much more than just a bookseller. He has helped all the inhabitants of the town build their own libraries, uniquely conceived to match their hopes, dreams and aspirations. He has set up a book club for the local widows whom no longer receive visits from their families to prevent them from "withering away in front of their tv sets." Yes indeed. Books aren't just a barcode, a retail price, a story but "a freedom on wings of paper"...... or as Catherine remarks, "A novel is like a garden where the reader must spend time in order to bloom."
The relationship between Catherine and Perdu is very moving and poignant. Their love is described with elegant and charming language. Together and apart they both have a journey of self discovery to complete and they help each other to face their fears, acknowledge their pasts, come to terms with their losses and move forward in life.
The metaphors and contemplations about love are enchanting. It is compared to a house where "neglected rooms can become treacherous and foul" and there is a very entertaining conversation about if we had to buy beautiful words then the rich would call the shots by buying all the important ones and the poor would have to communicate via games of charades; "I love you" would cost the most and "twice as much if used insincerely."
This book is thoughtful and needs to be savoured. Perdu illustrates the importance of listening and at the end, the realisation that books do have limitations- we have to live the important things - you have to experience your own book.
At the end George includes an "Emergency Literary Pharmacy" prescribing an "easily digestible dose of 5-50 pages at a time." I definitely would encourage you to follow this prescription!
This book would appeal to fans of Sarah Winman, Claire Fuller, Joanna Harris, Barney Norris and Graham Swift.
I highly recommend this novel. It is an easy read but a beautifully crafted one full of entrancing imagery and observations. Readers will care about the characters who are all appealing and engaging.
"Reading is an endless journey; a long, indeed never ending journey that makes one more temperate as well as more loving and kind."
For further recommendations, reviews and bookish chat follow me on Twitter @katherinesunde3 (bibliomaniacUK) or sign up to receive future posts via email.