An Evening of Crime hosted by No Exit Press
As part of their 2016 Lit Fest, my local library hosted a "Crime Panel" Evening with publishing group No Exit Press. Howard Linskey, Leigh Russell and Peter Murphy were the special guests, led in conversation by Daniel Pembrey whose debut crime thriller will be published in November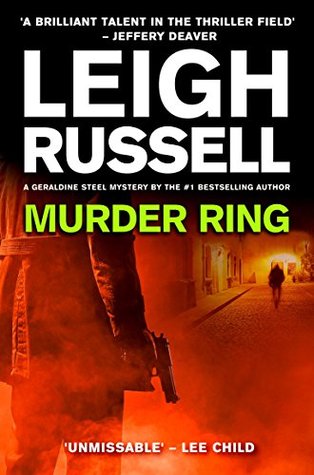 Reviews on books by Leigh Russell, Howard Linskey and Peter Murphy can be found on a previous post titled "Harpenden Library Literature Festival -Crime Writers".
Thank you so much to the staff at Harpenden Library for hosting this enjoyable evening! At a time when Libraries are facing closure, this kind of evening just goes to show how valuable Libraries are within our community and the range of services they provide. For all readers and any budding writers it is always inspirational to meet "real life" authors and hear about their inspirations and influences.
All the writers here referred to the importance of libraries both when they were growing up and developing as readers as well as when they are carrying out vital research for their new books. I borrowed all the books by these authors from the library and took out a further three books yesterday - two of which were freshly published hardbacks and one which is all over the press and Twitter at the moment. I have also just reserved a book which I saw on the stand, didn't take out, got home, saw a review, went back to find I'd been beaten to it so reserved on line and it will be delivered from a neighbouring library within the next few days. You just can't beat that - bibliomaniac or occasional reader, there is no denying how important they are as service and resource. As Leigh Russell said, even with our love for ebooks and the huge benefits of a kindle, nothing beats walking into a room crammed full of books and just being able to touch them!
The evening was well attended and there was a very relaxed and informal feel with the authors mingling amongst the guests as we enjoyed our complimentary glass of wine and took the opportunity to browse through the authors collections of books. At the risk of sounding like a cliche, it is always lovely to meet authors and realise that they are "just normal people" who enjoy meeting their readers as much as we enjoy meeting them. They are not tucked away in ivory towers living a charmed life but people who, although clearly talented, still work away with the self discipline and dedication of any employee. There was a gentle buzz of conversation as people settled in their seats and it's always a treat to be surrounded by avid readers and lovers of stories and storytellers!
The writers began by talking about how they had come to write. Peter Murphy has had a fascinating career as a Crown Court Judge which has given him a lifetime's supply of characters and cases from which to draw. He said ironically, they are stories you literally couldn't write- but he does! Russell wrote her first book late on in her career, having never written anything before and had the fantastic luck of being signed up by a publisher two weeks after sending off her first ever manuscript! She says all it takes is for you to wake up with an idea one day ......! Howard Linskey was a journalist and his stories are inspired by court and newspaper reports. He likes factual accounts of crimes which he can then imagine the individuals that lurk behind the reports. Interestingly, Linskey likes to strip away the perception of "glamour" and "celebrity" often attached to the underworld of gangsters and demythologise it's reputation. It is not glamorous; these people are hardened criminals, dangerous, threatening and even for the gang leaders, it is a life of constantly looking over your shoulder for either the police or competitors wanting to take over your "patch".
There was a really interesting discussion about the time periods in which the authors chose to set their novels. Linskey sets his in the 90s, generally because this is an era in which he was working as a journalist so has first hand experience of what was happening, protocol and procedure and also a time of which he is fond of from a social historical point of view. All the authors remarked how interesting it is to set your work in a time before the internet and mobile phones - Murphy's series is set in the 60s and even though Russell's series are contemporary, technology moves at such a rate that even a reference in her 2010 novel about "posting a cheque to pay the electricity bill" is now out of date as online paperless payments replace our previous banking habits. In a world without the internet, social media and mobile phone reception you have the opportunity for much more interesting plot developments. You can't phone for help, you can't text to see where someone is or trace their location, you can't google or watch the news unfold in front of your eyes. It is easier to withhold information from the reader and reveal in a more tantalising way. It can prolong a plot development - particularly if investigations and research require characters to visit libraries and trawl through newspapers and boxes of archived reports. It can also throw up new opportunities for twists and dramatic tension. Linskey also added that behaviour also changes so dramatically from decade to decade (or more quickly!). Things that are now socially acceptable previously weren't and therefore setting a novel in the past, however distant or recent, allows you to highlight suspicious activity, or can present dialogue full of judgement as characters talk about what is normal or acceptable. People probably noticed more then- for example, curtains not being drawn by midday, over affectionate couples, people arranging meetings with people they don't know, late nights, unusual items in your shopping trolley.....You could feel a ripple of awakening imaginations amongst the audience as we all started to consider this shrewd observation!
Leigh Russell made some very thoughtful comments about why she writes. She is fascinated about our society in which it is acceptable for people to own guns - "killing machines"; about how our society deals with the outsider, the non conformist, the psychopath, the dysfunctional characters and what this reveals about our attitudes to life, crime and current political and social issues. For her, although her novels are by no means preaching and absolutely fit in to the category of gripping page turners, crime fiction does offer the opportunity to explore important issues and offer some perspective or discussion about controversial issues such as gun crime and gang warfare. When discussing the importance of meticulous research in preparation for writing, Russell added that the best way to research an era or learn about history, is to see what authors in those times were writing about and what issues consumed them. It always comes back to books! They are so vital - not only in entertaining us, but also by informing and recording our society too!
Two of the authors have had their novels optioned for TV and they spoke about how issues revolving around adapting their stories to screen. They both upheld that writing and producing for TV is a totally different creative process to writing a novel and they are happy to leave it with the experts even if it means coping with a few changes and reinterpretations. There was an appreciation that things have to be adapted when transferring to a different media and as long as the essence of the novel wasn't compromised, it was fine and you had to accept them as pieces in their own right rather than make comparisons. For an author, it is such a lucrative opportunity that it seems if you sell your rights, you have to accept a certain loss of control.
During the Q & A session there was a discussion about the life of an author and what this actually entailed, how do writers plan and execute complex plots that define crime fiction, and any fundamental restrictions they would insist on if selling their rights to a film company.
It was a very enjoyable evening and the authors spoke in great detail about their experiences of writing, their novels and their passion for reading and libraries. It is always inspiring to hear from people who write and their encouragement to other budding writers was genuine and positive. Murphy and Russell's new books will be out shortly and Linskey's is out in May. Pembrey's newly acquired debut is out in November. Keep a look out in the library for their arrival over the next few months!
If you would like to find out more about any of these authors or events at Hertforshire Libraries, detail are below:
leighrussell.co.uk / leighrussell.blogspot.com / @leighrussell
@howardlinskey
@DPemb
petermurphyauthor.co.uk
@noexitpress / noexit.co.uk
@hertslibraries / www.hersdirect.org/libraries
For further recommendations, reviews and bookish chat please follow me on Twitter @katherinesunde3 (bibliomaniacUK) or sign up to subscribe to future posts via email